11 Best Generative AI Customer Experience Solutions in 2024
Managing a customer support and sales support team has become increasingly challenging over the past few years.
I know this because managing my team of 40 people who field over 18,000 tickets a month is already a tough task to keep tickets moving consistently.
But as more people start opting for work-from-home opportunities and leaving the office workforce, that perfectly balanced ratio of staff to tickets answered gets thrown way off balance.
Sometimes, all it takes is for one team member to leave your company, and suddenly, your customer service response times jump from minutes to hours, leaving your customers frustrated and angry.
That's why AI customer experience solutions are a great solution and will likely become an essential solution every business needs.
So, let's dive deeper into this and look at options to help you transform your business's customer support experience.
Why Generative AI Customer Experience Matters
Recently, I started exploring options to offset some of the customer service interactions and sales tickets to AI to handle those everyday questions that don't necessarily need a personal human touch, such as "Where's my order," "What time do you open or close," and so on.
As we started digging deeper into it, we were amazed by how far AI has gotten in the last year, and the results speak for themselves.
I had the pleasure of demoing 11 different AI customer service software companies, and the goal was to see if they could meet these 4 criteria.
Needed an AI helpdesk chatbot capable of answering customer questions in a natural and conversational tone.
Can create a private large language model (LLM) based on all our past resolved tickets and knowledge base articles to provide answers specific to our business.
Has Zendesk chatbot integration and SAP integration.
Have robust systems for protecting customer privacy.
What we found was that many of these solutions were not only good at answering customer questions, but they were also capable of other things we should have considered.
AI customer service software can also handle sentiment analysis, real-time copiloting, accessing your backend to check order status and inventory, and even responding to customers in their natural language in real-time.
On top of that, some of their clients were able to leverage AI to achieve a staggering 90% resolution rate. Unbelievable right?
So, let's look at these top conversational AI companies for your next generative AI customer experience solution.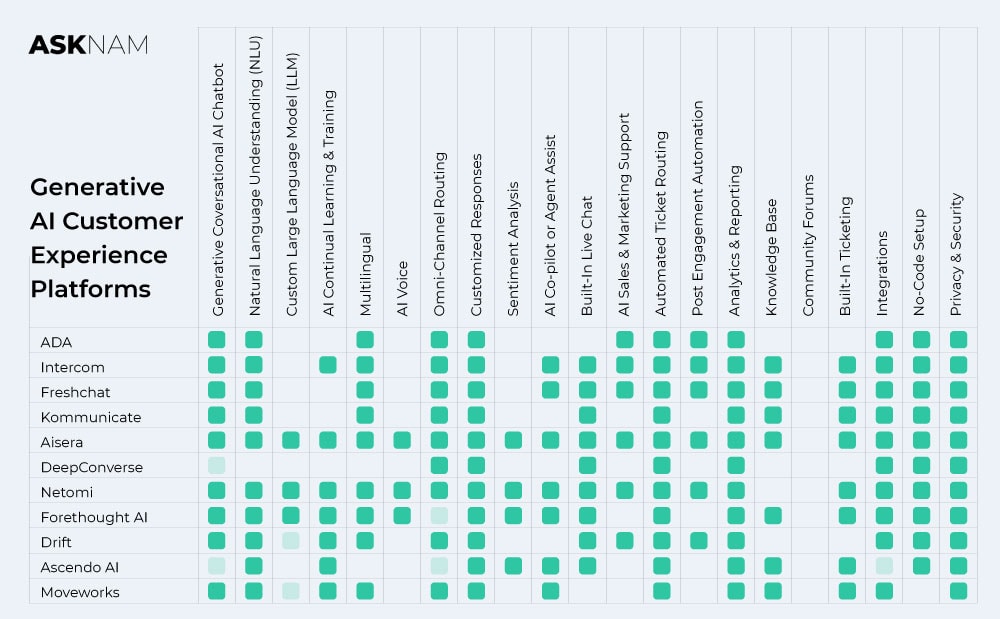 The Players in the Game
1. Ada

Championing self-service, Ada empowers customers with instant solutions and integrates seamlessly, offering a real-time analytical overview of the customer journey.
Best For: Generative AI Chat Bot
Price: Custom - Based on Seats
Annual Discount: None
Promotion: None
Ada is a robust AI-powered customer service automation platform that excels in streamlining customer inquiries and consistent service.
Founded in 2016, the company has rapidly gained traction, serving clients across 85 countries and automating over 4 billion customer conversations for major companies like Meta and Verizon.
Aimed at simplifying customer service for businesses, especially those with high support volume, Ada's platform requires no coding skills, making it accessible for customer experience professionals.
It primarily acts as the first line of support, claiming to resolve over 80% of customer inquiries automatically.
The platform integrates well with Zendesk, enhancing its utility for businesses looking to combine automated and live-agent customer service.
Overall, Ada presents a versatile, user-friendly solution for automating customer support while maintaining brand integrity.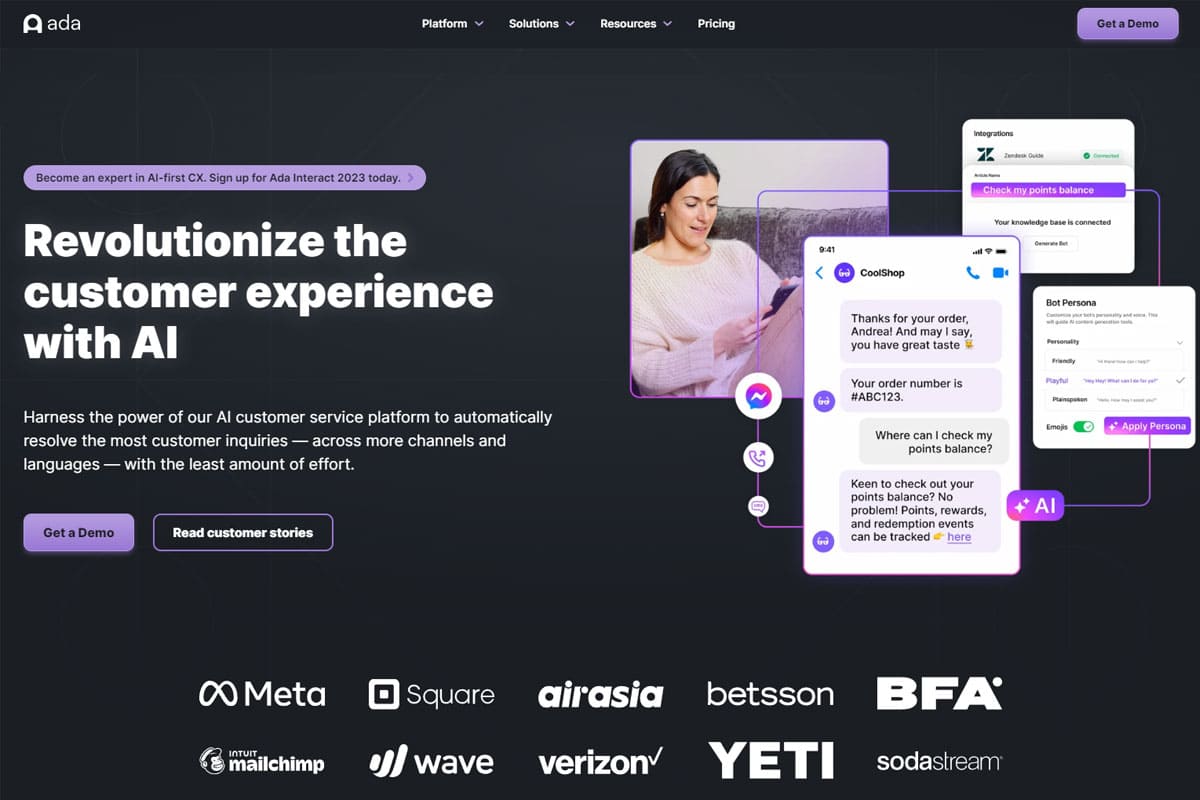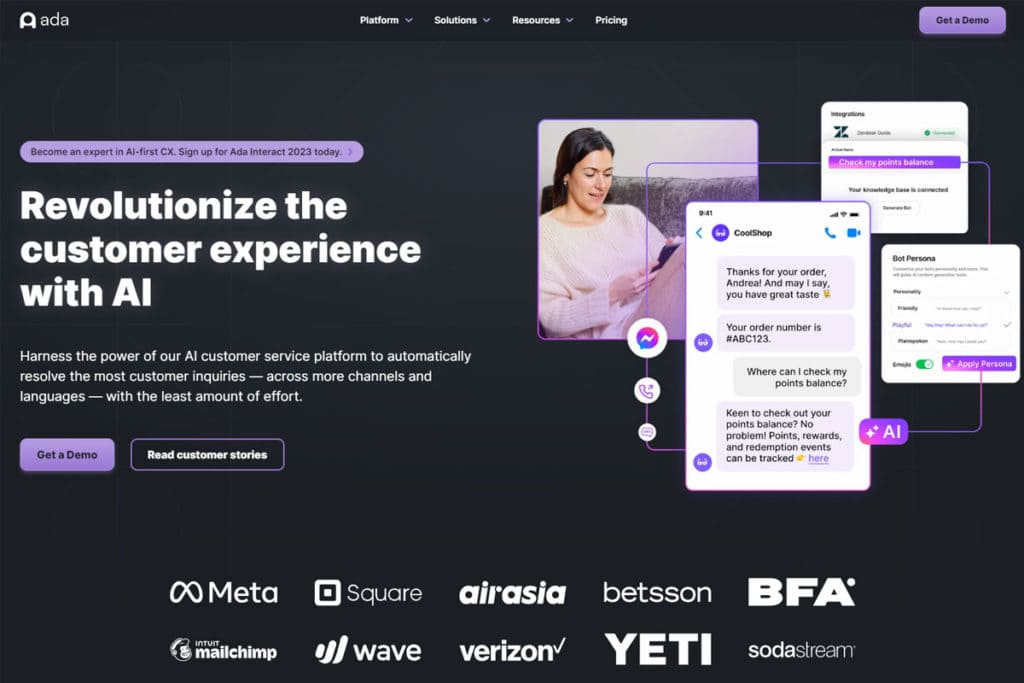 Self-service solutions
Real-time analytics
Personalized customer view
Automated upsell
API integration
Quick setup
Third-party integrations
24/7 support
SMS capabilities
Payment processing
The Ada platform offers a robust and intuitive solution for automated customer service. Users praise the quick response from Ada's support team and appreciate the built-in communication channel within the app for immediate problem resolution.
While the platform is generally user-friendly, it's worth noting that users have encountered inconsistencies in reporting and some bugs related to third-party integrations like Zendesk.
User Experience: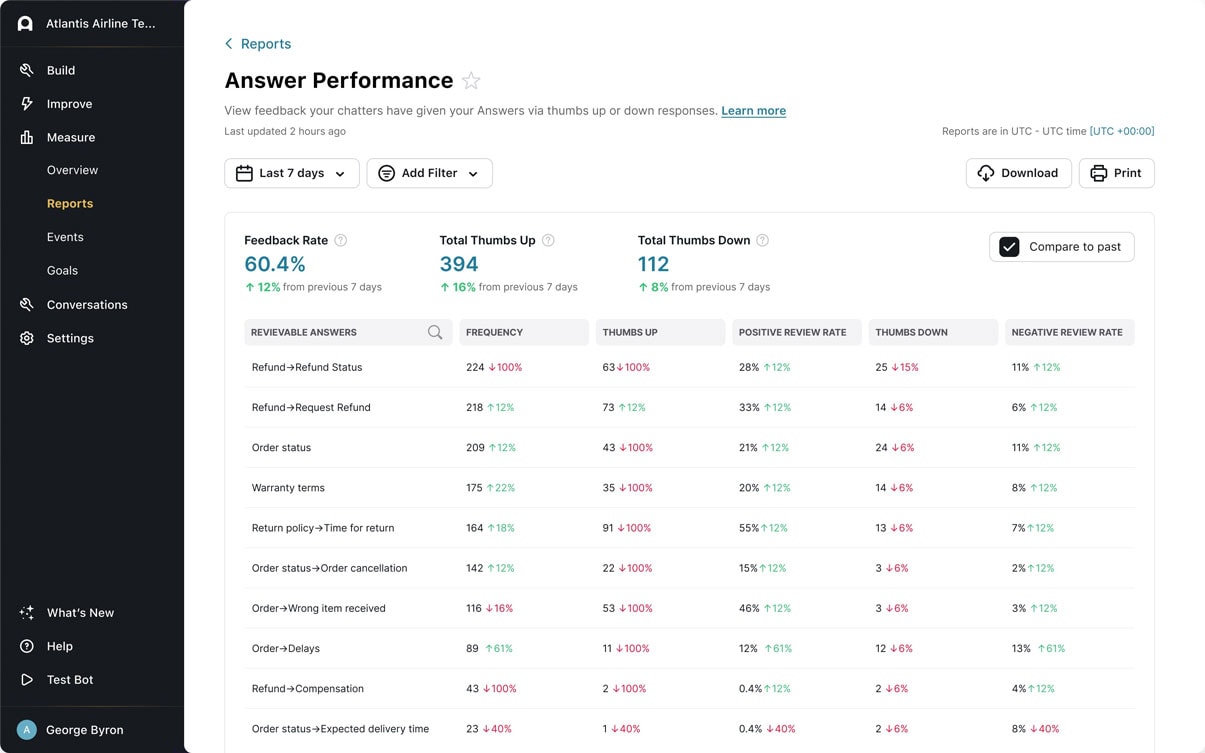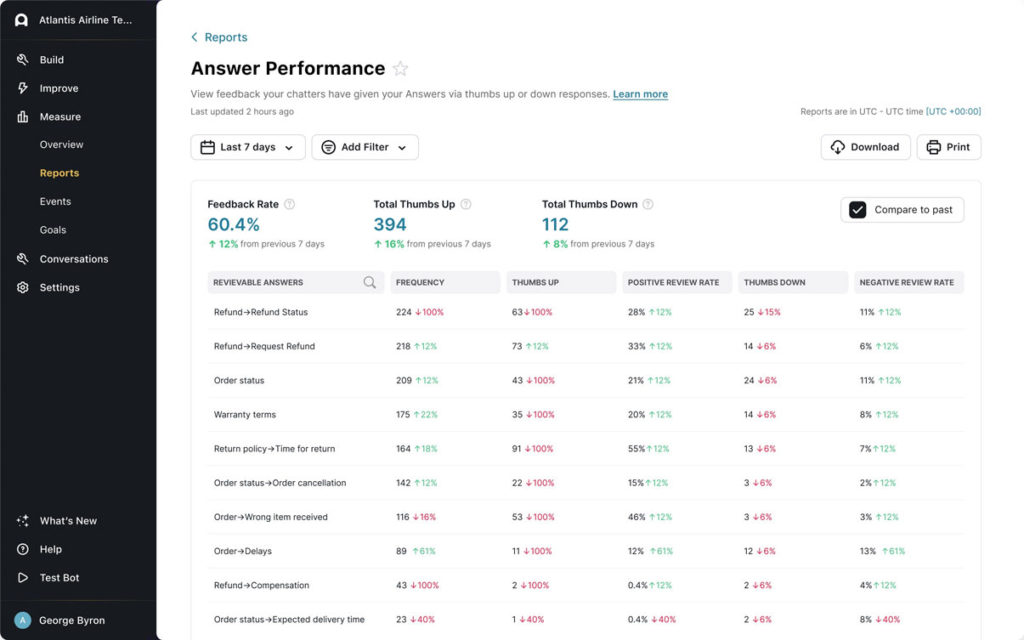 When it comes to the user interface, Ada gets it mostly right.
Users describe the tool as intuitive and praise its "drag-and-drop blocks design," simplifying the bot-building process.
The platform is also lauded for not requiring extensive programming knowledge, making it accessible to individuals who may not have a technical background.
However, there are areas for improvement, particularly in the UX design, and some limitations in customization options.
Pricing:
Core: Custom - Based on Seats
Advanced: Custom - Based on Seats
Pro: Custom - Based on Seats
What I Liked:
Quick support response time
Intuitive user interface
Customizable communication
Easy-to-understand features
Low learning curve
What I Disliked:
Inconsistent reporting metrics
Limited third-party integrations
Less feature support for non-Zendesk, non-Salesforce users
Ideal for:
Small to medium businesses that need an intuitive and hassle-free platform.
So, does Ada shape up as a holistic generative AI customer experience and customer service solution? The answer is generally yes.
Ada is a strong option for organizations seeking an easily deployable, user-friendly bot with significant capabilities. It particularly excels in ease of use, quick support, and customization.
However, there may be better fits for those who require more advanced third-party integrations or highly specialized reporting metrics.
The platform has more pros than cons and shows promise in becoming an industry leader in automated customer service solutions.
2. Intercom

Intercom is a versatile all-rounder combining live chat, customer segmentation, and real-time customer data to deliver a comprehensive customer service suite.
Best For: Generative AI Customer Support
Price: $74/month - Custom - Based on Seats
Annual Discount: None
Promotion: Free Trial
Intercom is a comprehensive Customer Service platform facilitating effective and efficient customer interactions. It is a customer service software that blends automation with human support to improve customer satisfaction while managing costs.
The platform allows businesses to engage with customers in real-time via their apps and other communication channels like email and social media.
When integrated with Zendesk, Intercom provides the additional context needed for rapid issue resolution. It's more than just a live chat tool; it's a holistic customer relationship solution trusted by over 25,000 organizations worldwide, including tech giants like Amazon and Microsoft.
Connecting to various other products supports team communication, customer support, relationship-building, and sales initiatives. Overall, Intercom offers a robust platform for businesses aiming to deliver a personal yet scalable customer service experience.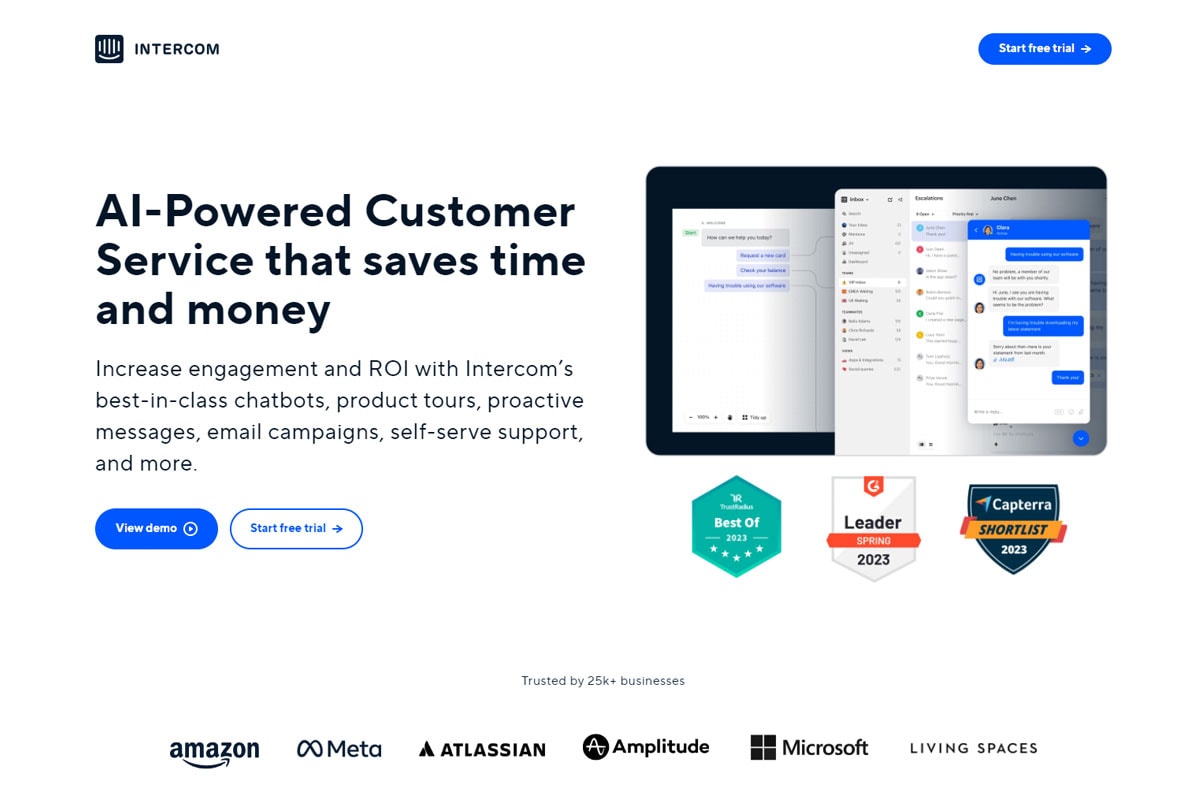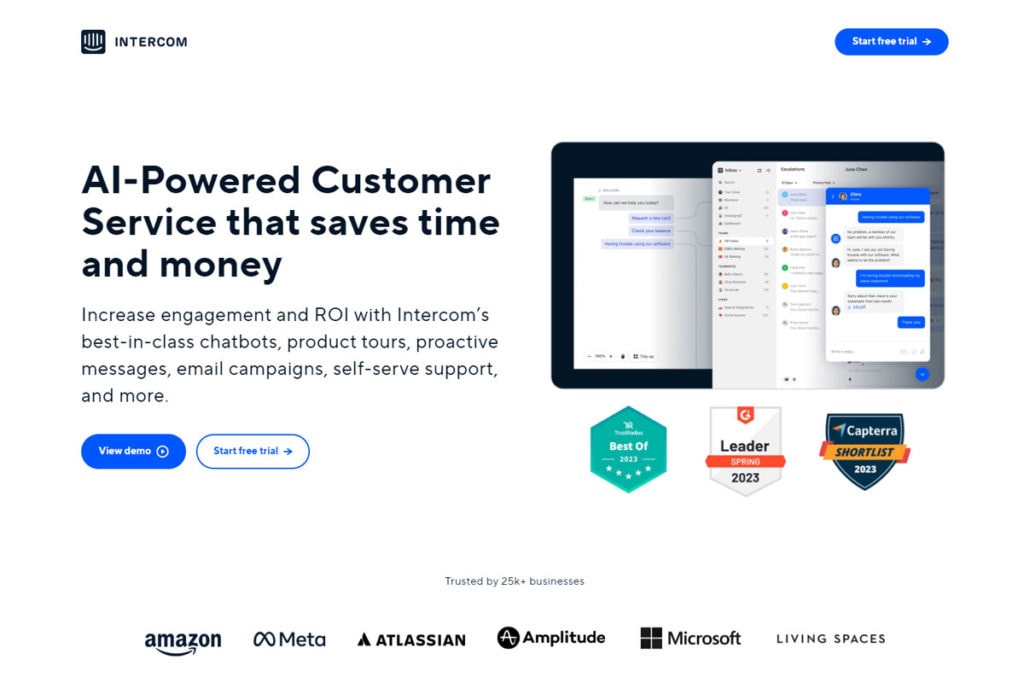 Live chat
Customer segmentation
Real-time data
Email campaigns
Knowledge base
Mobile apps
Team inboxes
Social media linking
Chat ratings
Bot suggestions
Intercom emerges as a dominant force in the realm of live chat software. It's highly valued for its multifaceted capabilities, stretching from core chat features to a range of extensions.
HIPAA compliance is a boon, particularly for medical practices, and overall, it adds a layer of reliability and familiarity that users appreciate.
However, it's important to note that Intercom's cost and feature set make it more suitable for mid to large-sized companies. The affordability scale tips unfavorably for smaller businesses, although some respite is provided by Intercom's Startup program.
User Experience: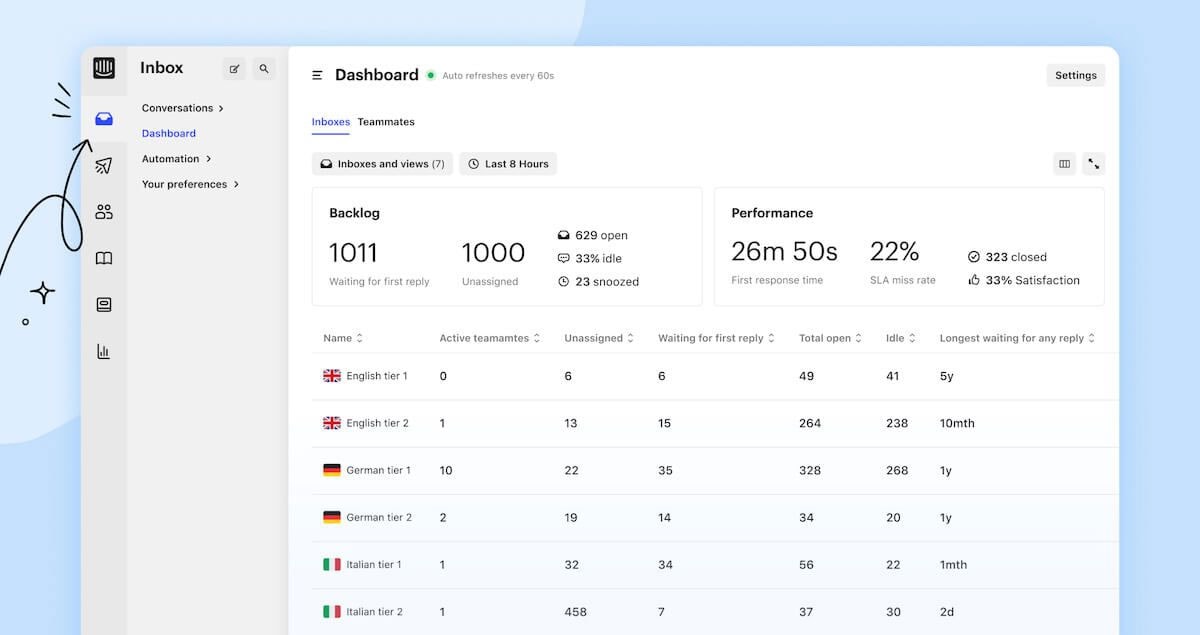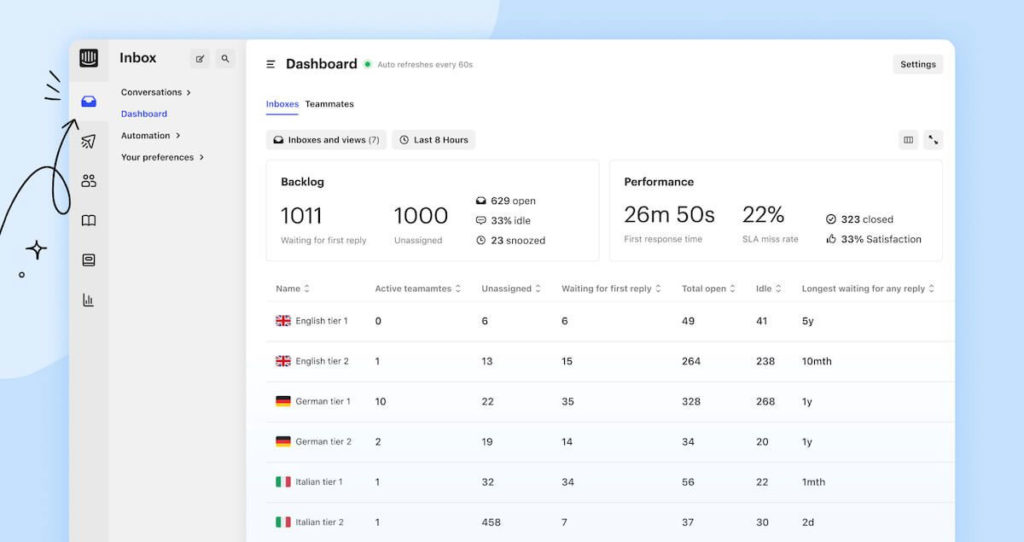 When it comes to usability, Intercom is mainly lauded for its intuitive design. The graphical interface is modern and clutter-free, contributing to an easy-to-navigate user experience.
Users often find that creating engagement workflows or onboarding flows feels almost second nature, thanks to the well-thought-out UI.
Pricing:
Starter: $74/month
Pro: Custom - Based on Seats
Premium: Custom - Based on Seats
What I Liked:
Highly versatile with robust features
User-friendly and intuitive interface
HIPAA compliance for medical practices
Excellent customer support
SMS feature, albeit limited
What I Disliked:
Cost-prohibitive for small businesses
Limited SMS functionality
Latency issues reported
Ideal for:
Medium to large businesses with many internal systems and a focus on team collaboration.
Given the broad spectrum of features, customer service efficiency, and usability, Intercom seems to fare well as a comprehensive AI-driven solution for customer engagement.
While the platform isn't without its flaws—its cost and occasional latency—it offers a substantial toolbox for mid to large-sized businesses to elevate their customer service game.
Therefore, Intercom could be a strong candidate for your consideration if you're a larger organization aiming to offer a seamless, interactive, and human-like customer service experience.
3. Freshworks
A full-fledged CRM solution, Freshworks ensures a holistic customer service experience with multi-channel messaging and ticket routing features.
Best For: Generative AI Full Support Platform
Price: $0/month - $79/agent/month
Annual Discount: Yes - Save 15%
Promotion: Optional Free Plan
The Freshworks platform provides a comprehensive set of tools for enhancing customer service and support, suitable for businesses of all sizes. With cloud-based offerings like
Freshdesk for customer support and Freshchat for multi-channel communication brings flexibility and ease of use.
The platform excels in utilizing AI for quality assurance and agent training, reducing the need for manual reviews and thereby increasing efficiency.
It offers an all-in-one solution with its Customer Service Suite. It delivers seamless experiences from self-service to agent-led support and advanced ticketing.
Overall, Freshworks offers a reliable, AI-first approach to customer service, ensuring efficiency and quality.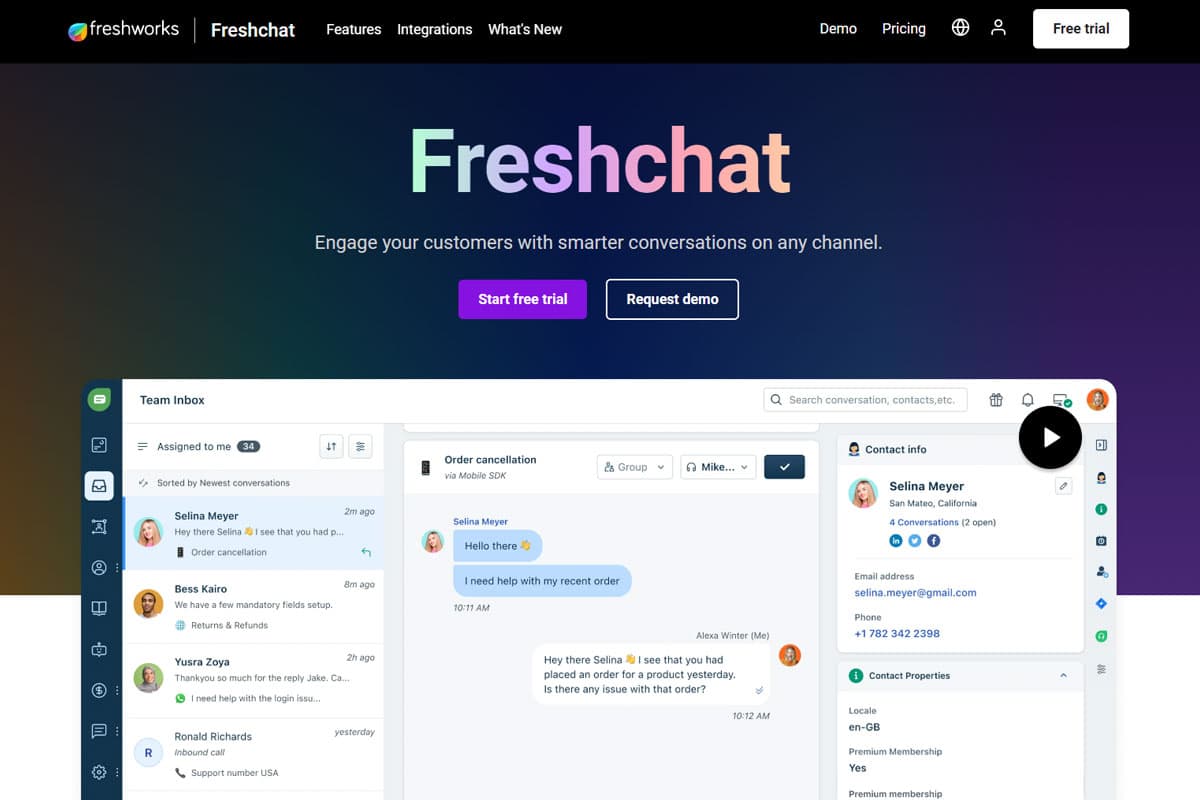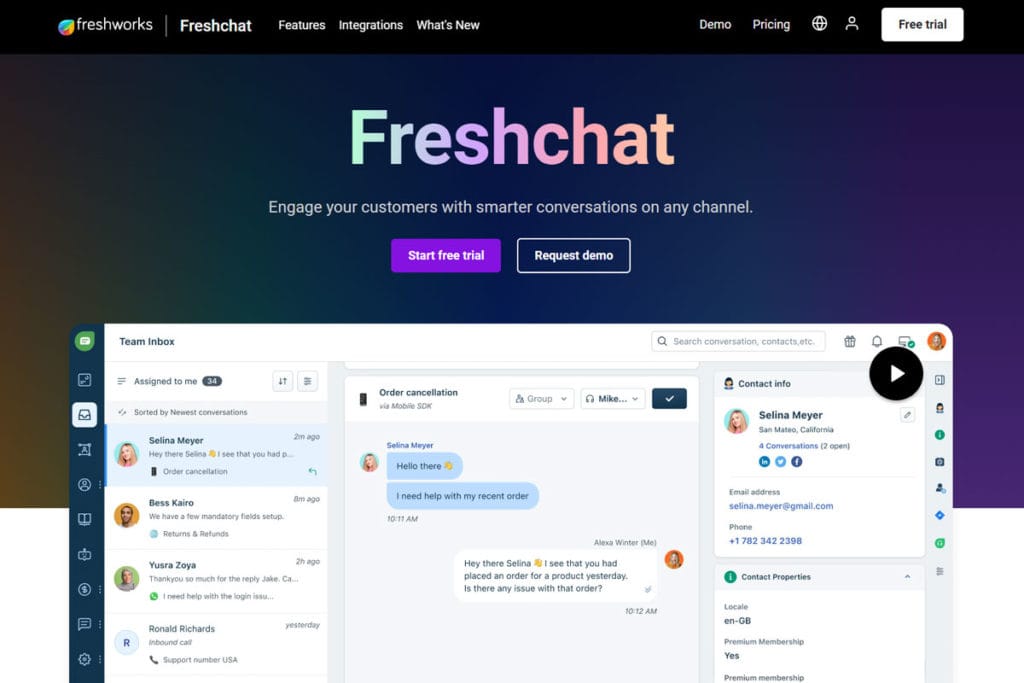 CRM capabilities
Multi-channel messaging
Ticket routing
Bot-human handoff
Self-service options
Reporting
Performance Analytics
Customizable bots
24/7 support
Webhooks
Freshworks is a unified platform combining various customer engagement tools, from support and sales to marketing. This cohesiveness eliminates the piecemeal approach usually required with disjointed tools, offering a streamlined workflow for businesses.
The platform also boasts strong automation features, significantly reducing manual and repetitive tasks and improving efficiency. However, it's worth noting that the platform has limitations, such as slower response times and the absence of cloud hosting in the Middle East.
User Experience: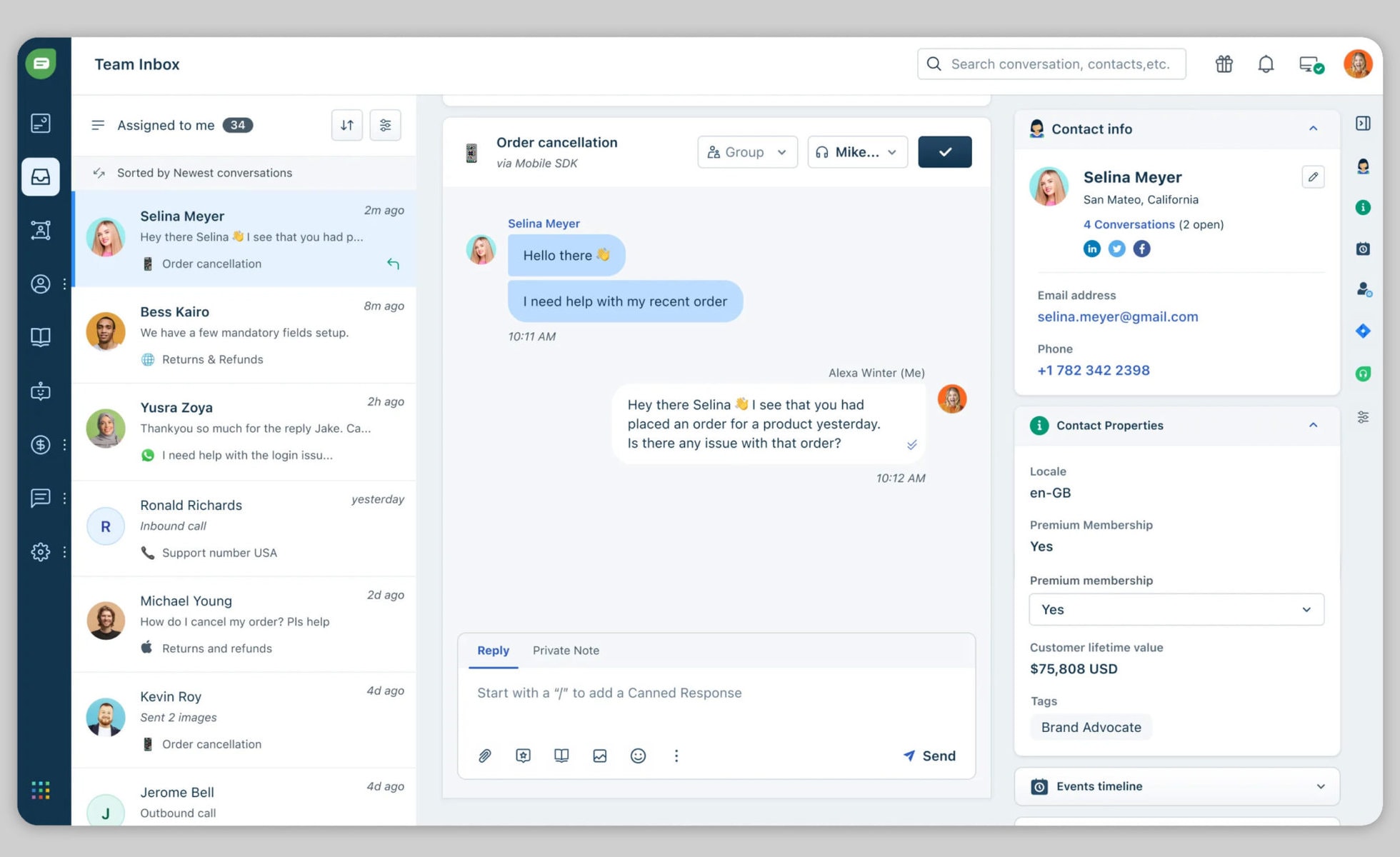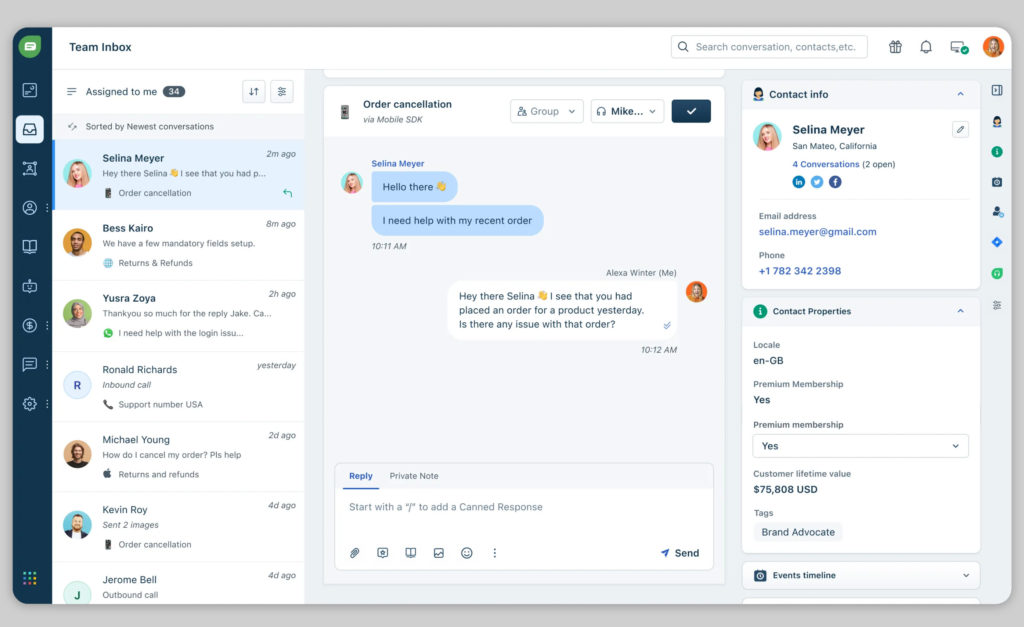 The user interface of Freshworks, particularly the Freshservice Helpdesk System, is widely praised for its simplicity and intuitiveness.
New hires and existing team members alike have found it straightforward, leading to reduced training times.
Its features, like ticket management and workflow automation, make daily tasks much easier, allowing teams to focus on delivering high-quality customer service.
Pricing:
Fresh Chat
Free: $0/month - Up to 10 Agents
Growth: $19/agent/month
Pro: $49/agent/month
Enterprise: $79/agent/month
Fresh Desk
Free: $0/month - Up to 10 Agents
Growth: $15/agent/month
Pro: $49/agent/month
Enterprise: $79/agent/month
What I Liked:
Unified customer engagement tools
Robust automation features
Seamless integrations with popular platforms
Easy-to-navigate interface
Data-driven analytics and reporting
What I Disliked:
Slower customer support response times
Limited cloud hosting locations
Unmet feature requests
Ideal for:
Medium to large businesses that require a comprehensive toolset.
Freshworks presents a compelling case as a holistic generative AI customer experience and service solution. Its unified approach simplifies workflow, while automation and integration capabilities add layers of efficiency and connectivity.
While it has areas to improve, like customer support response time and regional cloud hosting, its overall package makes it a reliable and comprehensive tool for customer engagement.
Suppose you're looking for an all-in-one solution that's easy to use and helps make informed decisions. In that case, Freshworks is worthy of serious consideration.
4. Kommunicate

Emphasizing collaboration, Kommunicate integrates both human agent and bot support, ensuring a balanced, real-time customer service mix.
Best For: Generative AI Customer Support
Price: $100/month - Custom Pricing
Annual Discount: Yes - 2 months free
Promotion: Free Trial
Kommunicate is a versatile platform for customer service automation, integrating AI chatbots and human interaction with customer service agents to create a more efficient support system.
It addresses the persistent issues in customer service by providing a human-bot hybrid model, allowing businesses to handle growing customer queries without stretching their resources too thin.
The platform offers seamless Zendesk integration, enhancing pre- and post-purchase experiences while featuring its Analytics Dashboard for data-driven decision-making.
With capabilities like 24/7 first-line support and multilingual conversation, it aims to improve agent and customer satisfaction.
The service is particularly useful for industries like BFSI, e-commerce, and SaaS. Moreover, its compliance with GDPR and API integration options makes it a secure and adaptable choice for businesses looking to streamline their customer support.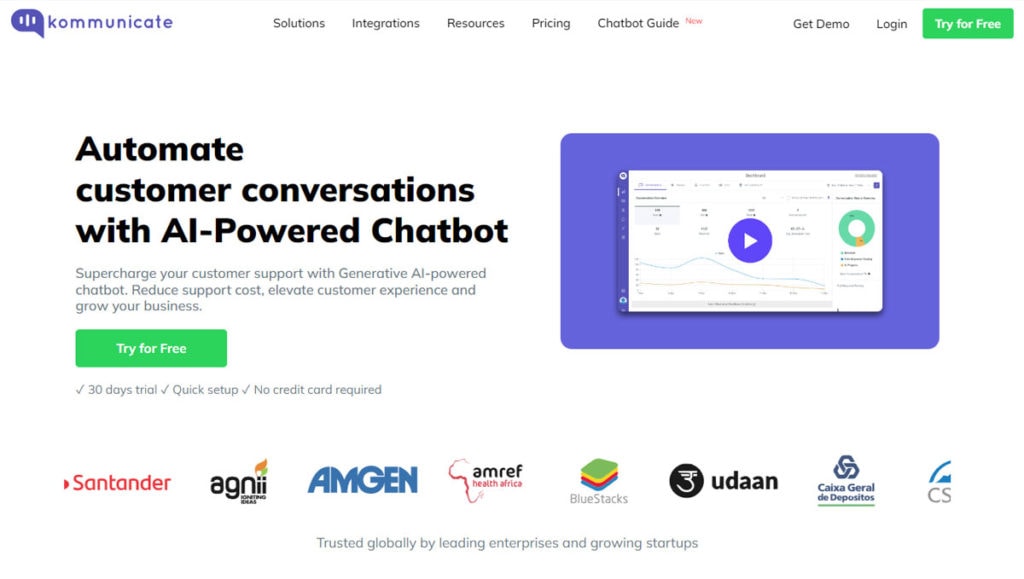 Live chat
Chat history
Bot-human handoff
In-app messaging
Analytics
Custom branding
Ticketing
Email campaigns
Automated FAQs
Multi-agent support
Kommunicate stands out as a robust platform for customer service and engagement. Its most lauded features include seamless integration across multiple messaging platforms and reliable uptime.
The platform's team is noted for their promptness and willingness to assist via multiple communication channels, including WhatsApp.
On the flip side, some reviews have pointed out that Kommunicate's pricing can be steep for specific markets.
User Experience: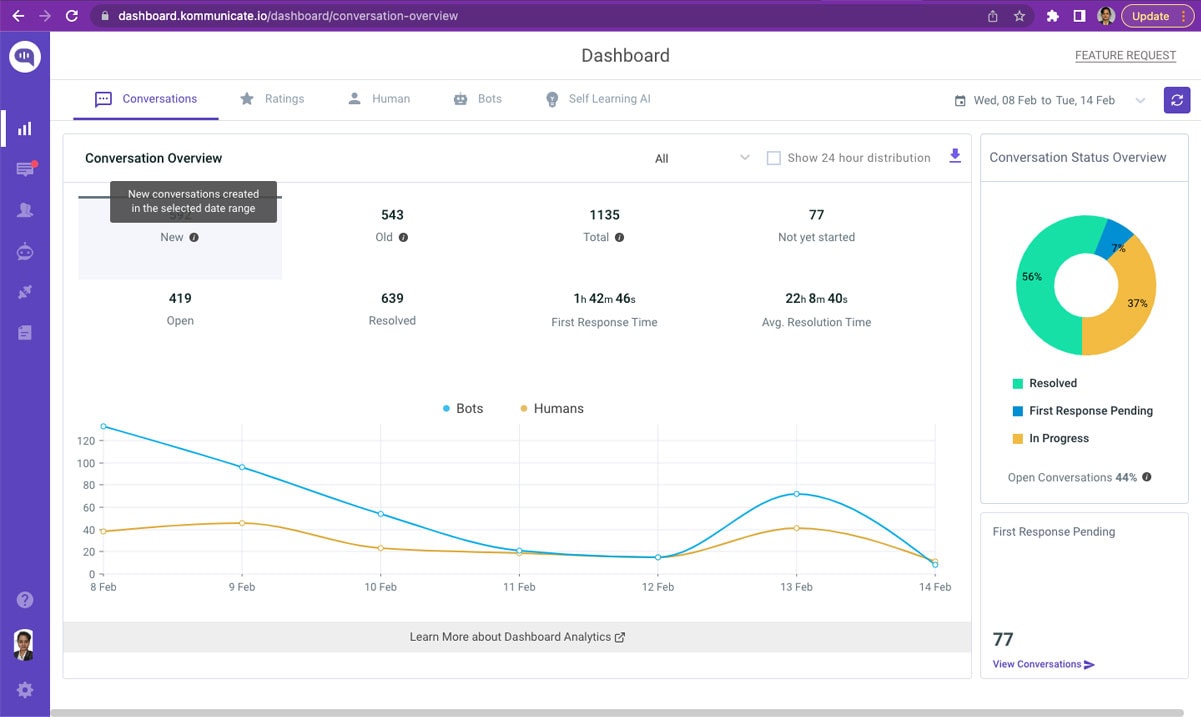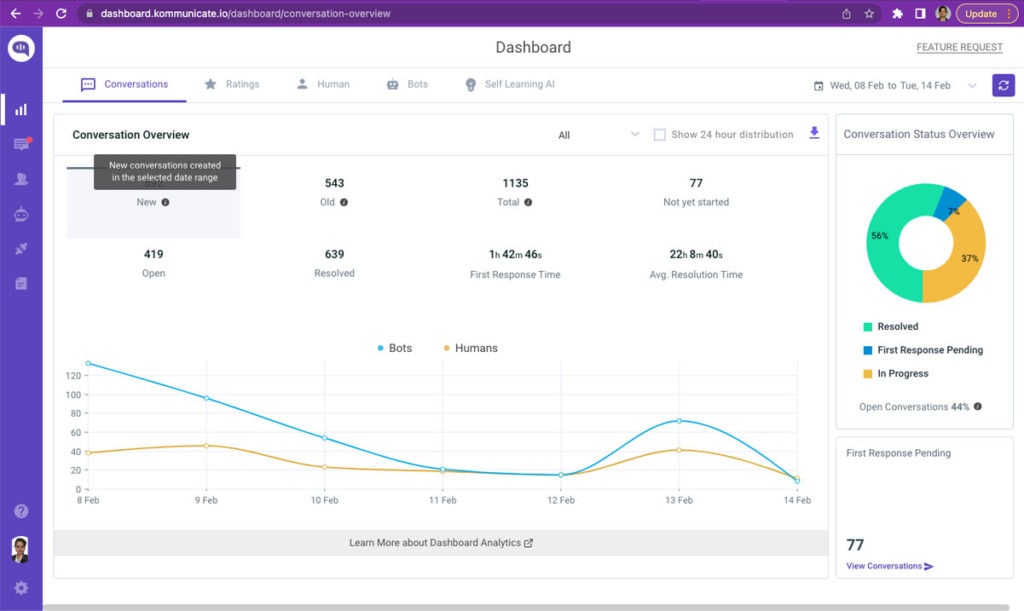 The platform's user interface is frequently described as "easy to use" and "beautiful." It is especially appreciated by those who aren't programmers, thanks to its clear documentation and help guides.
Several reviews complimented the platform's modern UI and highlighted its interactive features.
Users seem pleased with the ability to easily integrate the service with existing chatbots and the option to create a new one using Kommunicate.
Pricing:
Lite: $100/month
Advanced: $200/month
Enterprise: Custom Pricing
What I Liked:
Easy integration across platforms
Reliable customer service
Real-time communication
Rich analytics features
Clear, intuitive dashboard
What I Disliked:
Needs more UI customization
Limited integrations in some areas
Pricing can be high for some markets
Ideal for:
Small businesses or startups need robust yet simple solutions.
Summing it up, Kommunicate does appear to be a holistic solution for generative AI customer experience and customer service. It excels in user-friendly features, cross-platform integration, and dependable customer support.
While there are minor drawbacks, like the need for more UI customization options and some limitations with platform integrations, these are outweighed by the platform's strengths.
Kommunicate should be a strong contender for those seeking a comprehensive client engagement tool incorporating human and bot chat capabilities.
5. Aisera

A powerhouse in proactive AI, Aisera offers predictive solutions, standing out for automating routine tasks and complex actions across various domains.
Best For: Generative AI Customer Support
Price: Custom Pricing
Annual Discount: None
Promotion: None
Aisera offers a robust AI-powered platform to transform customer service and enterprise operations. With a core focus on self-service engagement, Aisera integrates with various platforms, such as ServiceNow, Zendesk, and Salesforce, to automate tasks and streamline workflows.
Its offerings are incredibly potent in cutting operational costs, claiming a 90% cost reduction and 75% automation across its enterprise customers.
The platform is not limited to a particular industry, serving various sectors like banking, healthcare, and government. Key features include multilingual conversational artificial intelligence and automated self-service that improves productivity and positively impacts customer satisfaction (CSAT) and Net Promoter Scores (NPS).
The technology can understand many intents and phrases, making it flexible and responsive to various customer calls and queries.
It also provides options for human intervention through live agents when necessary, making it a comprehensive solution for automating customer service and internal operations.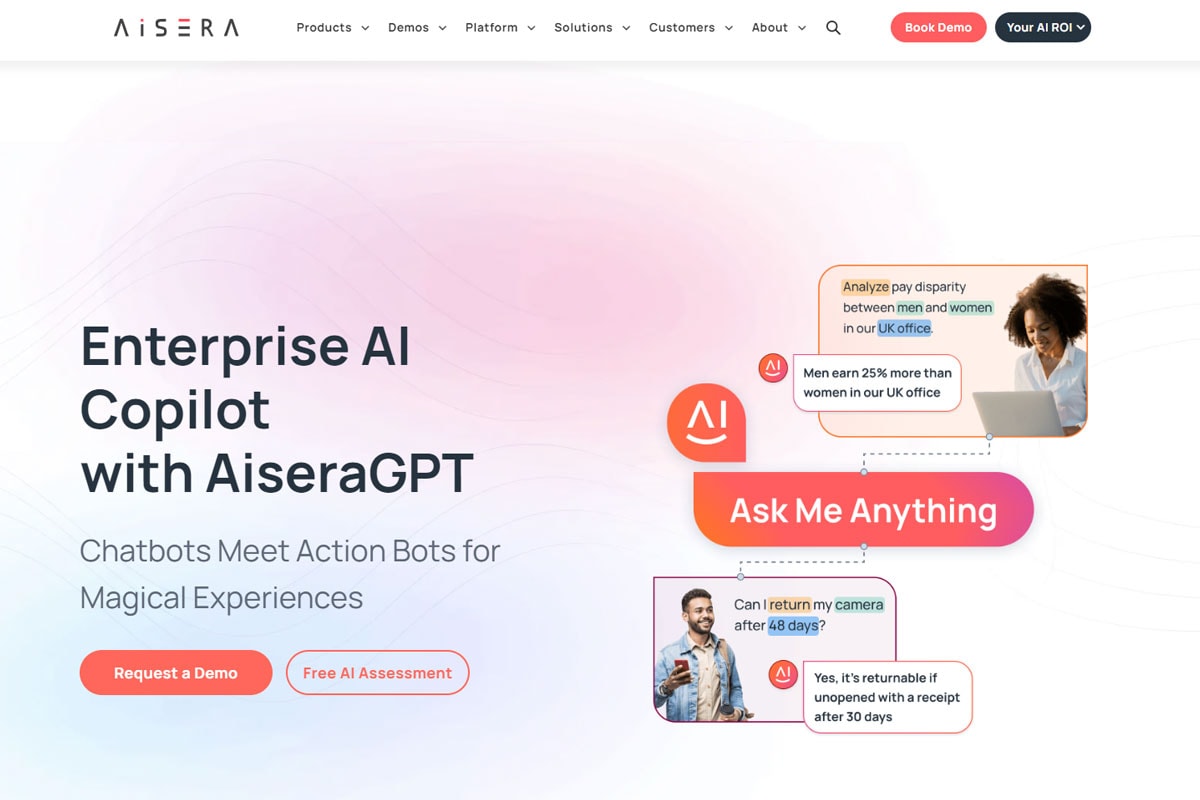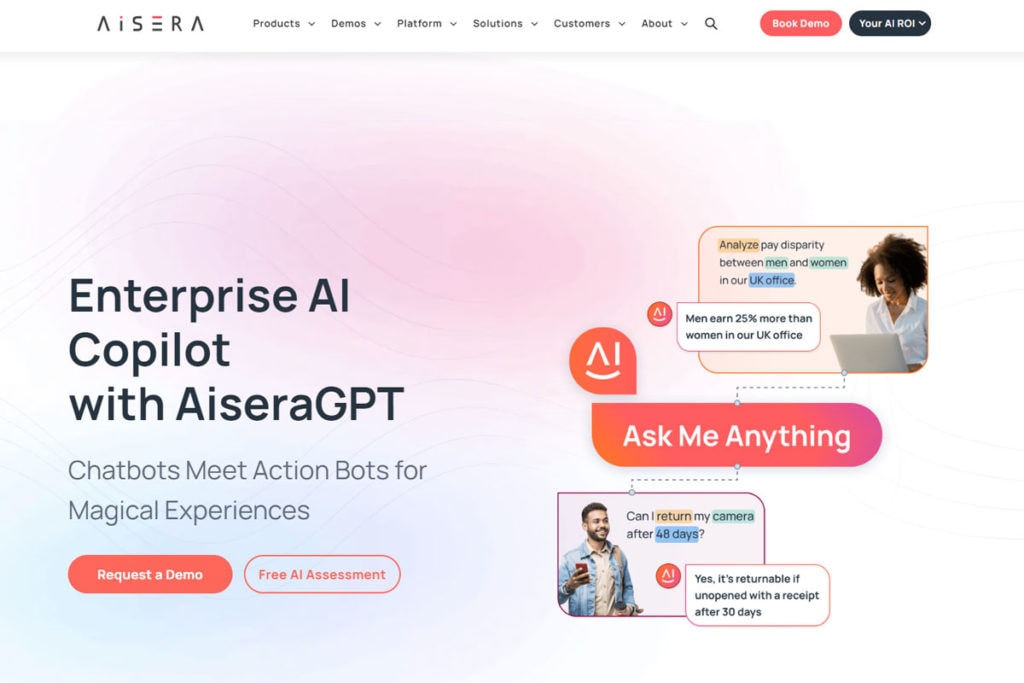 Self-service portals
AI Chatbots
Multilanguage support
Incident automation
Workflow builder
Data-driven analytics
Predictive routing
Task automation
ITSM integration
Ticketing system
My experience with the Aisera Platform, pieced together from second-hand accounts, paints a nuanced picture.
On one side, Aisera proves to be highly effective in streamlining internal support processes. Businesses that have used it, such as Gap Inc., mention a significant reduction in employee support tickets thanks to Aisera's self-service model.
There's also a lot of positive feedback regarding its ability to integrate with existing systems and provide automated solutions to common support issues.
However, it's not all roses. Users note that understanding the full scope of the platform's capabilities can be challenging. While the chatbot feature is generally beneficial, it has been criticized for providing inaccurate or outdated articles.
User Experience: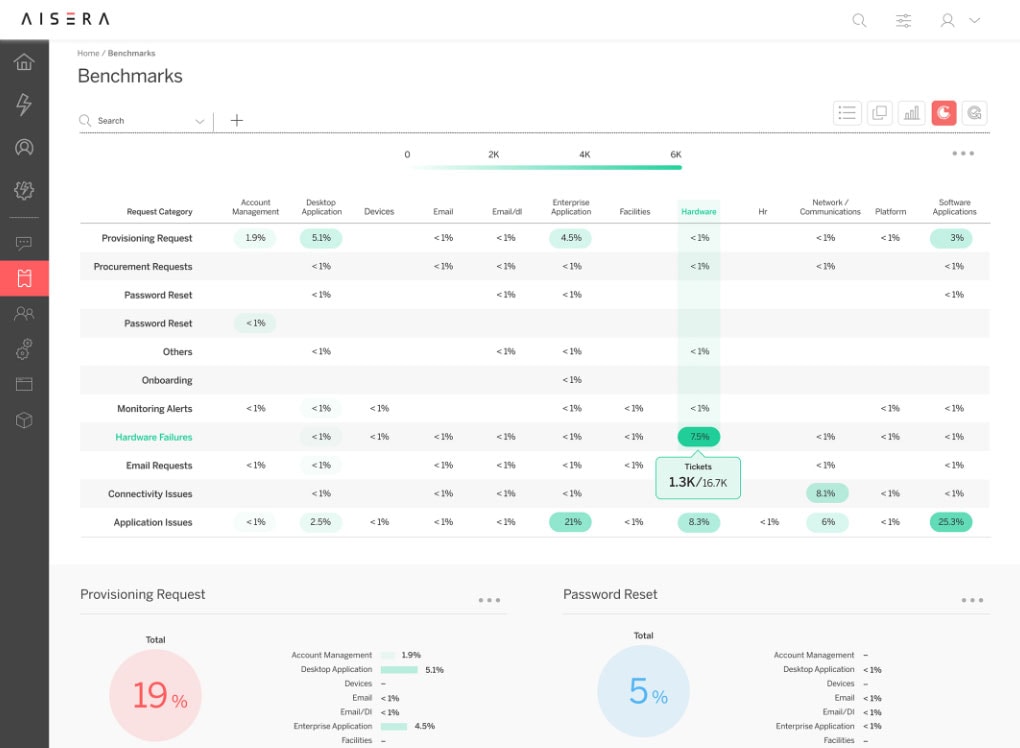 Navigating Aisera's user interface appears generally straightforward. Many users find the admin UI user-friendly, and even those new to automation found it easy to adapt due to its intuitive architectural design.
However, the platform's reporting capabilities are refined. Users found navigating through dashboards and graphs less intuitive than they'd like.
Pricing
What I Liked:
Streamlines internal support
Reduces ticket volume
Offers automation for mundane tasks
Integrates with existing systems
Highly responsive support team
What I Disliked:
Confusing full-scope capabilities
Chatbot sometimes inaccurate
Reporting features need improvement
Ideal for:
Medium to large businesses with large language models and diverse customer queries.
Does Aisera shape up as a holistic generative AI customer experience and customer service solution? Based on the gathered reviews, the answer is yes, but with caveats. Aisera excels in specific areas, notably its automation capabilities and ease of integration, leading to time and cost savings.
However, some aspects, such as more intuitive reporting and chatbot accuracy, could be fine-tuned for a holistic solution.
Therefore, while Aisera is a significant investment for those looking to streamline their support models, potential users should also be prepared for a period of adaptation and fine-tuning.
6. DeepConverse

Specializing in deep learning, DeepConverse provides highly personalized customer interactions, delivering a human-like chat experience at scale.
Best For: Automated Customer Self-Service
Price: Custom Pricing
Annual Discount: None
Promotion: None
DeepConverse is a customer support automation platform designed to streamline and enhance business interactions. Offering features like Chatbots, Conversational Search, and Interactive Guides, the platform aims to deliver a high-quality, consistent, and personalized support experience while significantly reducing the support load—up to 80% as claimed.
Unlike the other platforms that are genuinely based on a generative conversational AI, DeepConverse seems more like a framework for predesigned questions, which it uses to guide customers toward a solution.
Trusted by well-known brands and supported by more than 50 APIs. DeepConverse allows for various automated tasks, including recurring payments and appointment bookings. One standout feature is its quick AI training, which takes less than 30 minutes, allowing businesses to scale their operations efficiently.
Initially free to use and deployable in the cloud, the platform suits businesses of all sizes. It also offers advanced features such as real-time search and smooth handovers to human agents, making it a comprehensive solution for automating tier-one support without compromising brand representation.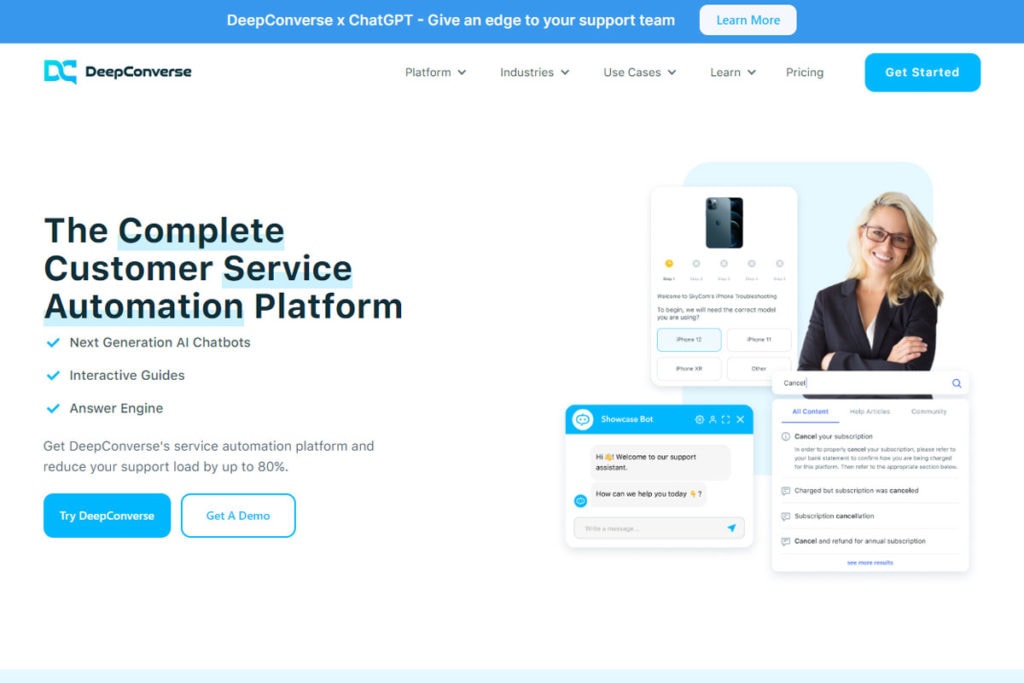 Sentiment analysis
AI chatbots
Predictive analytics
24/7 support
Multi-channel service
Visual dashboards
Custom scripting
CRM integration
Easy API
Voice recognition
DeepConverse emerges as a notably efficient platform for automating customer service tasks and improving customer service experience.
Users have consistently highlighted its ability to reduce support costs while allowing quick, high-quality responses drastically.
The platform offers various features such as file sharing, keyword-based searching, and seamless integration with backend systems, all contributing to a hassle-free experience.
It has been described as a solution that meets businesses' specific needs without requiring excessive time or effort in initial setup and ongoing maintenance.
User Experience: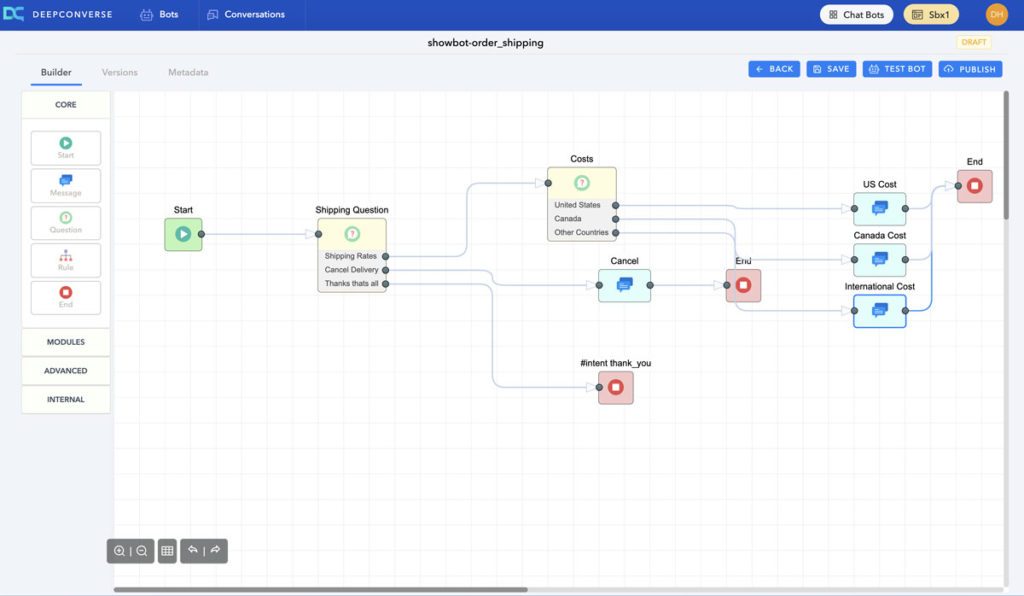 The user interface of DeepConverse gets high marks for its intuitiveness and ease of use. Users particularly commend the drag-and-drop builder, which allows even non-technical individuals to design smooth conversational flows.
Reporting capabilities have been another noteworthy point, providing insightful analytics into customer interactions and system usage. The platform's simplicity is not to be mistaken for a lack of depth; it offers a variety of advanced functionalities easily accessible through its interface.
Pricing:
Basic: Custom Pricing
Professional: Custom Pricing
Enterprise: Custom Pricing
What I Liked:
Quick setup with minimal effort
Intuitive drag-and-drop interface
Seamlessly integrates with CRM
Robust reporting capabilities
Scalable to meet business needs
What I Disliked:
Documentation lags behind updates
Supports only English language
Pricing can be high for more sessions
Ideal for: Small to medium-sized businesses focused on quality over quantity.
In wrapping up, DeepConverse lives up to its promise as a comprehensive solution for automating customer service and support. However, it isn't a modern generative AI solution like its competitors.
Its design allows for quick integration and scalability, making it a versatile tool for businesses of all sizes.
While it functions more like traditional chatbots that existed before the AI era, minor drawbacks, like limited language support and a premium pricing structure, make it a less impressive product.
However, it is a tried and true system that reliably improves response times, reduces support costs, and improves customer experience.
7. Netomi

Pioneers in self-learning AI, Netomi excels in auto-resolving complex issues, offering extensive integration for a seamless support experience.
Best For: Generative AI Customer Support
Price: Custom Pricing
Annual Discount: None
Promotion: None
Netomi's Customer Experience AI platform is designed for high-performance automated customer support across multiple channels like email, chat, social, and interactive voice response.
It distinguishes itself by an impressive issue resolution rate and accuracy, made possible by its patented AI technology.
The system can integrate easily with existing business operations, enhancing customer experience and operational efficiency. Additionally, it provides real-time analytics via its AI Studio dashboard.
The platform is handy for enterprise-level companies in retail, e-commerce, and tech sectors.
It reduces support costs and improves customer satisfaction significantly, resolving 80% of routine inquiries automatically and reducing response times dramatically.
Netomi offers a comprehensive and efficient solution for automating customer service operations while maintaining high-quality support.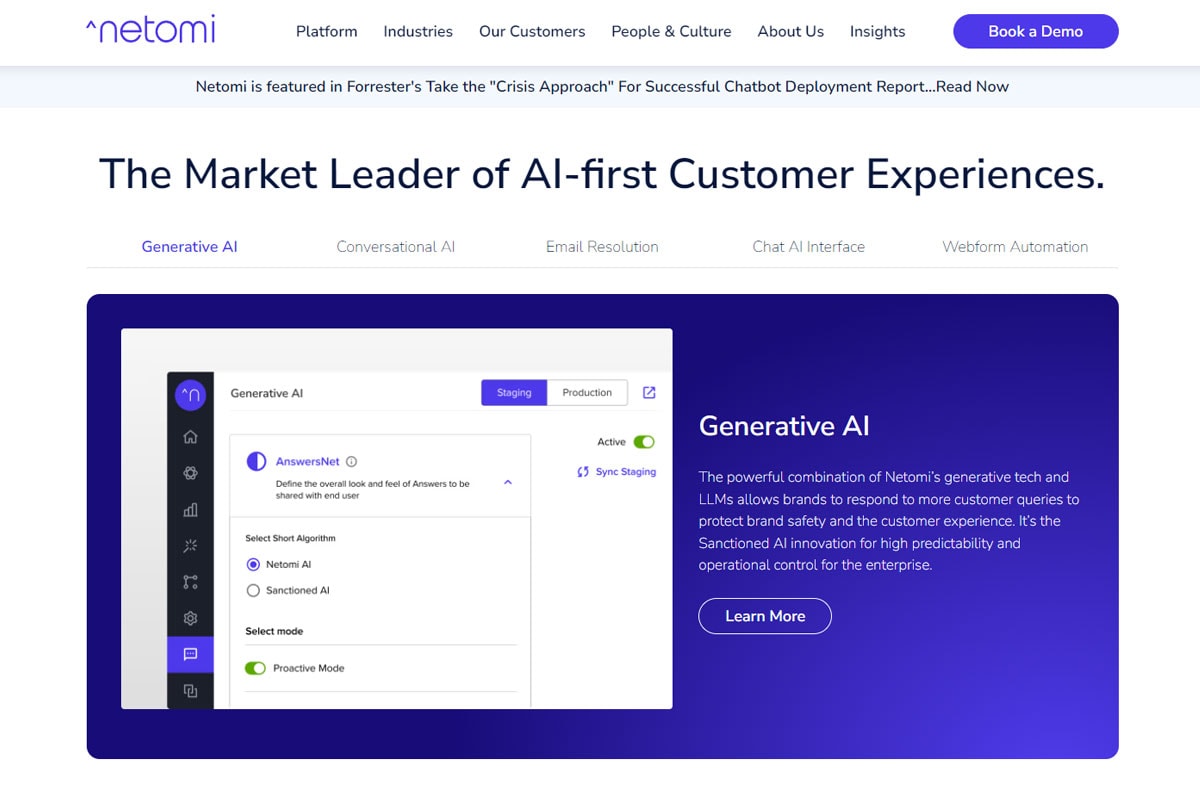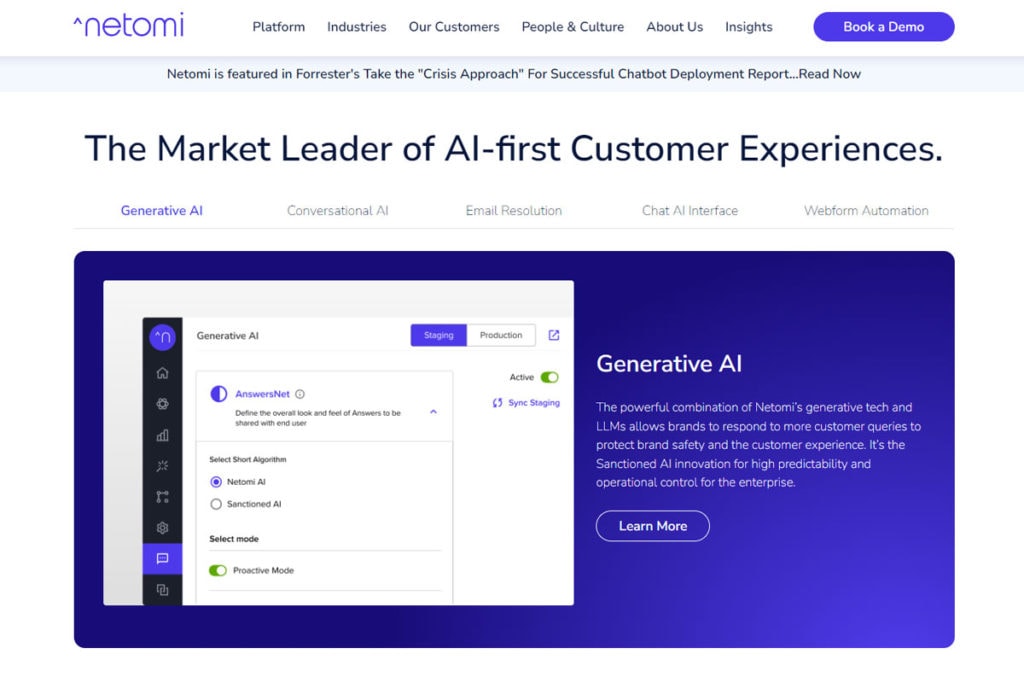 Multi-channel support
Natural Language Processing
Data Analytics
Email automation
24/7 support
Personalized interactions
Security compliance
A/B Testing
CRM integrations
Quick setup
Netomi is an indispensable tool for customer service automation, particularly for high-growth companies with volatile ticket volumes.
The platform has consistently performed well, handling spikes in contact center traffic and saving time and money.
Users have touted its analytics and content management capabilities, stating they can now better serve customers and understand market changes.
Overall, Netomi has been a software provider and a valuable partner for businesses in various industries.
User Experience: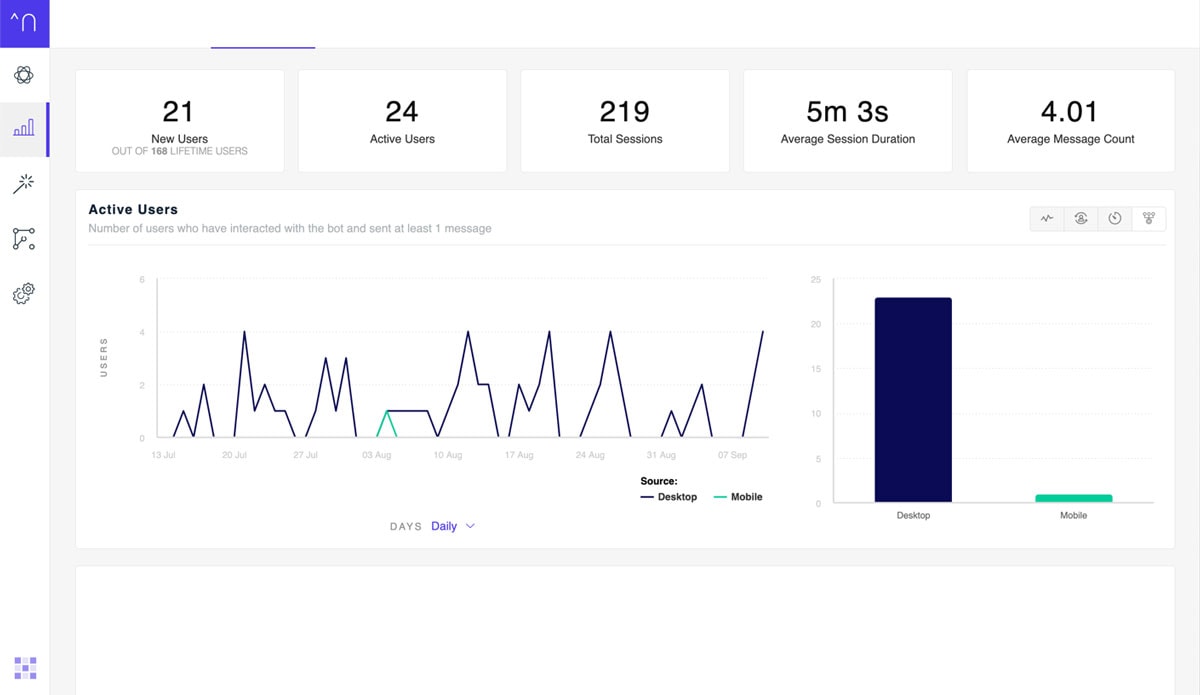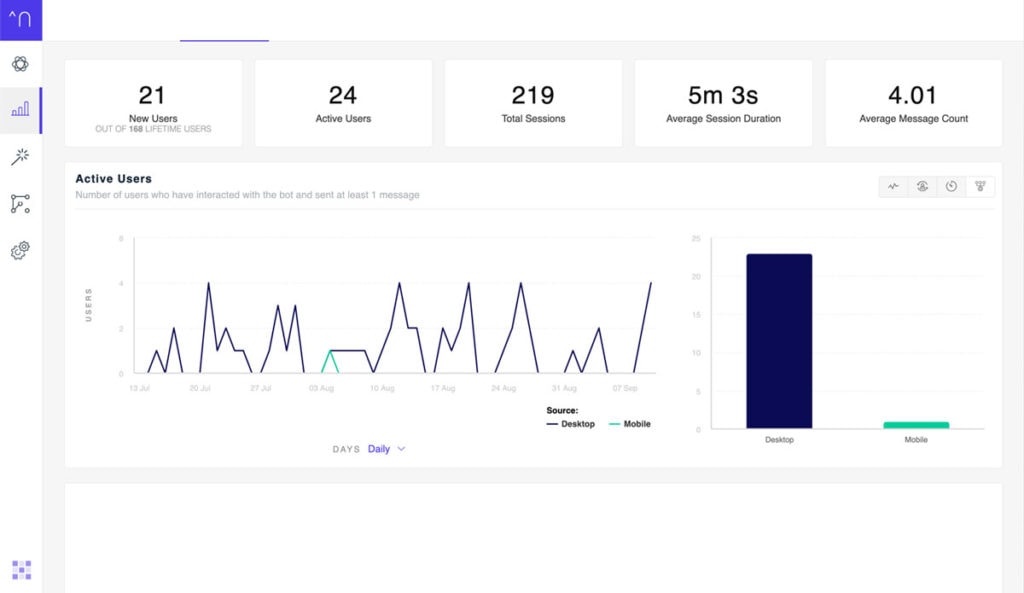 Usability is one of Netomi's strong suits. Users have praised the intuitive interface, specifically mentioning the "Studio's UI" as a standout feature.
While the platform offers robust capabilities, its user-friendly design makes it accessible, enabling teams to manage bots and glean insights without a steep learning curve.
There's a general consensus that despite continuous updates, they are communicated well, making it easier for teams to adapt.
What I Liked:
Robust analytics capabilities
Time and money-saving features
Exceptional customer support
Seamless integration with other tools
User-friendly interface
What I Disliked:
More customization is needed for reports
Frequent account support changes
Initial setup can be time-consuming
Ideal for:
Large enterprises due to comprehensive features.
Netomi is shaping up as a holistic solution for generative AI customer experience and service. Its blend of intuitive user interface, robust analytics, and strong customer support makes it more than just a tool; it becomes an integrated part of a company's online customer experience, AI for customer service and strategy.
While there are minor drawbacks, like the need for more customizable reports and frequent team changes, they hardly outweigh the immense value Netomi adds to a business. Netomi is an excellent choice for companies looking to adapt and thrive in the fast-paced digital world.
8. Forethought

Streamlining support, Forethought uses AI to reduce ticket time and proactively suggests agent actions, driving efficiency in customer service.
Best For: Generative AI Customer Support
Price: Custom Pricing
Annual Discount: None
Promotion: None
Forethought is an AI-enhanced platform that optimizes customer support operations for scaling businesses.
Beyond just a typical help desk tool, it is also an intelligent layer that learns from past support tickets, emails, and knowledge articles to offer precise solutions for new service requests. Instead of relying on generic chatbot interactions, Forethought provides customers with immediate, contextually accurate, and relevant responses.
With features like Workflow Builder, it allows the creation of automated processes that recognize customer intentions, offering truly streamlined self-service.
Forethought's Triage function intelligently determines which support tickets should be prioritized. It directs them to the most suited agent, factoring in their past performance and the ticket's sentiment.
Forethought Assist acts as an indispensable resource for support agents, furnishing them with relevant information culled from past cases, thus boosting their efficiency.
Built on advanced Natural Language Processing (NLP) and Understanding (NLU), Forethought consistently refines its understanding, ensuring optimal customer service experiences.
Its clientele includes notable names like Marriott, Upwork, and Asana. To reduce the time agents spend searching for information, Forethought Assist enhances productivity, expedites the onboarding process for new agents, and ensures superior customer interactions.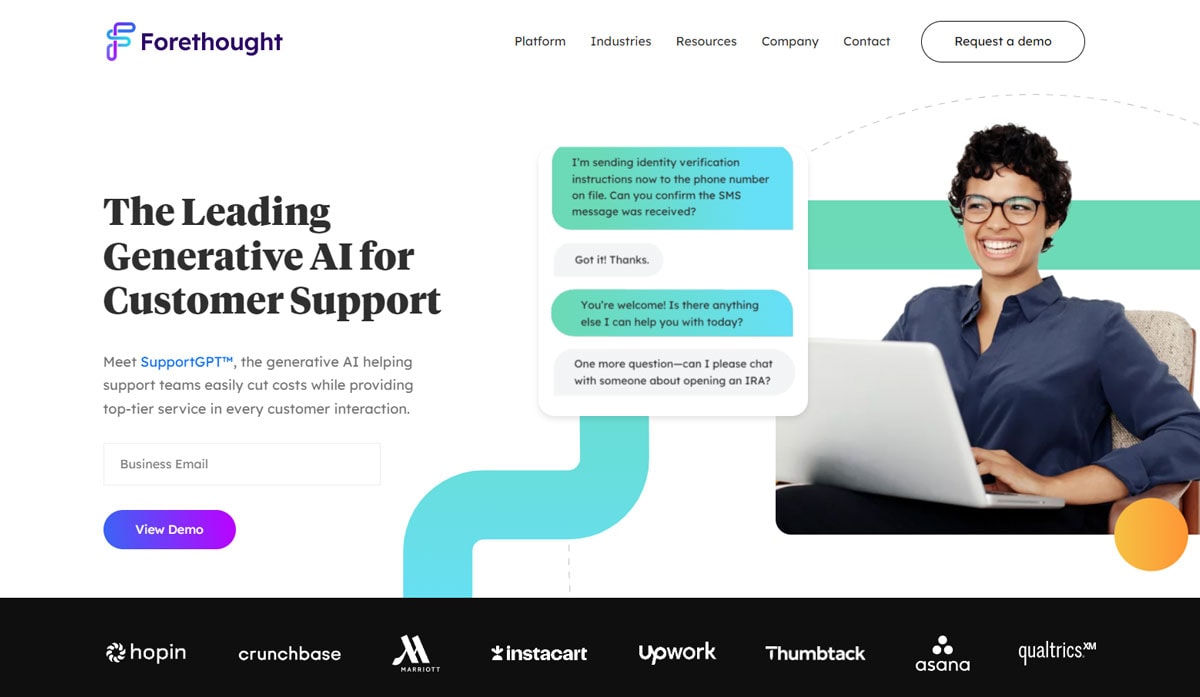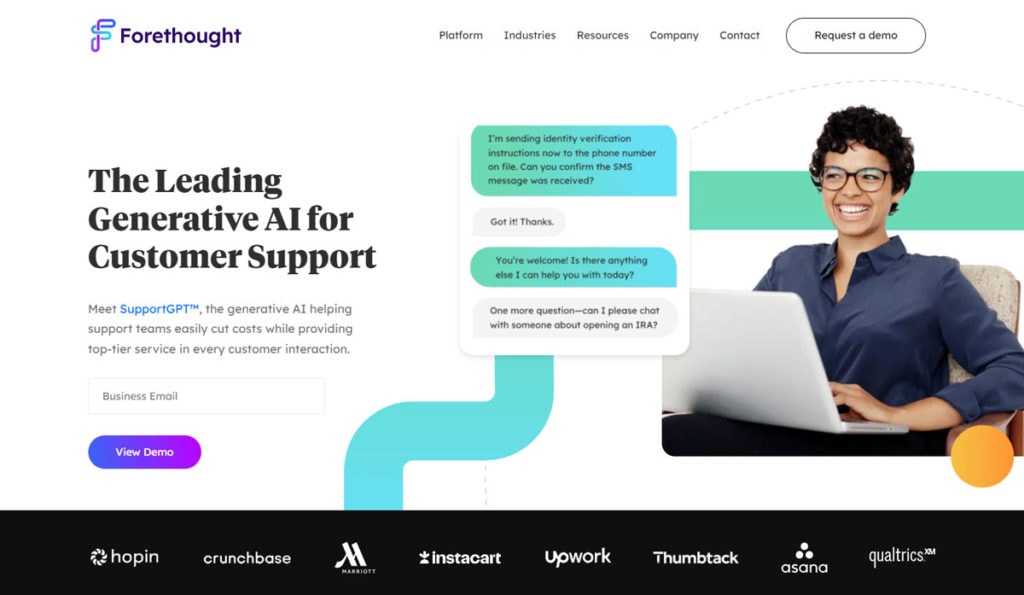 Ticket reduction
AI agent suggestions
Real-time monitoring
Automated routing
Multilingual support
Query auto-respond
Email support
Live chat
Performance Analytics
CRM integration
The Forethought Platform is a robust tool for customer support, according to the experiences of those who have used it.
The general sentiment leans toward its capabilities in AI, like predictive responses and workflow optimization, that make life easier for customer support agents everywhere. This is particularly true for Forethought Assist, which has been recognized for using machine learning to provide increasingly relevant support recommendations over time.
While some users have reported issues, most notably during the initial implementation phase, the platform is generally effective in reducing ticket numbers and enhancing agent efficiency.
Moreover, Forethought's team is consistently lauded for being responsive and accommodating, helping with the customization and implementation of their tools.
User Experience: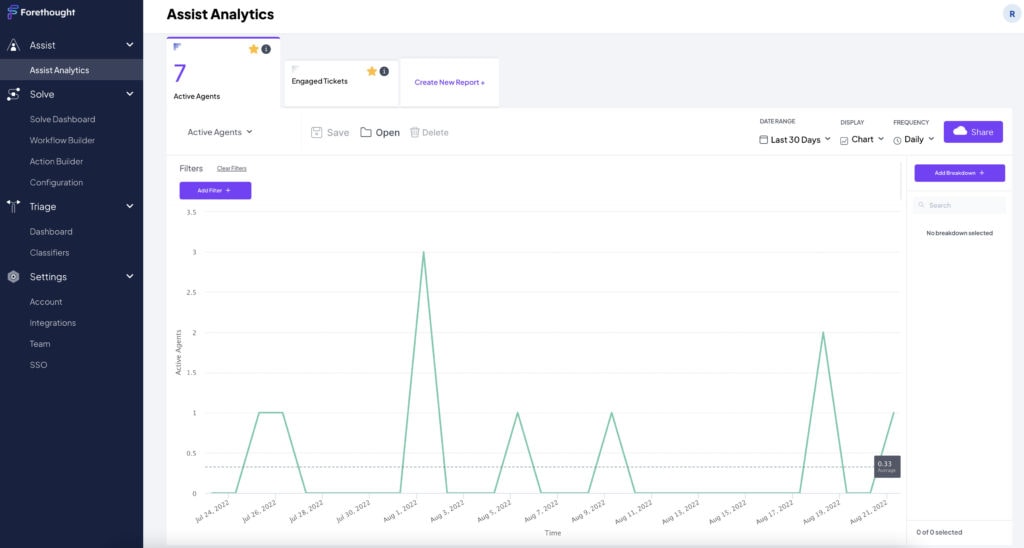 Usability seems to be a strong point for Forethought. Users appreciate its integration with platforms like Zendesk and Salesforce, allowing seamless access to knowledge bases, ticket histories, and templates.
Despite some limitations in reporting and a few tweaks needed in article searching, the interface is user-friendly and designed with ease of use in mind.
Pricing:
What I Like:
AI learns and improves over time
Efficient ticket management
Easy multilanguage support
Highly responsive staff
Convenient one-click workflows
What I Dislike:
Longer-than-expected implementation
Inadequate predictive analytics
There is no support for images in the chat
Ideal for:
Medium to large businesses with data-driven strategies.
Forethought is a highly potent solution in the AI-driven customer service sphere. Its generative AI capabilities significantly aid in streamlining customer experience and support tasks, albeit with a learning curve during the initial setup.
Despite minor setbacks in features like predictive analytics and image support, the overall package is strengthened by a responsive and attentive team from Forethought.
In a nutshell, for businesses looking to augment their customer support capabilities, Forethought offers a near-comprehensive, continually-improving solution.
9. Drift

Drift excels in real-time engagement and lead generation, tailored for marketers, offering dynamic personalization and account-based marketing.
Best For: Generative AI Sales & Marketing Platform
Price: $2500/month - Custom Pricing
Annual Discount: None
Promotion: None
Drift, co-founded in 2015 by David Cancel and Elias Torres, is a cloud-based platform to modernize B2B sales and marketing strategies through real-time conversations.
Serving over 50,000 businesses, the platform features live chat windows, chatbots, and AI capabilities that facilitate seamless communication with website visitors to generate leads and improve sales opportunities.
Drift's key features include geo-targeting, offline access, and integration with third-party platforms like Salesforce and Google Analytics.
Available on Android and iOS, Drift aims to put the buyer in control of the buying process, aligning sales and marketing teams under one roof for a more coherent and effective business strategy.
It offers various pricing options, starting with a basic free tier. It supports users through extensive documentation and an online helpdesk.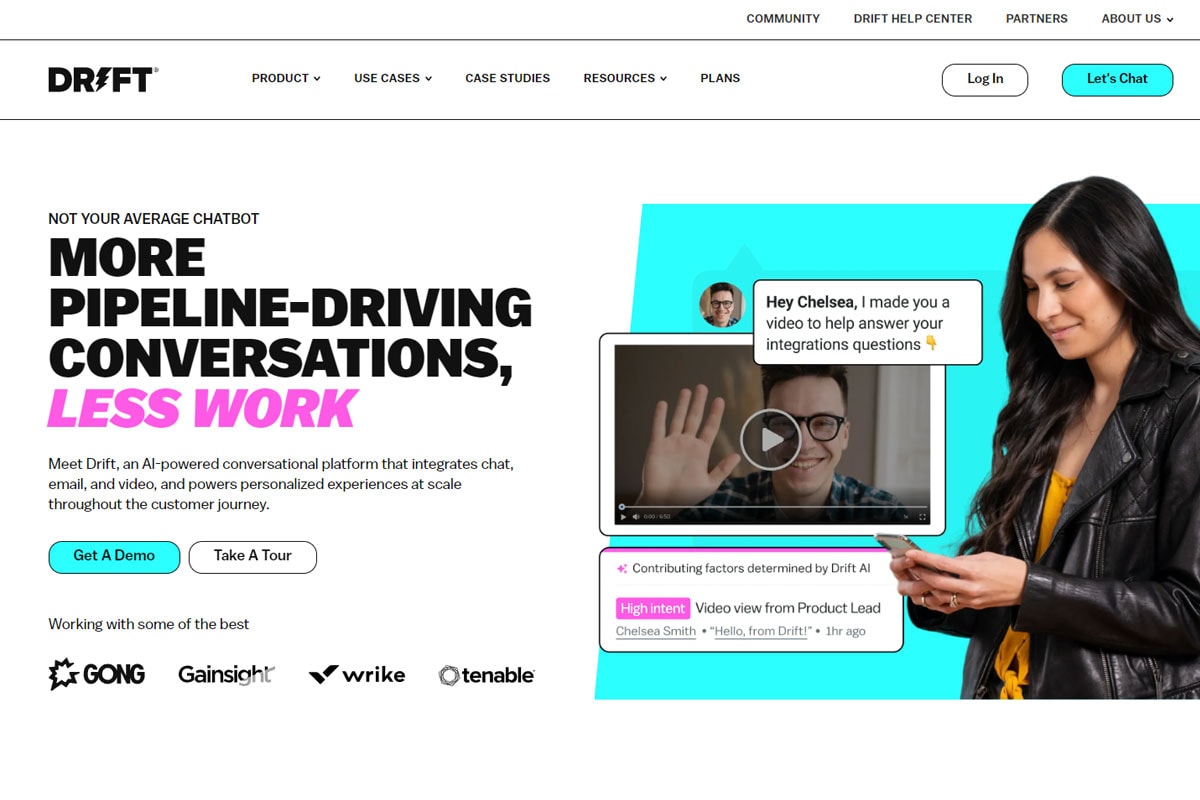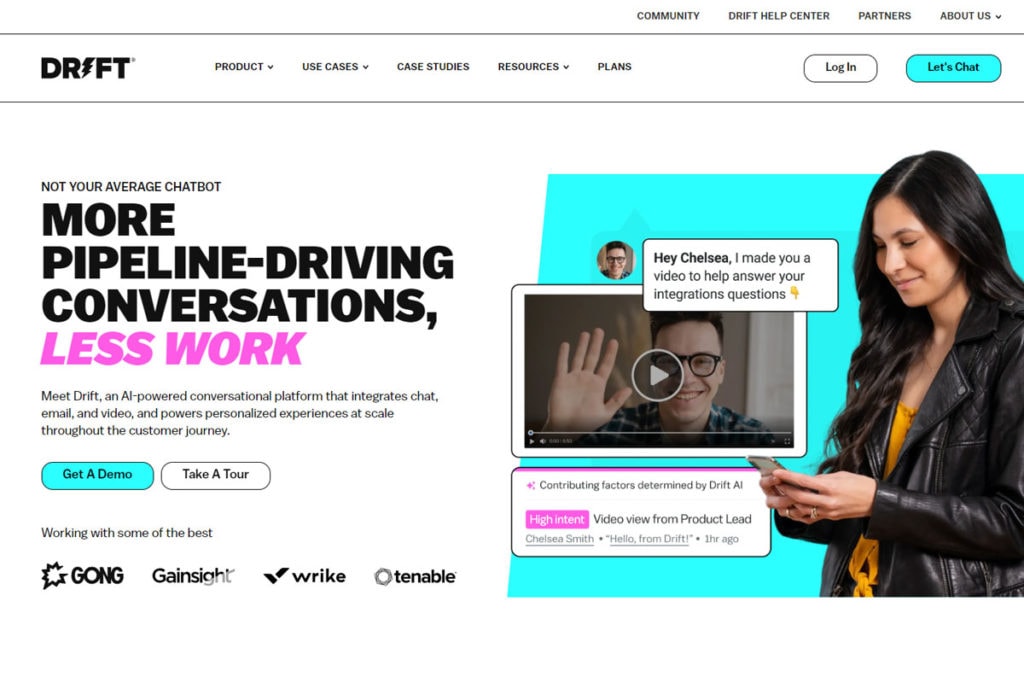 Real-time engagement
Lead gen optimization
AI-driven chat
Email follow-ups
Targeted campaigns
User tracking
Dynamic personalization
Account-based marketing
GDPR Compliance
A/B testing
Drift seems to be a platform that successfully addresses many of the needs within AI for customer engagement and sales.
Although its foundation and features are impressive, it's geared toward sales and post-sales marketing due to its lack of integration with other CX platforms.
Users praise its easy-to-use backend, effective reporting metrics, and speedy implementation from ideation to execution.
Most notably, the platform is lauded for its A/B testing capabilities and intuitive drag-and-drop functionality, simplifying playbook setups. Even those who need to be more tech-savvy find it user-friendly.
That said, reviews indicate room for improvement regarding customer support response time and technical glitches with new features.
User Experience: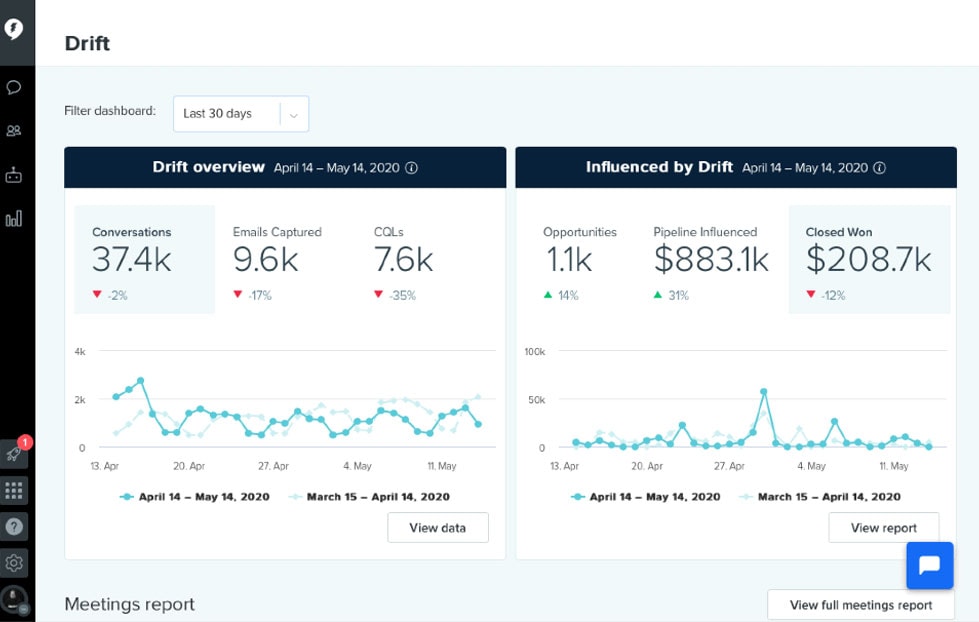 The user interface of Drift is another strong point, as mentioned in multiple reviews. Users find it intuitive and straightforward, especially with features like pre-built templates and drag-and-drop functionalities that simplify complex tasks.
The reporting dashboard is also robust, providing important metrics like chat volume, response times, customer churn, and satisfaction rates at a glance.
This combination of usability and comprehensive reporting capabilities empowers teams to make data-driven decisions efficiently.
Pricing:
Premium: $2500/month
Advanced: Custom Pricing
Enterprise: Custom Pricing
What I Liked:
Easy-to-use backend
Robust A/B testing
Comprehensive reporting metrics
Quick implementation process
User-friendly interface
What I Disliked:
Sluggish customer support
Glitches with new features
Difficulty in chat routing
Ideal for:
Businesses of any size that want to stay on the cutting edge of customer service technology.
Given the overwhelmingly positive reviews about its ease of use, robust features, and reporting capabilities, Drift is a strong choice for businesses looking to enhance their customer engagement strategies.
While it does have areas that could be improved—such as customer support and some technical issues—these don't significantly hinder its core functions.
It is a holistic solution for AI-generated customer experience and customer service needs. The platform provides a balanced approach to real-time human customer service agents, interaction, and automated chat solutions, making it a versatile choice for modern businesses.
10. Ascendo

Rising with its data-focused approach, Ascendo optimizes customer interactions with real-time insights, ensuring a data-driven decision-making process.
Best For: AI Agent Assistant
Price: Custom Pricing
Annual Discount: None
Promotion: None
The Ascendo Platform is a comprehensive tool for boosting the efficiency, accuracy, and overall experience in customer support operations.
Designed with advanced technologies like AI, Cognitive RPA, NLP, and ML, it assists agents in issue resolution, anomaly detection, knowledge management, and much more.
Beyond support agents, Ascendo caters to customers through automatic self-service and to leaders by offering actionable insights from post-sales interactions. In an era where customer experience scores are dwindling, and data complexity is rising, Ascendo aims to offer smart, fast, and scalable AI solutions.
It is particularly strong in data interpretation, automatically categorizing all customer data queries by understanding their context, intent, and sentiment. Ascendo also allows integration with various data sources and support channels like Zendesk and Slack.
Notably, its AI engine is self-learning, improving its artificial intelligence efficiency and accuracy over time.
Therefore, Ascendo is a well-rounded platform for customer care and support teams, offering an all-in-one solution that addresses immediate customer care queries and long-term support strategies.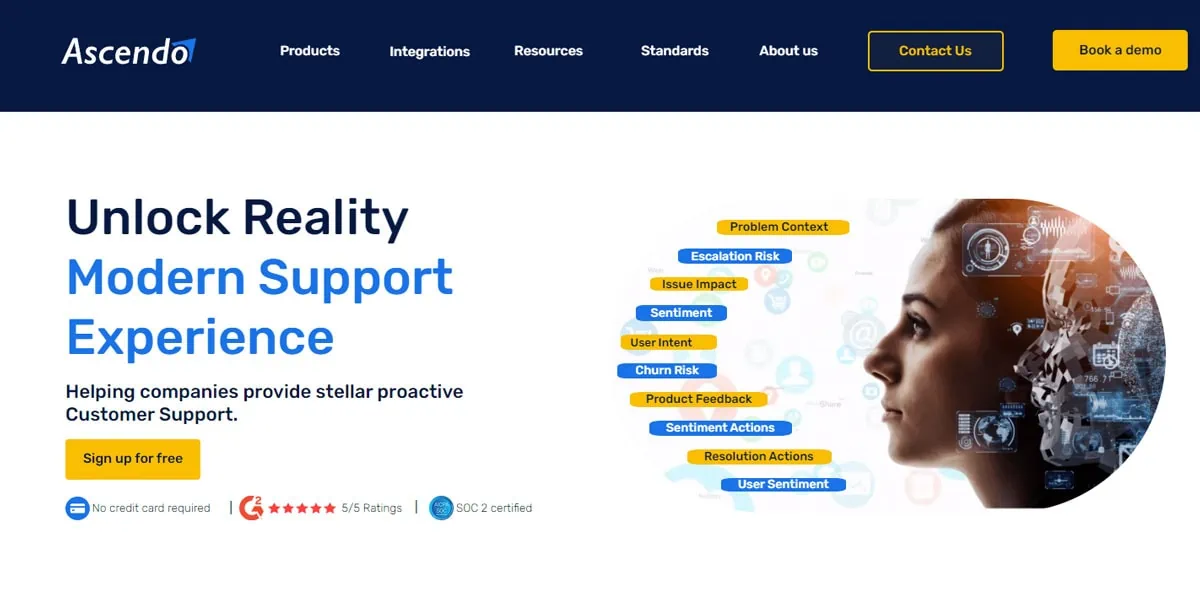 Machine learning
Customer journeys
24/7 support
AI chatbots
Multi-channel engagement
In-depth analytics
Flexible APIs
Ticketing system
Social media support
SMS service
The Ascendo Platform is a pivotal tool for organizations aiming to achieve predictive, proactive customer service. Users consistently laud its capacity to assess risk, plan effectively for customer service-level agreements (SLAs), and create a proactive support environment.
Another dominant sentiment is Ascendo's ability to make data-driven inferences, specifically in high-stakes industries like telecom and healthcare.
The support team at Ascendo receives universal praise for their responsive and collaborative approach. Almost every reviewer finds little to no fault with the product or the team behind it.
User Experience: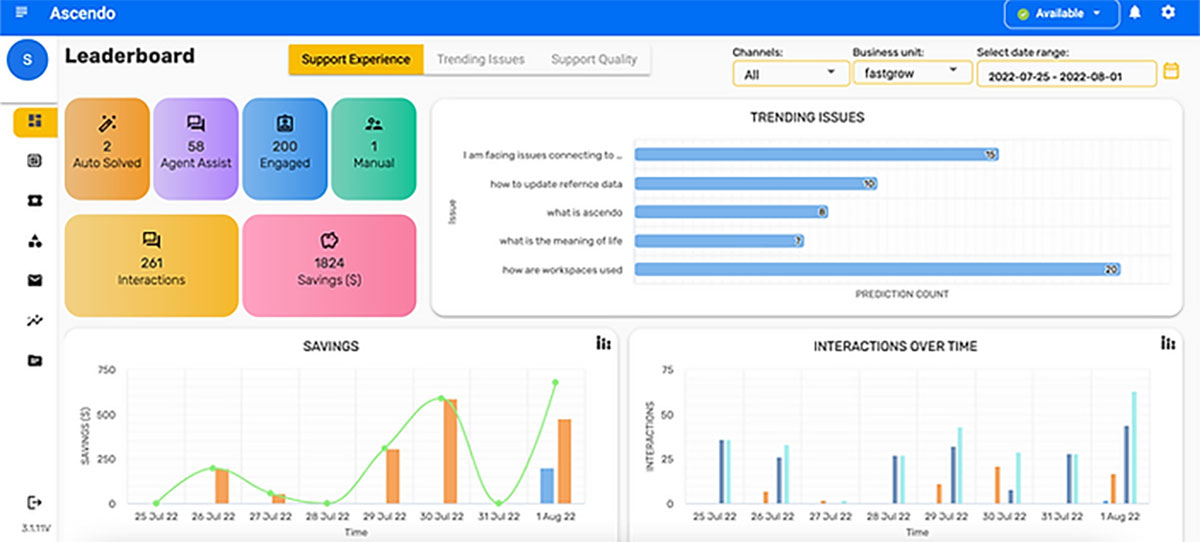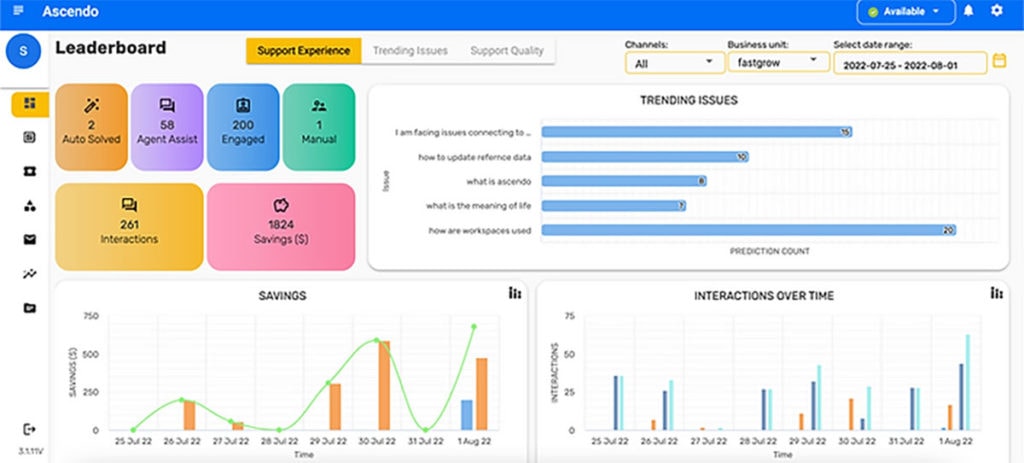 The user interface of Ascendo is hailed for its intuitiveness and ease of use. Users can effortlessly perform complex tasks such as spares planning, risk assessment, and proactive customer service measures.
Several reviewers mention the platform's ability to integrate seamlessly with Slack and CRM systems, reducing the barrier to effective customer support.
This ease of use is not just a superficial feature; it's a critical factor that allows teams to spend less time grappling with a complex tool and more time addressing the customer's needs.
Pricing:
What I Liked:
Intuitive, easy-to-navigate interface
Highly responsive and collaborative support team
Effective in high-stakes industries like telecom and healthcare
Strong predictive and data-driven capabilities
Seamlessly integrates with Slack and CRM systems
What I Disliked:
Requires internal data gathering for optimal predictions
Limited product offerings need to be expanded
Change management could be challenging for some
Ideal for:
Medium-sized businesses that value a wide array of tools.
Ascendo is a holistic solution for AI-driven customer experience and customer service. The platform not only provides predictive analytics and proactive support planning but does so in a user-friendly interface that requires minimal training to master.
Its cross-industry applicability, ranging from telecom service providers to healthcare, speaks to its robustness and versatility.
While there are minor areas for improvement, such as expanding product offerings and easing change management, these are dwarfed by its strengths.
Given its track record, Ascendo has proven an invaluable asset for any organization aiming to elevate its customer service to the next level.
11. Moveworks

The IT maestro, Moveworks, specializes in IT support, boasting natural language understanding and automated issue resolution.
Best For: Automated Employee IT support
Price: Custom Pricing
Annual Discount: None
Promotion: None
Unlike the other solutions above, the Moveworks platform is not a customer-facing solution. Instead, it enhances employee productivity by streamlining information access and automating tasks through a natural conversational interface.
It's not limited to any specific enterprise software. It can integrate with various systems like Microsoft, Workday, and Salesforce.
Thanks to machine learning models similar to GPT, the platform adapts to an organization's specific language and workflows, making it highly versatile for numerous use cases.
The platform offers pre-packaged applications and tools for customization, allowing for deep integration with existing tech stacks.
This enables employees to get immediate assistance, helps leaders identify automation opportunities, and allows developers to take training data and create solutions quickly without coding.
Companies like Databricks and DocuSign have effectively employed Moveworks for various aspects of their business automation.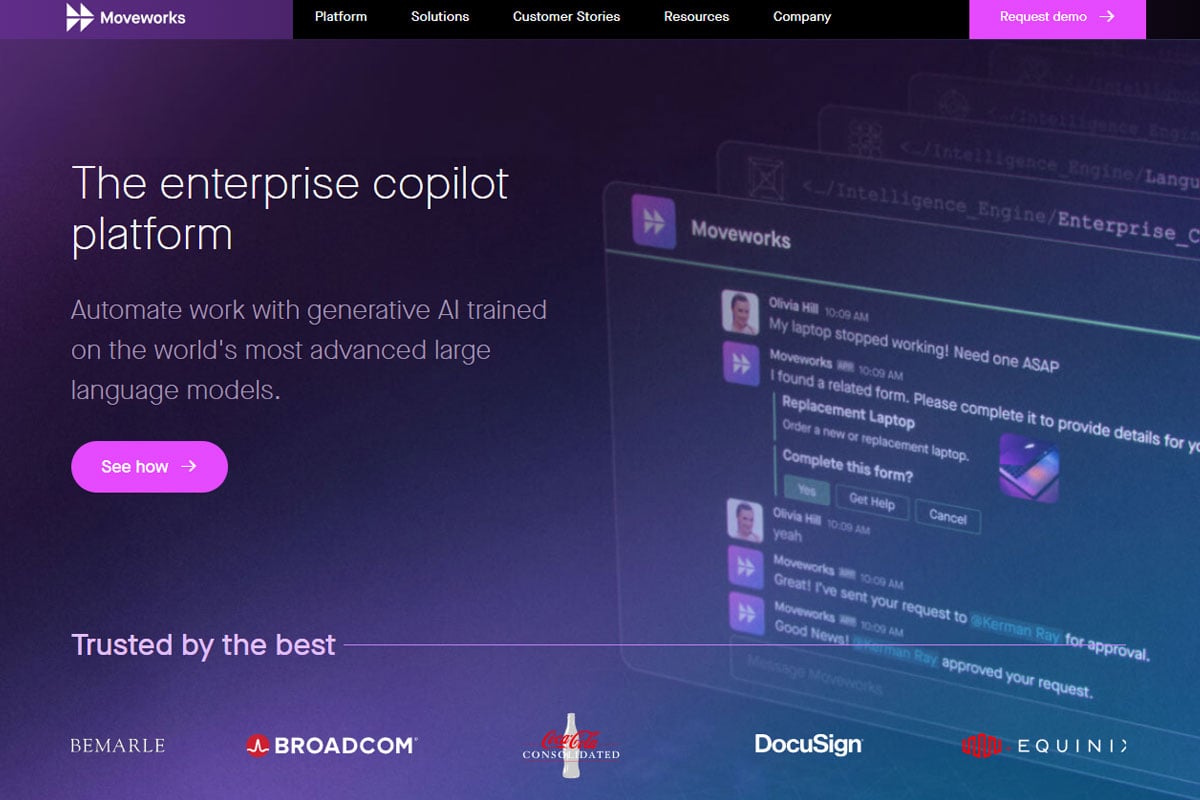 Natural language understanding
Automated IT support
Self-service options
Incident triage
24/7 availability
Real-time analytics
Security compliance
Knowledge base
Issue tracking
Email integration
Moveworks Platform has overwhelmingly positive feedback, particularly in quick implementation and evident return on investment.
The platform has helped organizations, including the one that deployed "Herbie," to meet and exceed their operational goals.
While it's noted that there are occasional delays in customer support follow-ups, the company seems committed to actively seeking and implementing customer feedback to improve its customer service teams.
User Experience: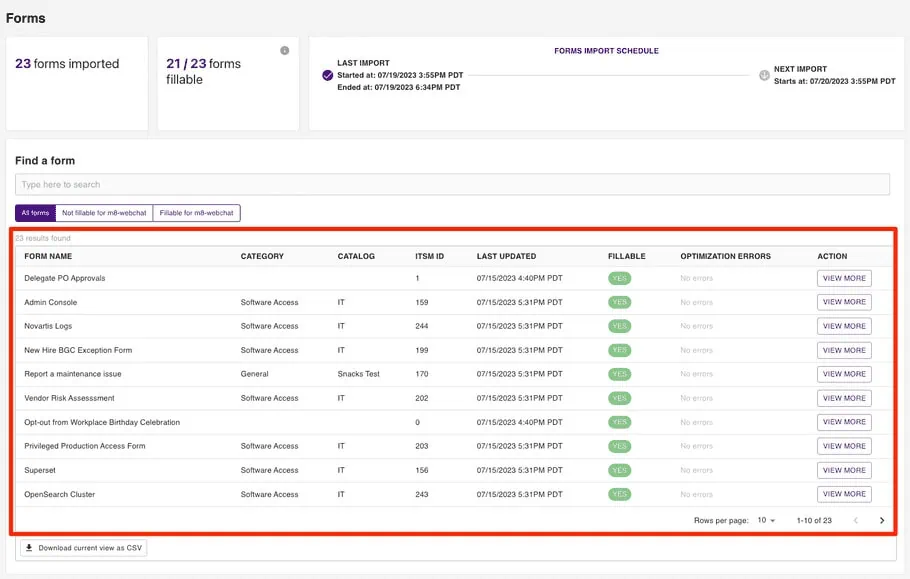 Regarding the user interface, the consensus is that Moveworks has made the experience straightforward and hassle-free.
The platform integrates well with existing ticketing and chat systems, making it easily accessible where users naturally reach out for support.
However, some users would appreciate more flexibility than the current card-based flow in Teams.
Pricing:
What I Liked:
Quick and accurate responses
Seamlessly integrates with existing systems
Proactive password reminders
Excellent Customer Success team
Robust API capabilities
What I Disliked:
Slow technical support at times
Limited UI flexibility
Pre-set data points in reporting
Ideal for:
Large enterprises with complex customer service needs.
In summary, Moveworks emerges as a comprehensive AI-powered solution for customer service and improving online customer experience. It excels in its core functionalities—ticket triage, communications, and proactive engagements—while offering high customizability.
While there are areas for improvement, particularly in technical support responsiveness and interface flexibility, these issues are relatively minor compared to the platform's strengths.
It can rapidly integrate into existing systems and deliver immediate ROI, making it a compelling choice for organizations looking to streamline their customer support and automate processes.
Key Considerations
Budget: Don't buy a Ferrari when you have a Toyota budget.
Scalability: Like a good pair of stretchy pants, ensure the platform grows with you.
Features: It's not just about quantity; quality matters too.
Integration: Think of this like food pairings; you want software that complements your existing tools.
Customer Support: No one likes being left on read; ensure your chosen platform offers excellent support.
Ease of Use: Because, let's face it, nobody likes to read a manual to send a chat message.
Customization: You only buy shoes that fit; likewise, look for platforms you can tailor to your business.
Alternative Options
If none of these platforms ring your bell, consider building a custom solution by combining multiple platforms. Combining a generative AI customer support system like Forethought AI with a generative AI sales and AI-powered customer support system like Drift could make a powerful, complete solution.
Conclusion
It's clear that these next-gen CX solutions are not only transforming customer service as we know it but may lead to a complete call center digital transformation.
However, having an AI customer experience solution is about more than replacing our customer service team with autonomous robots handling everything, although it can certainly do that.
It is really about elevating the customer experience to a whole new level. The kind you could have only achieved with hundreds of people in the past.
Having AI deflect most of your easy-to-answer customer inquiries is about allowing your support team to work without the pressure of time constraints.
With AI, you can achieve that level of personalized customer experience that made brands like Zappos so successful.
So, AI customer experience solutions can help you reduce support ticket volume and speed up human-based resolutions. Still, it allows you to elevate your brand at a fraction of what it would have cost only two or three years ago.
Then, you can start investing in the numerous other brand building strategies that you might not have had time or budget to take on before.
So, are you ready to let AI take the wheel?
Frequent Asked Questions
How generative AI is used for customer experience?
Generative AI transforms customer service by automating real-time personalized responses to user queries. It creates human-like interactions through chatbots, email support, or even voice, offering 24/7 service. The tech answers questions and can generate solutions, cutting down on service delays and enhancing user satisfaction.
What is generative AI for CX?
Generative AI for Customer Experience (CX) uses machine learning algorithms to generate customized responses and solutions for customer service interactions. It leverages data and context to offer relevant, human-like communication, providing a seamless customer experience.
What problems can generative AI solve?
Generative AI can drastically reduce wait times, handle large volumes of queries simultaneously, and offer personalized solutions based on customer history and preferences. It solves the issues of scalability, availability, and efficiency in customer service.
How will generative AI change customer service?
Generative AI will usher in a new era of round-the-clock, personalized customer service without the need for large human teams. It will continuously improve its service quality by analyzing and learning from data, eventually becoming indistinguishable from human support agents.
What is an example of generative AI customer service?
Imagine a customer service chatbot that doesn't just pull pre-written responses from a database but actually generates its answers to complex customer queries. This chatbot would understand context tone and even pick up on nuances like sarcasm, crafting replies that feel incredibly human-like. Many of the software platforms above have their working example, which you can test for yourself.
What are examples of generative AI?
Deep learning models like GPT-4 and DALL-E are prime examples of generative AI. GPT-4 is known for generating human-like text, while DALL-E can create entirely new images based on textual descriptions. Imagine a creative duo where one writes the script and the other brings the visuals to life, except they're both AIs.
Editorial Process:
Our reviews are done by myself and come from my own experiences. I may not have used some products recently, so my reviews may reference details such as specifications and features that may have changed since I last used them. Let me know if you find any discrepancies.
Some of the links in this article may be affiliate links, which can compensate us at no cost if you decide to purchase a paid plan. These are products we've personally used and stand behind. This site is not intended to provide financial advice. You can read our affiliate disclosure in our privacy policy and editorial disclosure.