8 Best Virtual Business Address Mailbox Solutions in 2024
Have you ever daydreamed about your home-based business having a prestigious New York or Los Angeles address? Or start a small business without having to use your home address for the whole world to see and fill up your mailbox with spam mailers.
It's the 21st-century dream, my friend! Imagine the credibility boost without the wallet-destroying costs of actual prime real estate. But wait, what if I told you this dream could be a click away?
Yep, virtual business address mailbox solutions make this dreamy scenario a reality.
So, are you ready to transform your business mail game? Let's dive in.
The Power of Virtual Business Address Mailbox Solutions
Virtual business address solutions are the superheroes of the digital age – they mask your real location while projecting a professional image. Think of it as having Batman's mystique without the bat cave's upkeep.
You can receive all your important mail, file for a new business, look big league, and not even have to change out of your PJs. Magic, right?
The Players in the Game
1. Post Scan Mail

This is your all-in-one mail maestro. Not only does Postscanmail offer scanning, but it also gives you full control over your mail destiny, be it forwarding, shredding, or recycling.
Best For: Comprehensive management features
Price: $10/Month - $30/Month
Annual Discount: 2 months free
Promotion: None
PostScan Mail is a platform designed to provide virtual mailbox services to businesses and individuals.
This service allows users to have their mail, be it letters, packages, magazines, or postcards, scanned and uploaded to the cloud without any initial capital investments.
The software offers functionalities such as scanning, forwarding, storing, and shredding postal mail, streamlining the traditional mailroom experience.
Getting started is straightforward: choose a plan, address, PO box, or street address.
Note: PO Boxes can not be used for legal processes such as filing for a new business or an employer tax ID.
Once mail or a package is received at the chosen address, users are notified and presented with a scanned image of the envelope or package label.
You can then instruct the platform on the next steps, whether it's opening and further scanning the contents, forwarding it, recycling, or other actions. This digitized mail handling system offers a combination of convenience and efficiency.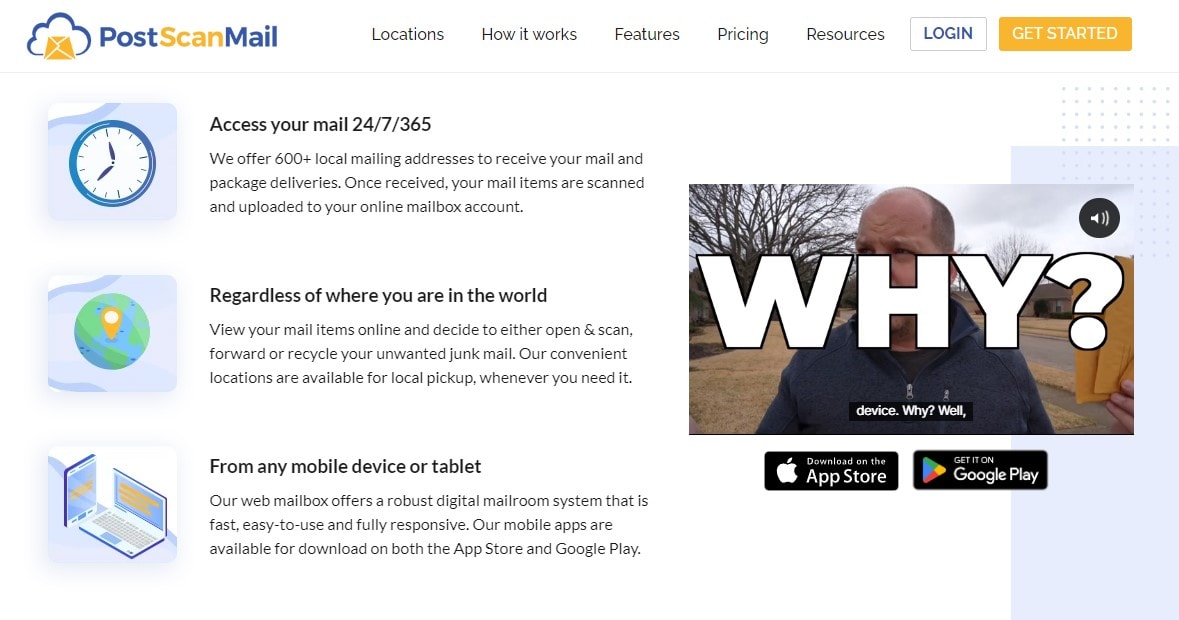 Mail scanning and imaging
Package forwarding
Mail shredding
Recycled disposal
Junk mail filtering
Cloud storage
Package log
Online viewing
Multi-user support
Mobile app availability
PostScan Mail is vital for businesses and individuals looking to streamline their mailroom operations.
The platform offers the luxury of sorting, scanning, and delivering both incoming and outgoing mail and provides an online avenue for users to access their mail from anywhere.
With the digital age upon us, the service has tapped into the need for decluttering physical spaces while maximizing efficiency.
For many, the convenience of having mail scanned and delivered electronically is a boon, especially when physical presence isn't feasible.
User Experience: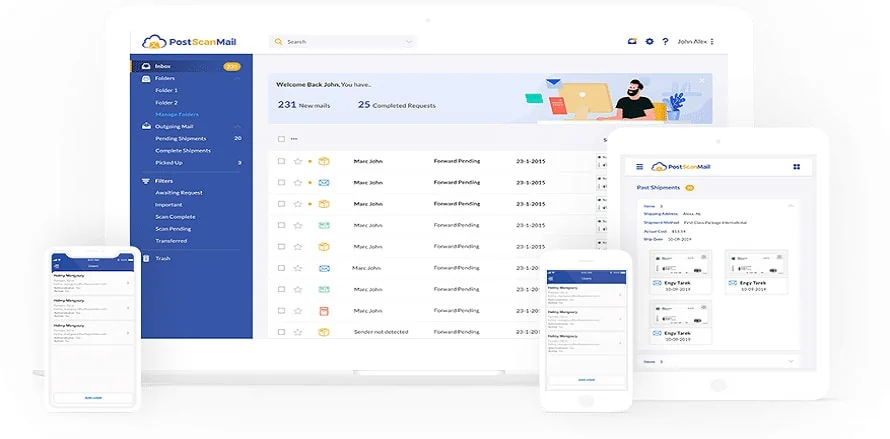 Speaking of ease and convenience, PostScan Mail shines in its user interface.
Though some argue that the app needs a facelift, the web version compensates with its seamless experience.
I appreciate its straightforwardness, highlighting how intuitive it is even for those not so tech-savvy.
Suppose you are an on-the-go individual who travels frequently for work. In that case, the platform offers a reliable way to keep up with your mail.
Pricing:
Starter: $10/month
Standard: $20/month
Premium: $30/month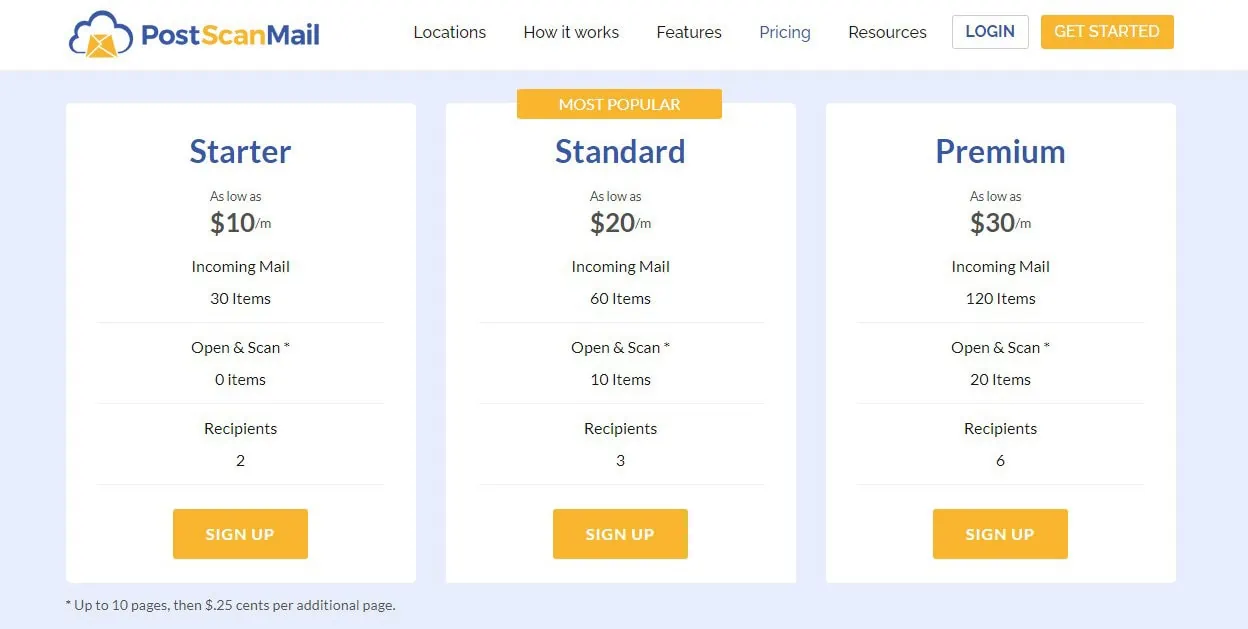 What I Liked:
Streamlines mailroom tasks.
Digital archive feature.
Convenient online mail check.
Reasonably priced.
Notifications for received mail.
What I Disliked:
Limited tracking details.
App experience subpar.
Mail delay issues.
Ideal for:
Medium to large businesses. Their comprehensive mail management system ensures business mail flows seamlessly.
Final Thoughts:
PostScan Mail, while innovative and convenient for many, offers a polarizing experience.
As a solution for using a virtual business address and mailbox, I found its strengths in digitization, ease of use (primarily through the web version), and environmentally-friendly features like mail shredding.
However, my concerns regarding mail tracking, app experience, and specific pricing structures make it essential for you to carefully consider if the platform's benefits outweigh the downsides for its specific needs.
2. iPostal1

iPostal1 is like the Swiss Army knife of mail handling – compact but super handy. With over 2,000 locations, it gives the term' local address' a global meaning.
Best For: Flexible location options
Price: $9.99/month - $39.99/month
Annual Discount: None
Promotion: Free Trial
iPostal1 Digital Mailbox is a cloud-based solution that empowers users to remotely manage and forward their postal mail, packages, and more through a smartphone, tablet, or online platform.
This platform provides the convenience of viewing mail immediately upon receipt 24/7 and offers plans starting at $9.99/month.
Additionally, the service elevates a user's professional image by allowing them to use the mailbox as their official business address for company registration, presenting a polished presence, and safeguarding privacy.
It further broadens its utility with full virtual address service options to add local or toll-free phone and fax services.
With over 2,200 locations, iPostal1 ensures secure mail handling where items can be forwarded, scanned, recycled, shredded, or picked up in person and even provides discounted international forwarding options.
IPostal1 often employs major retailers such as Staples and OfficeMax, so I know I can get my mail if needed through an entire day instead of private offices, which may have less flexible hours.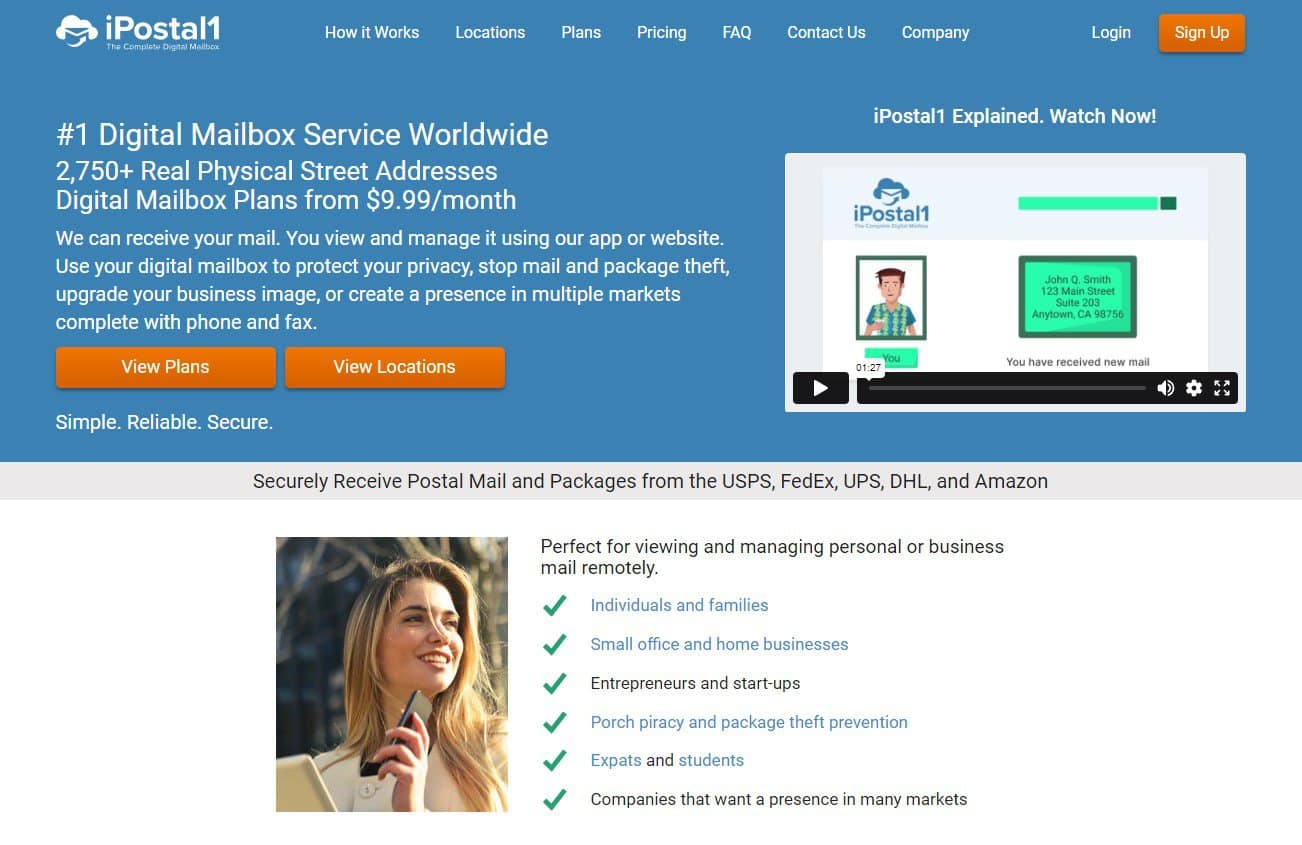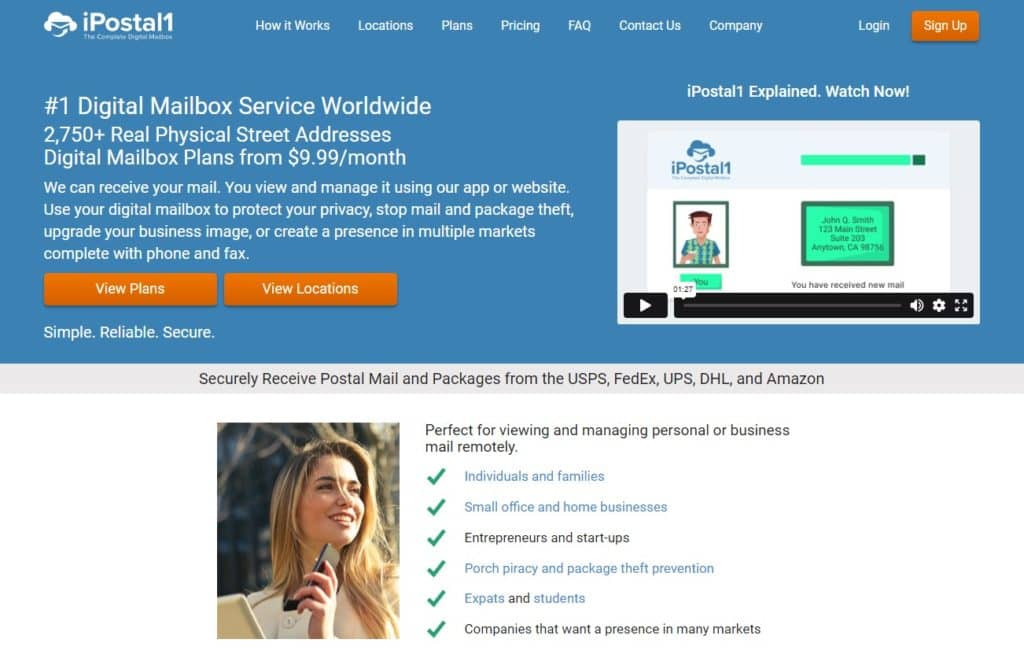 Digital mailbox service
Mail and package forwarding
Local pickup option
Mail scanning
Deposit checks service
Mail discard and shredding
Real street addresses
Mail notifications
Mailbox sharing
Choice of over 2,000 addresses
The iPostal1 Platform is an essential tool for those wanting to shield their personal addresses with a virtual one, especially for eCommerce businesses needing a physical address during transitions.
This service is more cost-effective compared to some of the mainstream mailbox providers.
Moreover, you will appreciate the provision of varied mail options, whether in the form of scanning, physical pickups, or the unique feature of getting a sneak peek of their mail via photos.
The dual customer service system is also commendable, designed to cater to diverse client needs.
On a side note, the platform has been particularly user-friendly. If you follow the on-screen prompts meticulously, the process becomes relatively seamless.
User Experience: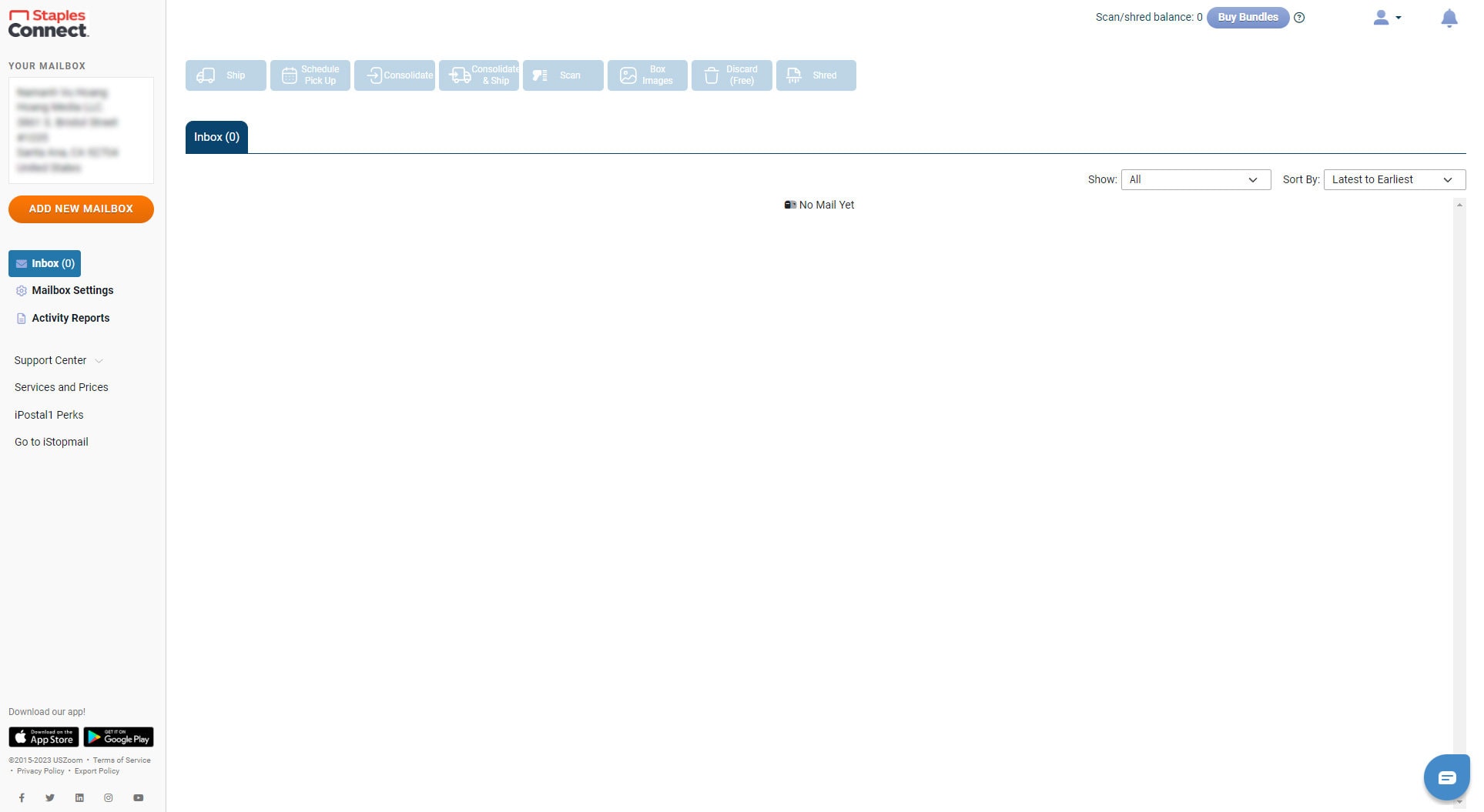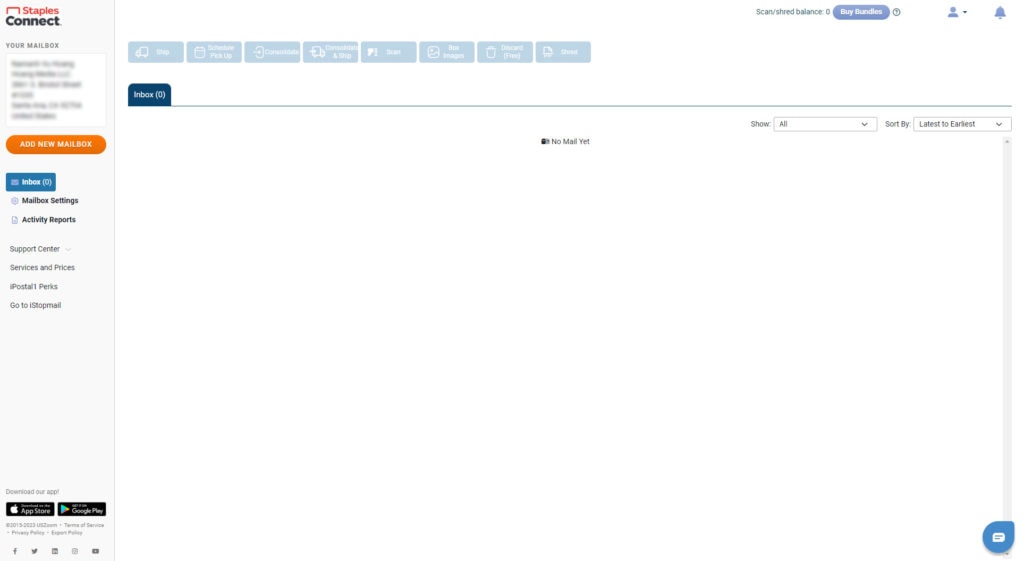 The user interface of iPostal1, while functional, has received mixed feedback.
While the system is adept at tracking mail and streamlining the processing phase, there's an initial learning curve.
I found it a tad old-fashioned and not the most intuitive.
However, with frequent usage, I have been able to navigate it easily, like any task that eventually becomes second nature with practice.
Pricing:
Green: $9.99/month
Blue: $14.99/month
Silver: $24.99/month
Gold: $39.99/month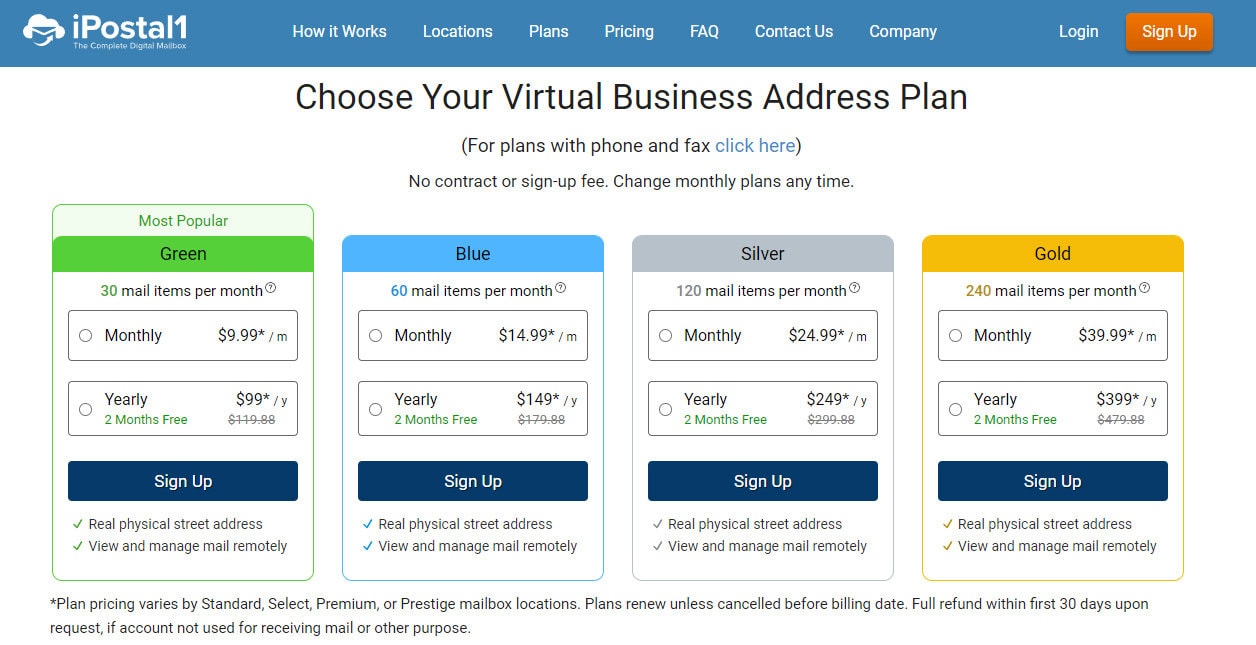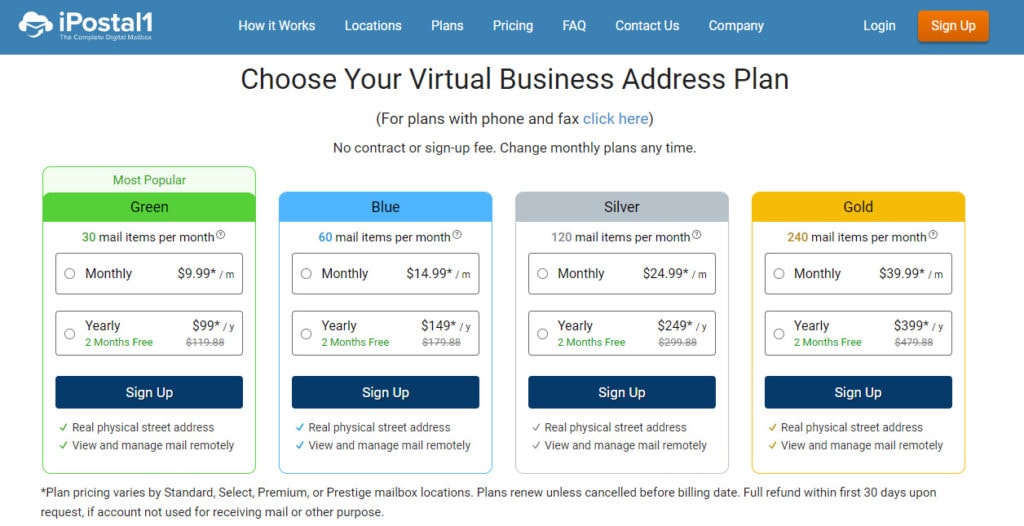 What I Liked:
Virtual address for privacy protection.
Cost-effective subscriptions.
Dual customer service systems.
Option for mail scanning or in-store pickup.
Emails with photos of incoming mail.
What I Disliked:
Varied charges for mail services.
UI/UX feels dated.
Uncertainty in locating misplaced packages.
Ideal for:
Small businesses and freelancers aiming for a global footprint. The array of addresses lets you establish a presence almost anywhere without the jet lag!
Final Thoughts:
I found that iPostal1 certainly establishes itself as a holistic virtual business address and mailbox solution.
The platform's core offerings effectively cater to your needs, especially those in the digital business realm.
However, it would help if you remained aware of potential additional costs associated with certain services.
While it might face stiff competition in pricing and design, iPostal1's robust functionalities and the trust it has garnered over the years make it a platform worth considering.
3. Anytime Mailbox

AnyTimeMailbox isn't just about mail forwarding or scanning; it's also about flexibility and scale. Whether you're a startup in Seattle or a consultant in Connecticut, they've got a plan tailored just for you.
Best For: International mail accessibility
Price: $5.99/month - $419.99/month
Annual Discount: 8.25% Savings
Promotion: None
Anytime Mailbox is a cloud-based platform that allows businesses to set up and manage digital mailboxes, complete with label scanning, lead generation, and more.
Designed for businesses of various sizes, it offers a web-based mailroom management solution, including features such as mail forwarding, alerts, and mobile check deposits.
With services available at 1,179 locations, users can choose a genuine street address from a diverse list, both domestically and internationally.
Once registered, users can effortlessly access their mail 24/7 from virtually any device—a PC, Mac, smartphone, or tablet.
Unlike its competitors, Anytime Mailbox doesn't offer fixed pricing across all locations. Instead, pricing is based on the specific location, with monthly plans beginning at $5.99. Still, it can go as high as $419.99 monthly for prestigious locations such as Beverly Hills, California.
Customers can also select from additional services like mail scanning, forwarding, check deposit, and shredding, ensuring they have the flexibility to tailor the service to their needs.
Whether for businesses, frequent travelers, or expatriates, Anytime Mailbox offers an adaptable and convenient solution for managing postal communications digitally.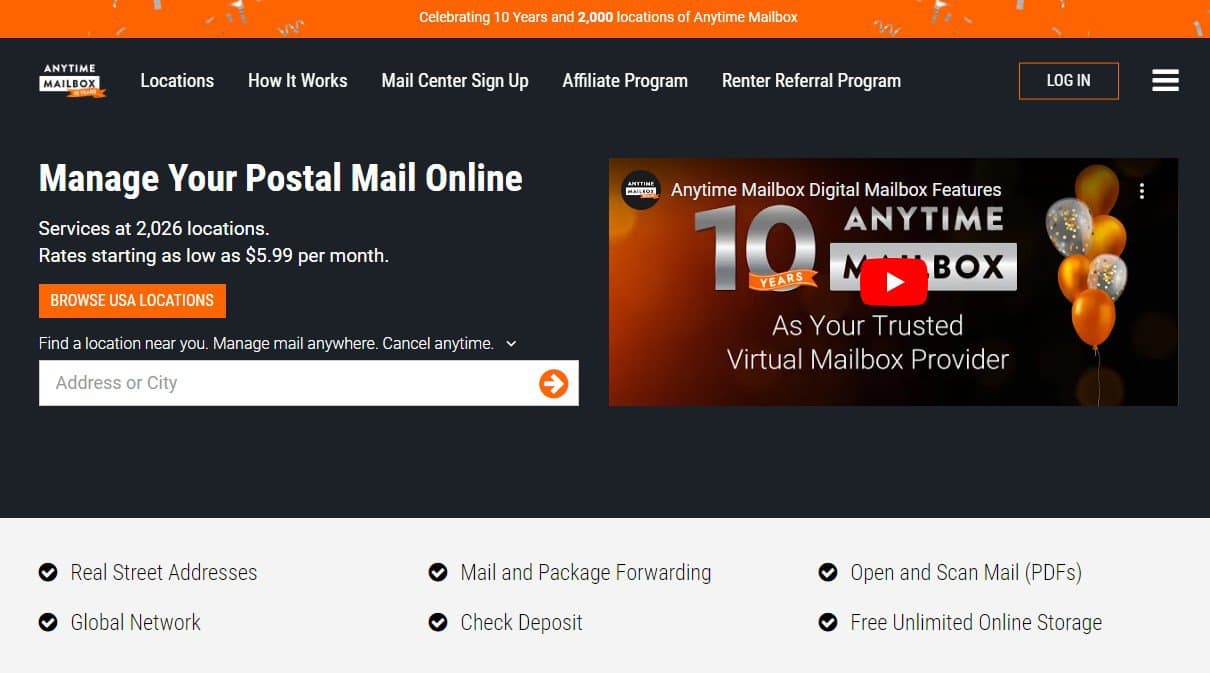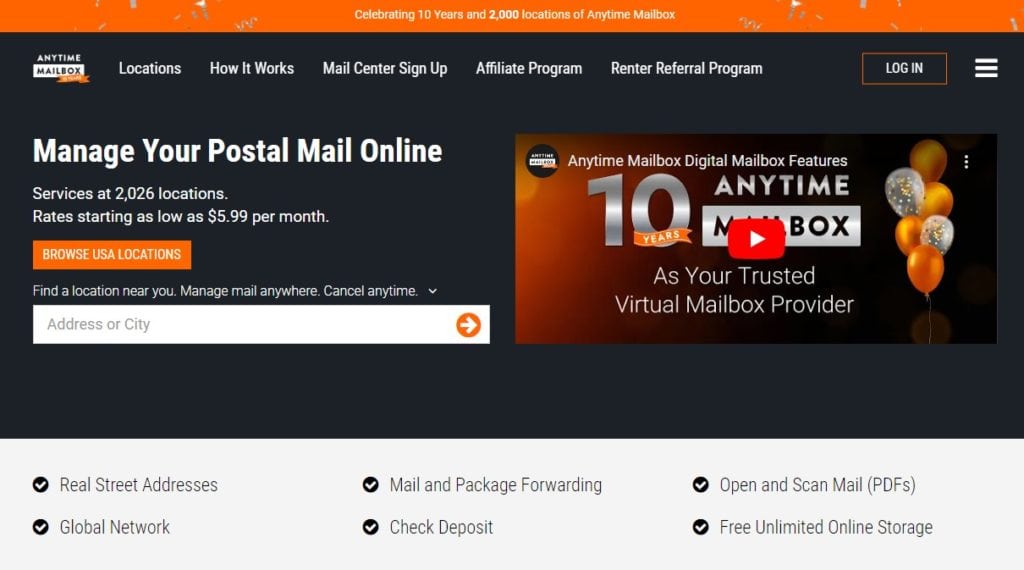 Digital mailbox rental
Mail scanning and forwarding
Package receipt
Virtual office setup
Check deposit services
Secure shredding
Worldwide network
Real street addresses
Mobile app access
Flexible plan options
After delving into the Anytime Mailbox Platform, it has undoubtedly cemented itself as a favored solution for individuals and businesses seeking a virtual mailbox.
The service offers many locations, incredibly unique and hard-to-get ones, and many users have sung praises about its affordability, with most locations sharing the same price range as its competitors.
The online setup process and account activation are seamless experiences, and several users appreciate its convenience over the traditional PO box.
The platform has demonstrated its utility in effectively managing mail digitally, especially during the time of COVID, ensuring safety and ease.
User Experience: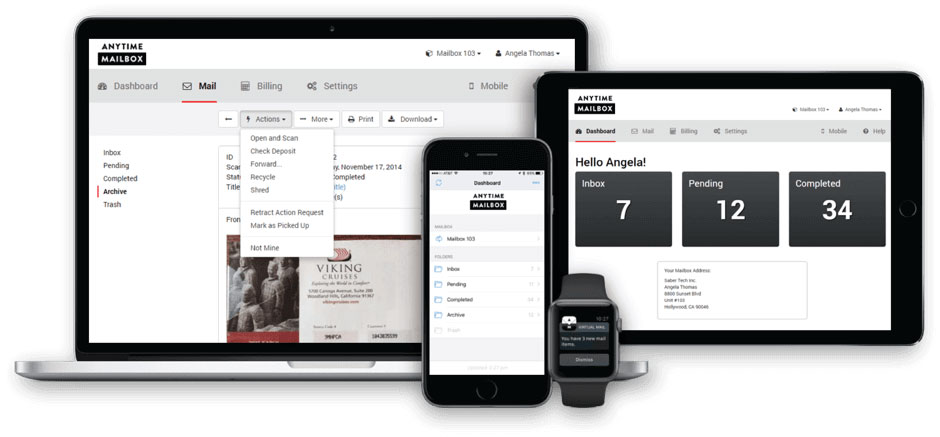 One prominent feature of Anytime Mailbox is its commendable usability. I found it has an easy and intuitive interface, which facilitates a painless learning curve.
Whether it's for your personal use or for acquainting coworkers, the platform has proven to be adaptable and user-friendly across various devices.
Pricing:
Varies by location from as low as $5.99 to upwards of $419.99 or more.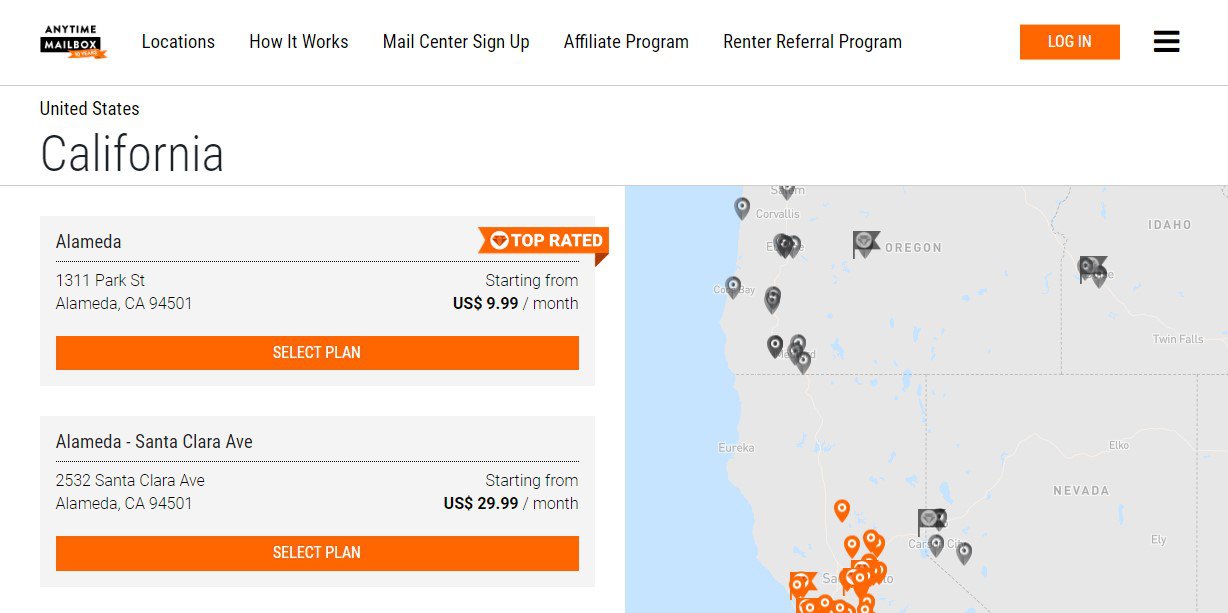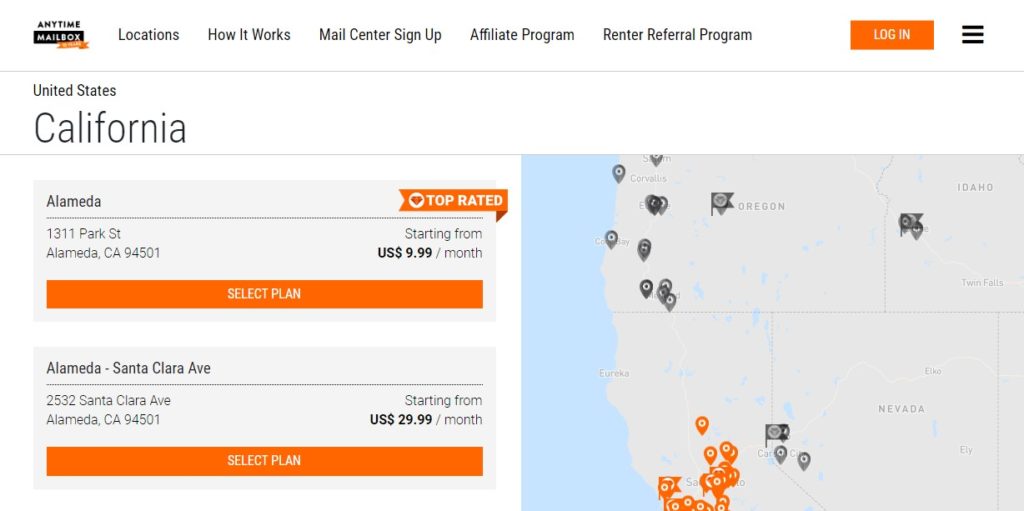 What I Liked:
Affordable with many locations.
Easy online setup process.
Separate address protects privacy.
Immediate mail notifications.
High integrations with various platforms.
What I Disliked:
Variability in customer service quality.
Some scanned images hard to read.
Inconsistencies in location-based pricing.
Ideal for:
Solo entrepreneurs and digital nomads. With a wide range of plans and a global network, it's perfect for those always on the move.
Final Thoughts:
So, does Anytime Mailbox shape up as a holistic virtual business address solution? By and large, the answer I lean toward is yes.
Its strengths in location diversity, ease of use, and affordability make it an appealing choice for many.
However, the frequent mentions of customer service mishaps indicate that there's still room for improvement.
If you prioritize seamless user experience over customer service, this platform offers an effective solution for managing your mail digitally.
4. US Global Mail

They take pride in their virtual mailboxes, promising a seamless experience. With a focus on transparency, this platform gives you a crystal-clear view of your mail and packages; no guesswork is needed.
Best For: Long-term package storage
Price: $9.95/month - $29.95/month
Annual Discount: None
Promotion: Save up to 80% on international shipping rates and get a full refund for 30 days.
US Global Mail Platform offers users a consistent mailing address irrespective of their physical location, promoting the idea that just as one wouldn't change their cell number upon moving, there's no need to change one's business mailing address.
This platform provides a virtual mailbox where users can view images and digital scans of their mail items, ensuring privacy and minimizing the risks of mail theft or misplacement.
Moreover, it distinguishes itself by proactively shredding and recycling unwanted junk mail, reflecting a commitment to environmental responsibility.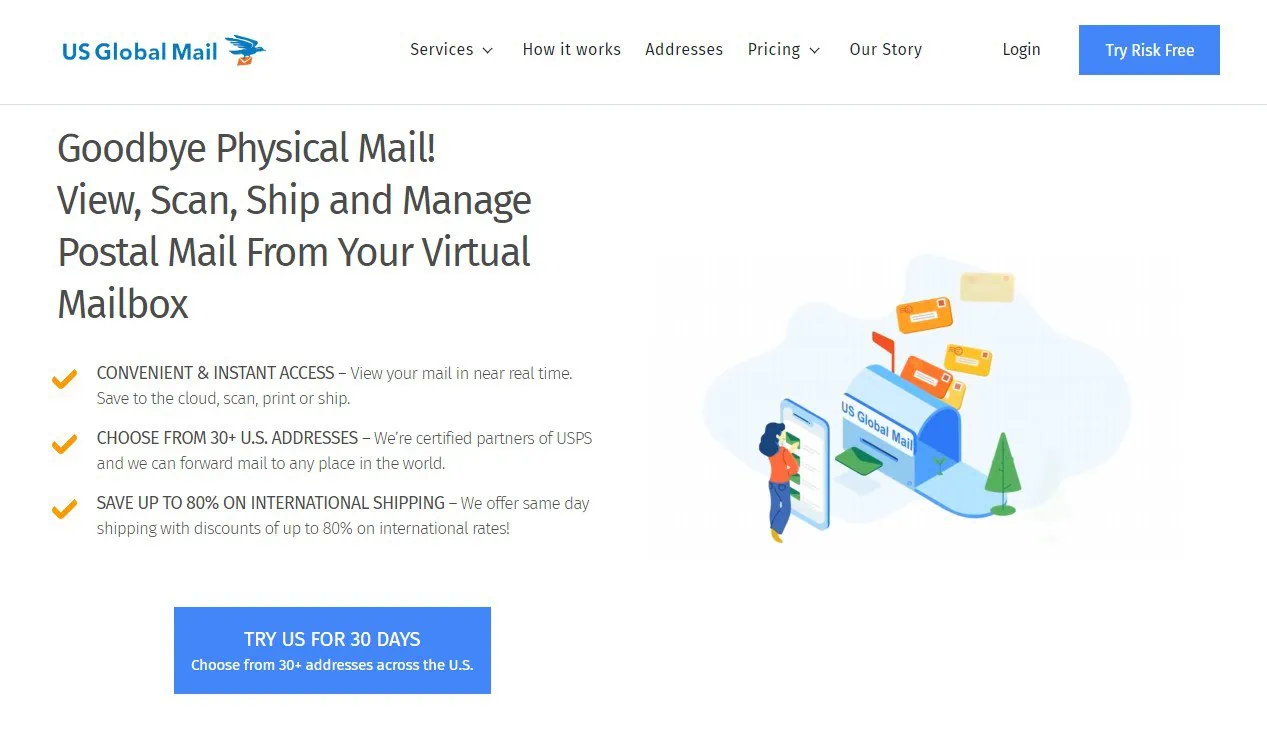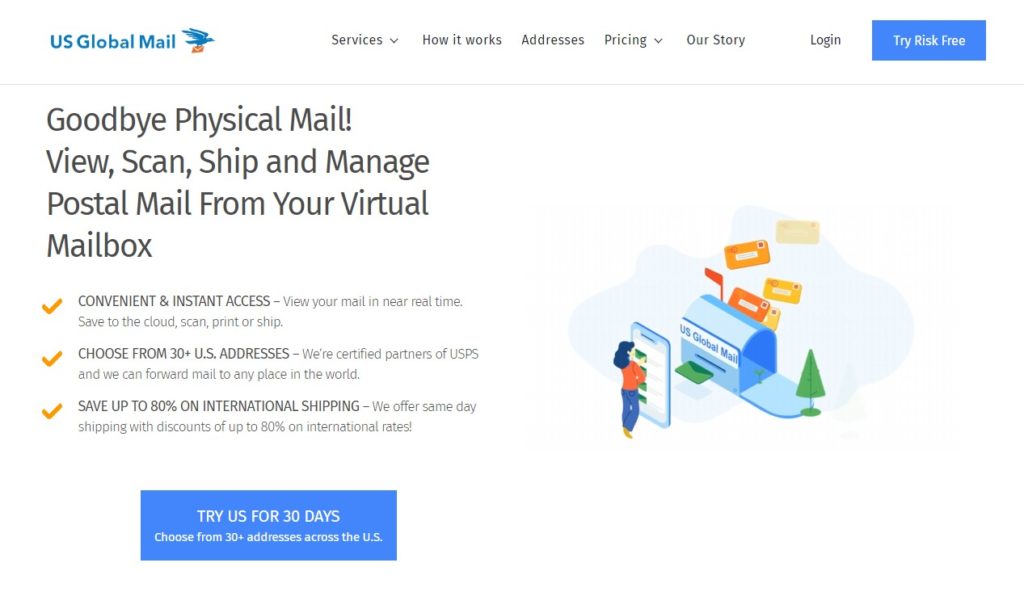 Real-time mail viewing
Shipment tracking
Mail and package forwarding
Secure storage of packages
Virtual mailbox management
Check deposit service
Mail scanning
Flexible package handling
Reliable customer support
Environment-friendly recycling
While looking into the US Global Mail Platform, it's clear that this platform can serve as a convenient lifeline for receiving and managing US mail while living or working abroad.
Many users, including expats, small business owners, and professionals, felt the service was reliable and invaluable in ensuring timely deliveries and maintaining a digital US postal address.
The feedback suggested a generally smooth experience punctuated by timely customer service responses and an intuitive digital system.
User Experience: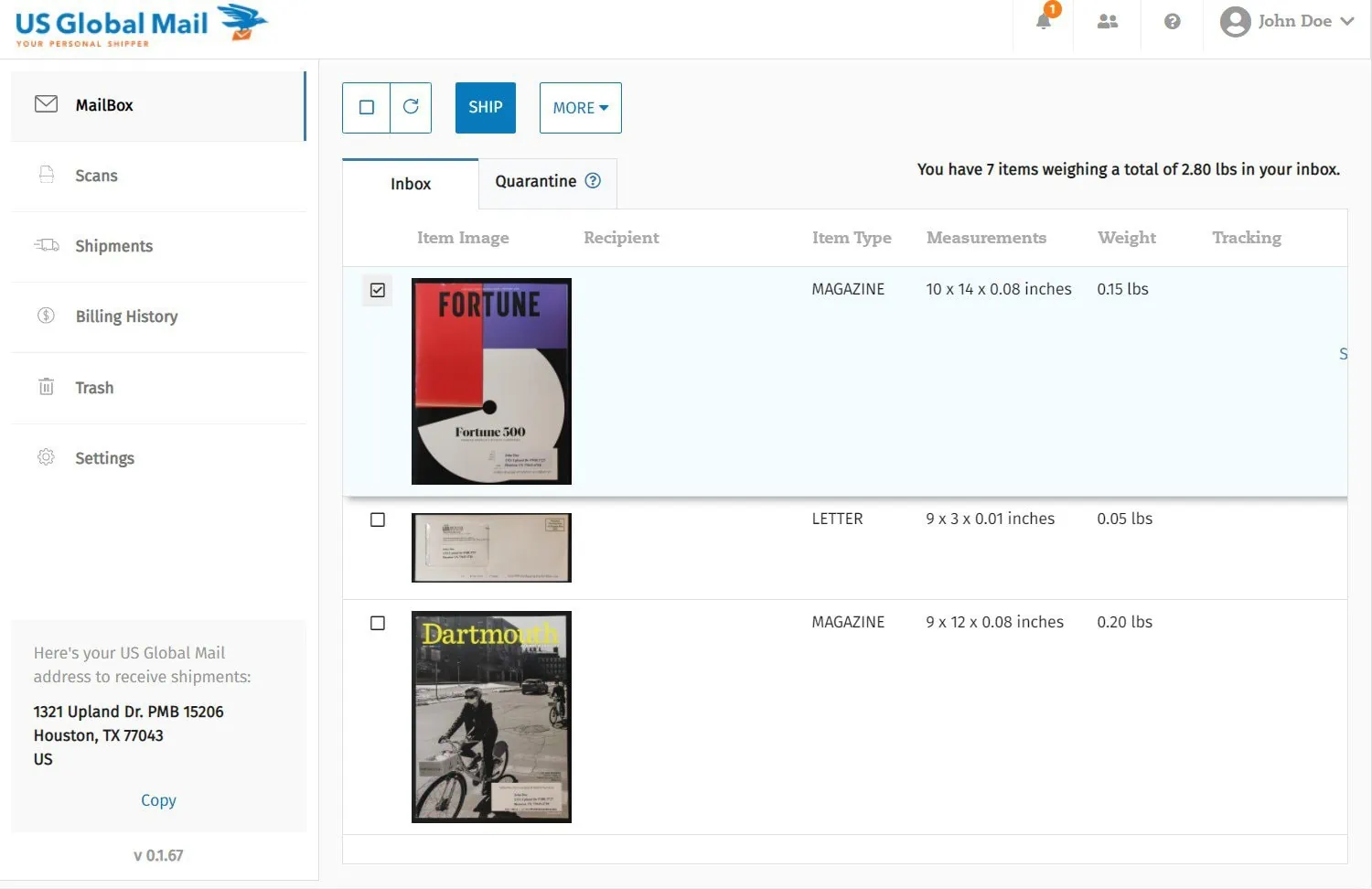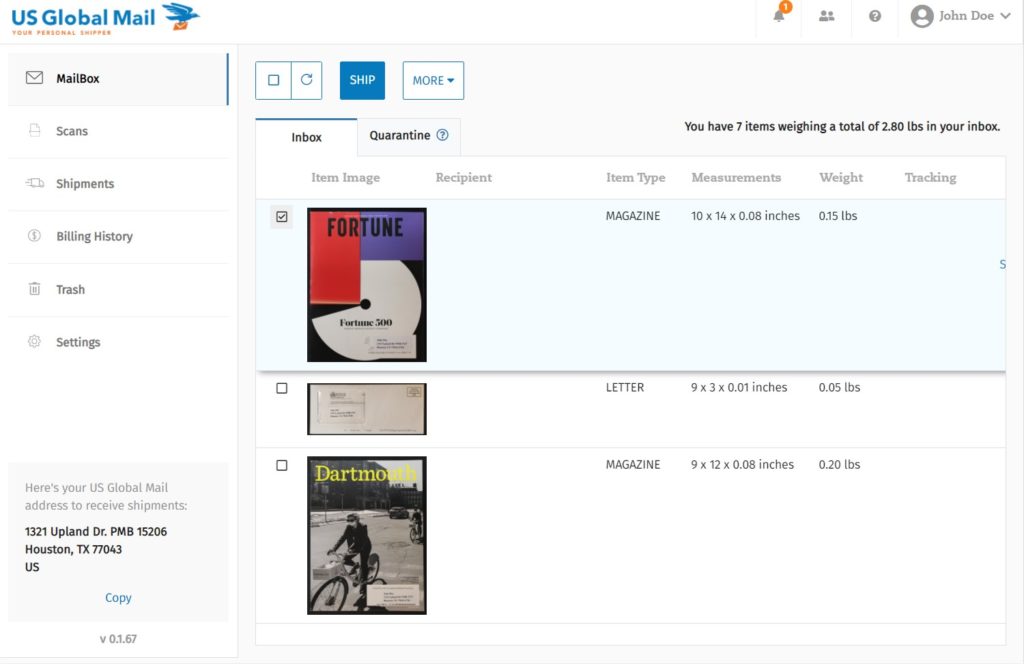 Regarding user experience, it's evident that US Global Mail shines. I found it easy to set up, and has straightforward navigation and intuitive features.
The platform caters well to various technological proficiencies, allowing tech-savvy users and those less familiar with digital platforms to access their mail and manage their deliveries with minimal fuss.
Pricing:
Individual: $10/month
Family: $15/month
Business: $25/month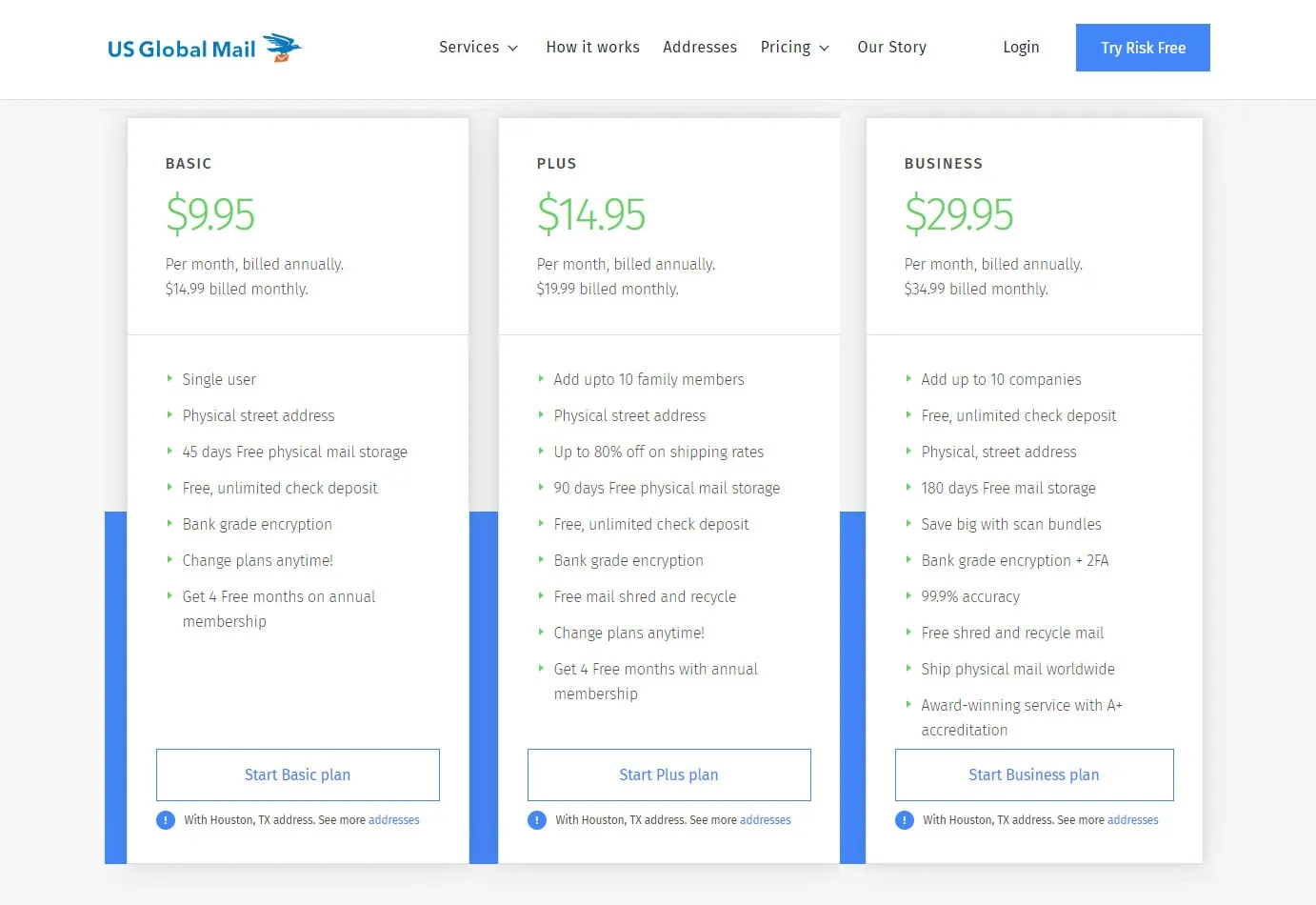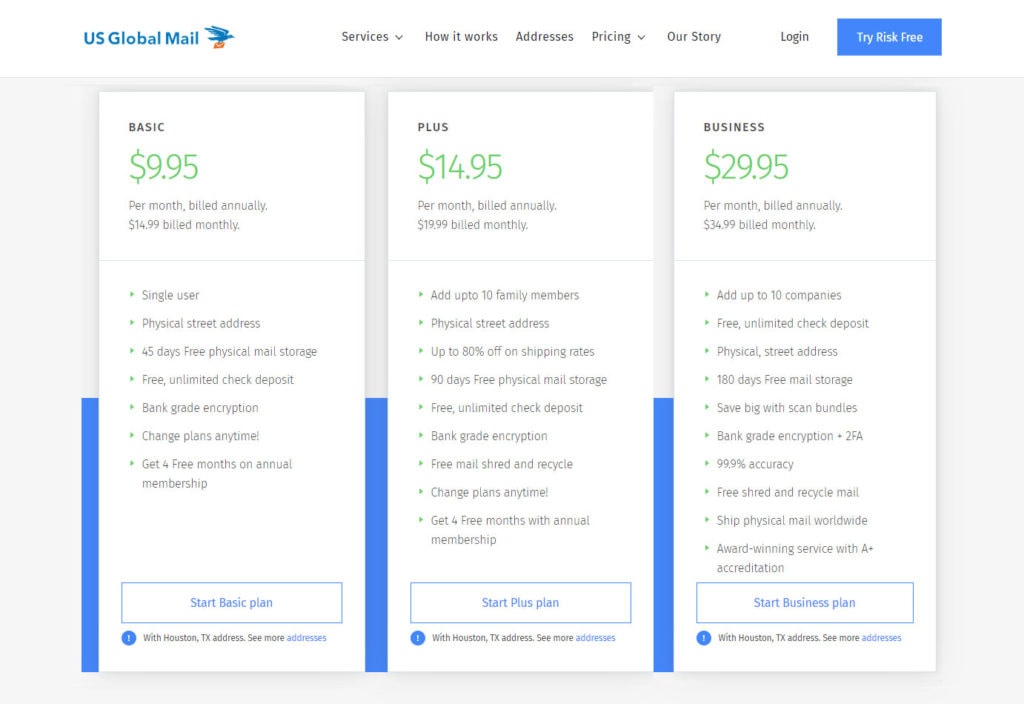 What I Liked:
Reliable and timely deliveries.
Efficient customer support.
Competitive rates for services.
Easy and intuitive platform setup.
Consistency in service.
What I Disliked:
Expensive storage by weight.
Uncommunicated pricing changes.
Inconsistent scanning SLAs.
Ideal for:
Small to medium businesses. Their family package is also great for households wanting to streamline mail. Their range of services ensures that every letter is read.
Final Thoughts:
In wrapping up, US Global Mail presents a mixed bag as a holistic virtual business address platform.
It provides a reliable, user-friendly platform with commendable customer service, essential for those living abroad or needing a U.S. address.
Nevertheless, its recent pricing changes and the need for more transparent communication have eroded customer trust.
Additionally, issues surrounding mail and package security must be addressed.
Therefore, while the platform offers many strengths, potential users should weigh the pros and cons before committing.
5. Earth Class Mail

Enter EarthClassMail, the perfect blend of modern tech and traditional mailroom. This platform takes mail handling to new heights, digitizing every aspect and integrating it with your favorite tools.
Best For: Integrated business tools
Price: $29.00/month - $229.00/month
Annual Discount: None
Promotion: None
Earth Class Mail is an online platform that allows businesses and individuals to access their postal mail virtually.
By forwarding mail to Earth Class Mail's secure processing facility, users receive scanned high-resolution PDFs of their mail directly in their inbox, eliminating the need for traditional mail handling.
The platform also automates processes such as check deposits, making it convenient for users to manage their finances.
Since its inception in 2004, Earth Class Mail has processed over 18 million mail pieces and deposited over $2 billion in checks. It has been a trusted service for notable companies like Zapier, Reddit, and Lyft.
It caters to diverse clients, including accounting firms, small to medium-sized businesses, large companies with remote workforces, and entrepreneurs aiming for a paperless setup.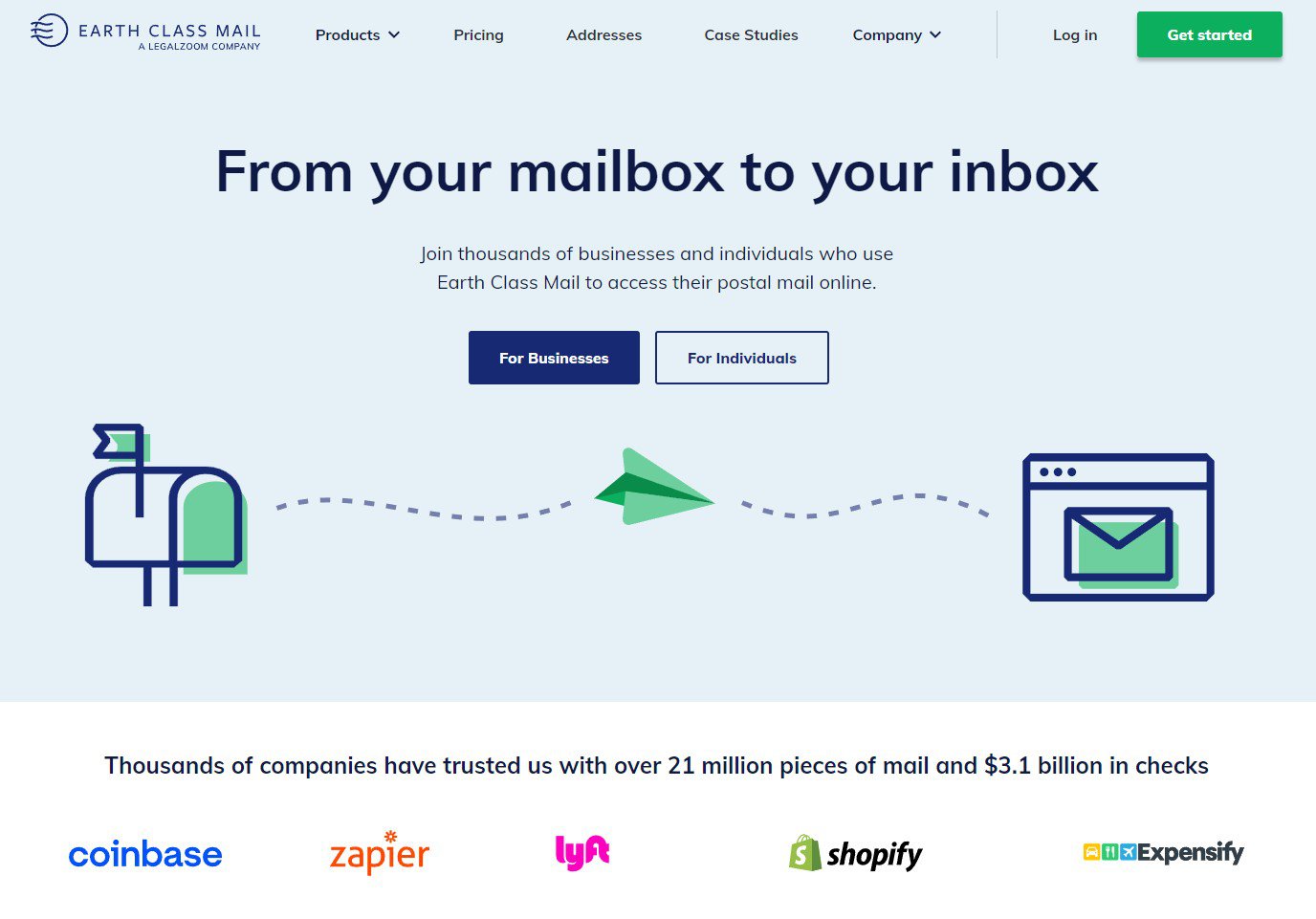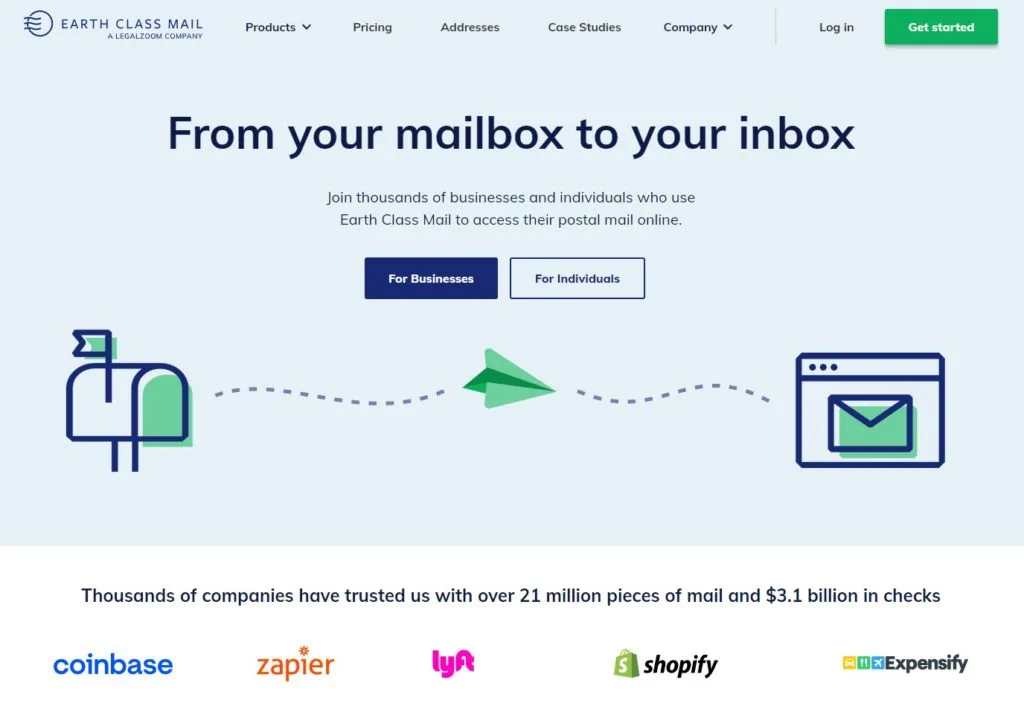 Virtual mailroom platform
Mail scanning and digitization
Integration with cloud storage
Check deposit services
Package forwarding
Real street addresses
Shredding and disposal options
Mail filtering system
Automated mail rules
Integration with business tools (e.g., QuickBooks)
Having looked into the reviews of Earth Class Mail, it seems convenient, especially for those on the go.
With features like fast mail scanning, a user-friendly interface, especially on the mobile front, and a virtual address that ensures a greener approach to handling mail, Earth Class Mail caters to the digital-first generation.
However, as with most platforms, it has its challenges. Some users have had issues with customer support and the feeling of being nickel and dimed.
By and large, Earth Class Mail has the most modern interface and aesthetically clean design among its competitors.
User Experience: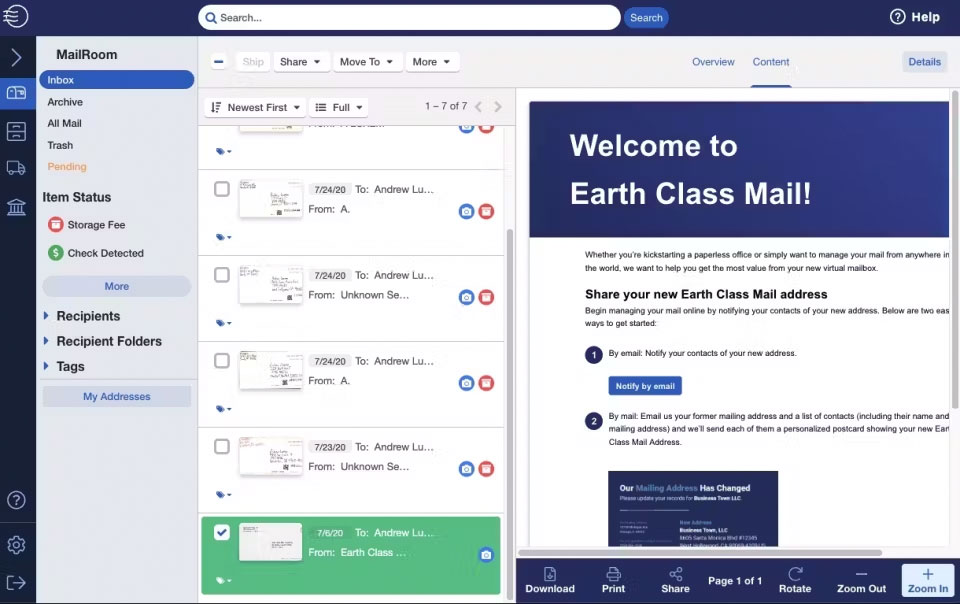 Diving into usability, Earth Class Mail has hit the mark for most users.
The new user interface is simple and efficient, making it effortless for multi-taskers and travelers.
The mobile website, in particular, stands out, facilitating business tasks on the go.
This digital adaptation of traditional mail services has tapped into the need for streamlined operations in a fast-paced world.
I would expect nothing less from a subsidiary of LegalZoom. Still, it comes at relatively higher prices than its competitors.
However, it is one of the better options for large organizations, especially for its integration with other business systems.
Pricing
Starter Mailbox: $29/month
Essentials Mailbox: $39/month
Premium Mailbox: $79/month
Startup MailRoom: $139/month
Business MailRoom: $229/month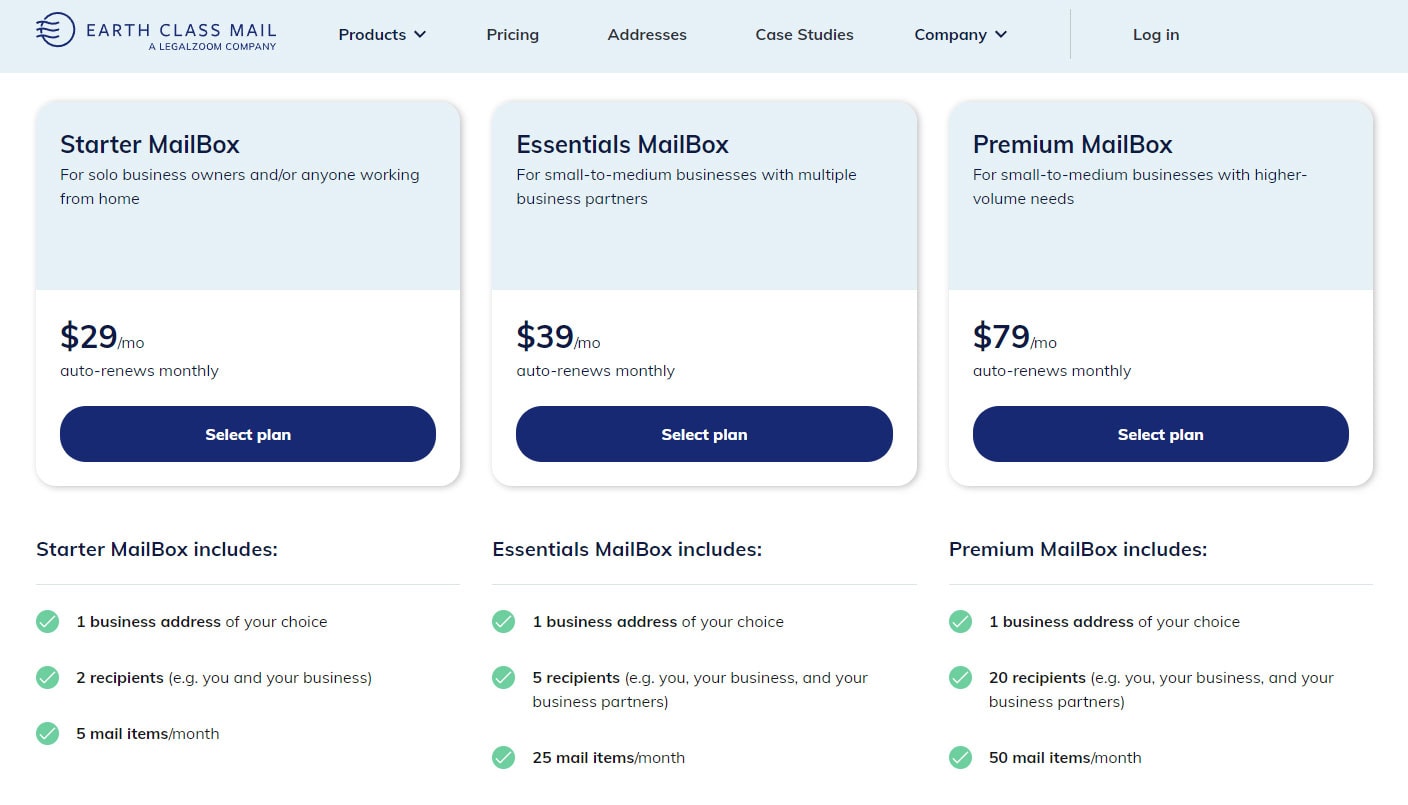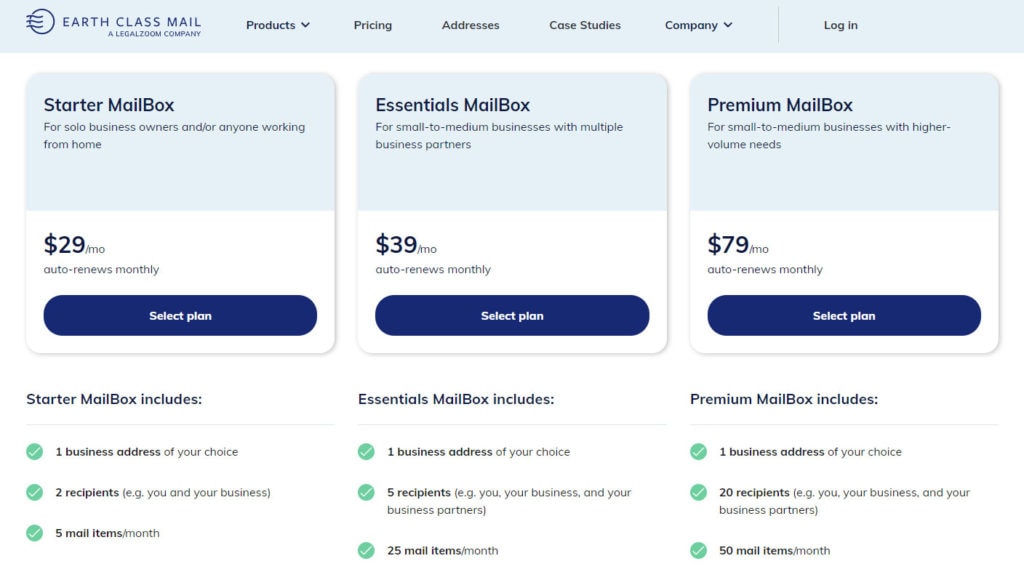 What I Liked:
Mobile app's handy features
Seamless onboard with Stripe Atlas collaboration
Efficient automation of mail processing
Mail turned into easy-to-read digital docs
User-friendly "step by step" system
What I Disliked:
Inconsistent Amazon deliveries
Expensive comparatively for new businesses
Complex shredding automation process
Ideal for:
Small to medium businesses that heavily rely on digital tools and need efficient check processing. The platform's tech-savvy nature ensures you don't waste a minute sorting through mail but instead focus on what matters.
Final Thoughts:
Earth Class Mail offers robust features aimed at digitizing your postal experience.
Its merits in mail sorting, scanning, and efficient check depositing almost make it a one-stop-shop for a virtual mailing address.
However, be prepared to navigate through some customer service issues and possible hidden fees.
If you overlook those setbacks, it becomes a comprehensive virtual business address mailbox solution. But a little more polish would go a long way in making it an unassailable choice.
6. Physical Address

Meet Physicaladdress.com, a powerful tool that melds the essence of physical and virtual into one. With its high-end mail scanning technology and forwarding services, it's like you're right there without actually being there.
Best For: Advanced security measures
Price: $7.98/month - $26.98/month
Annual Discount: 20% Savings
Promotion: None
PhysicalAddress.com operates its virtual mailbox and virtual business address services directly, ensuring associates manage all their locations.
Unlike other industry practices of outsourcing or forwarding mail to be processed later, they handle all mail on-site, irrespective of whether it's in California, Texas, New York, or any of their other locations.
Although this approach might be more intricate and expensive, it underscores their commitment to offering clients an efficient, stable, and reliable service.
Their main goal is to present a top-tier, client-focused virtual mail center and business address solution.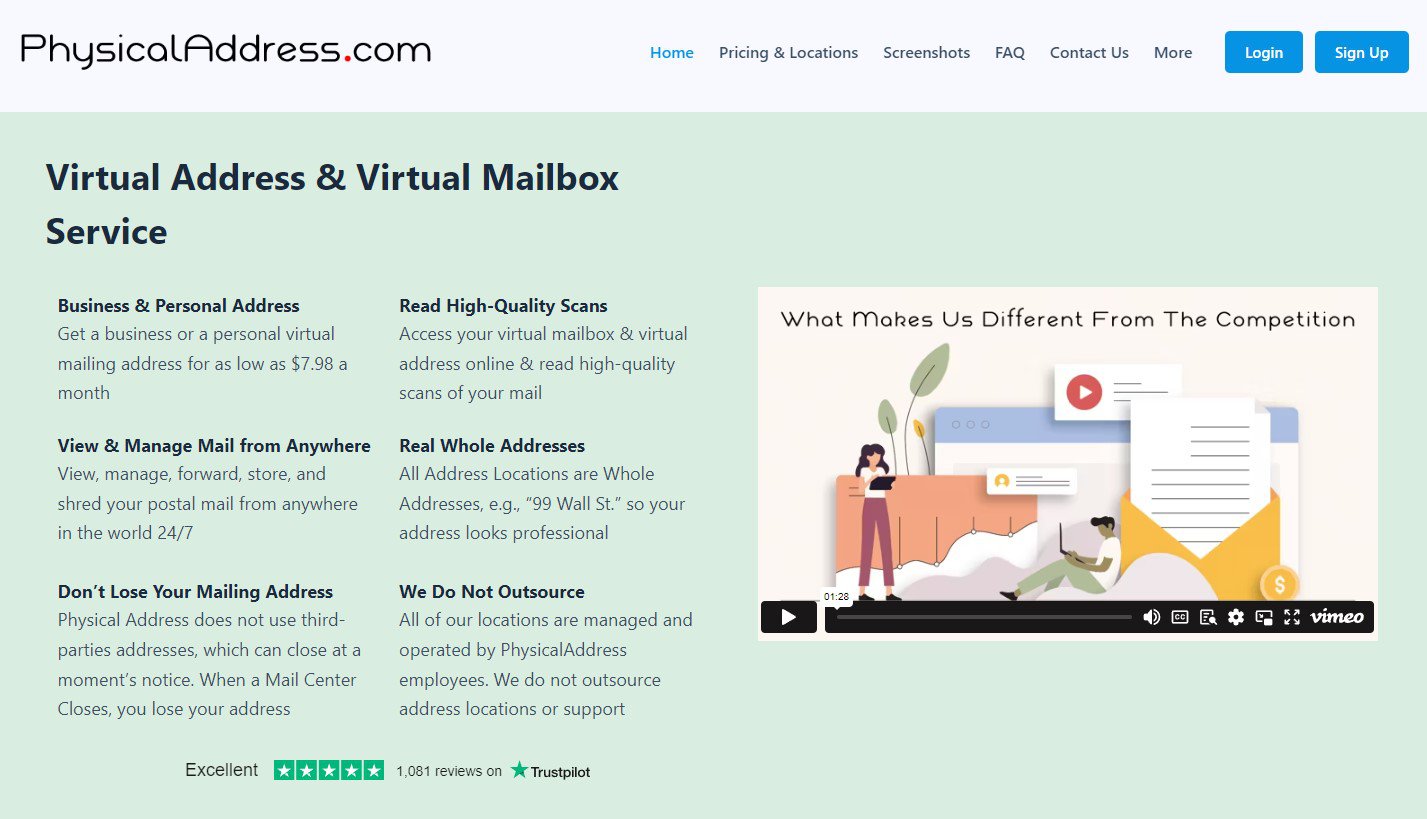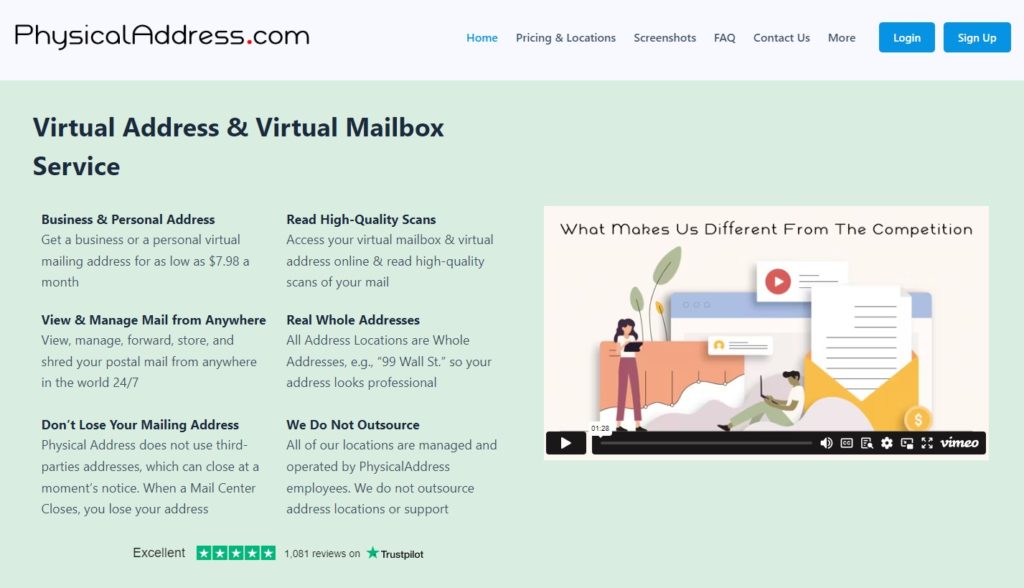 Real street address
Advanced mail scanning
Mail and package forwarding
Document digitization
Safe mail shredding
Mobile app convenience
Custom mail requests
Open & scan on demand
Secure cloud storage
Package receiving from all carriers
On the one hand, I appreciate their affordable offerings, like acquiring a local address for your business in the USA for as low as $7.98, coupled with numerous exemplary customer service stories.
However, on the other, there are disconcerting mentions of lost mail, locations in questionable neighborhoods, and a few instances where their customer service could have improved.
Like any service, while there are notable advantages, one must remain vigilant of the potential pitfalls.
User Experience: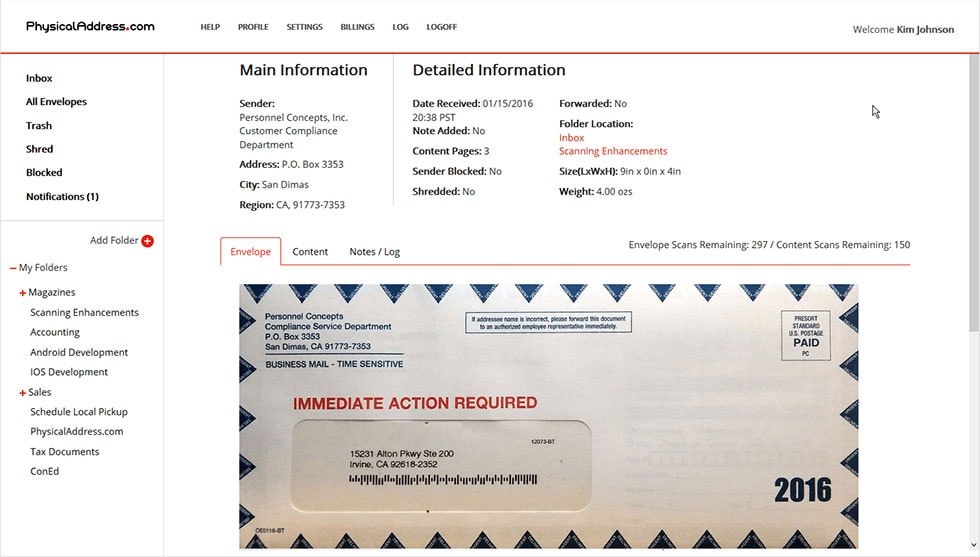 The online platform boasts a plethora of services. However, I found the user interface feels slightly dated, much like an old-school website overdue for a makeover.
While sign-up processes are relatively swift, the website's aesthetics may leave you yearning for something fresher.
Pricing:
Plan 30: $7.98/month
Plan 50: $10.98/month
Plan 100: $16.98/month
Plan 200: $26.98/month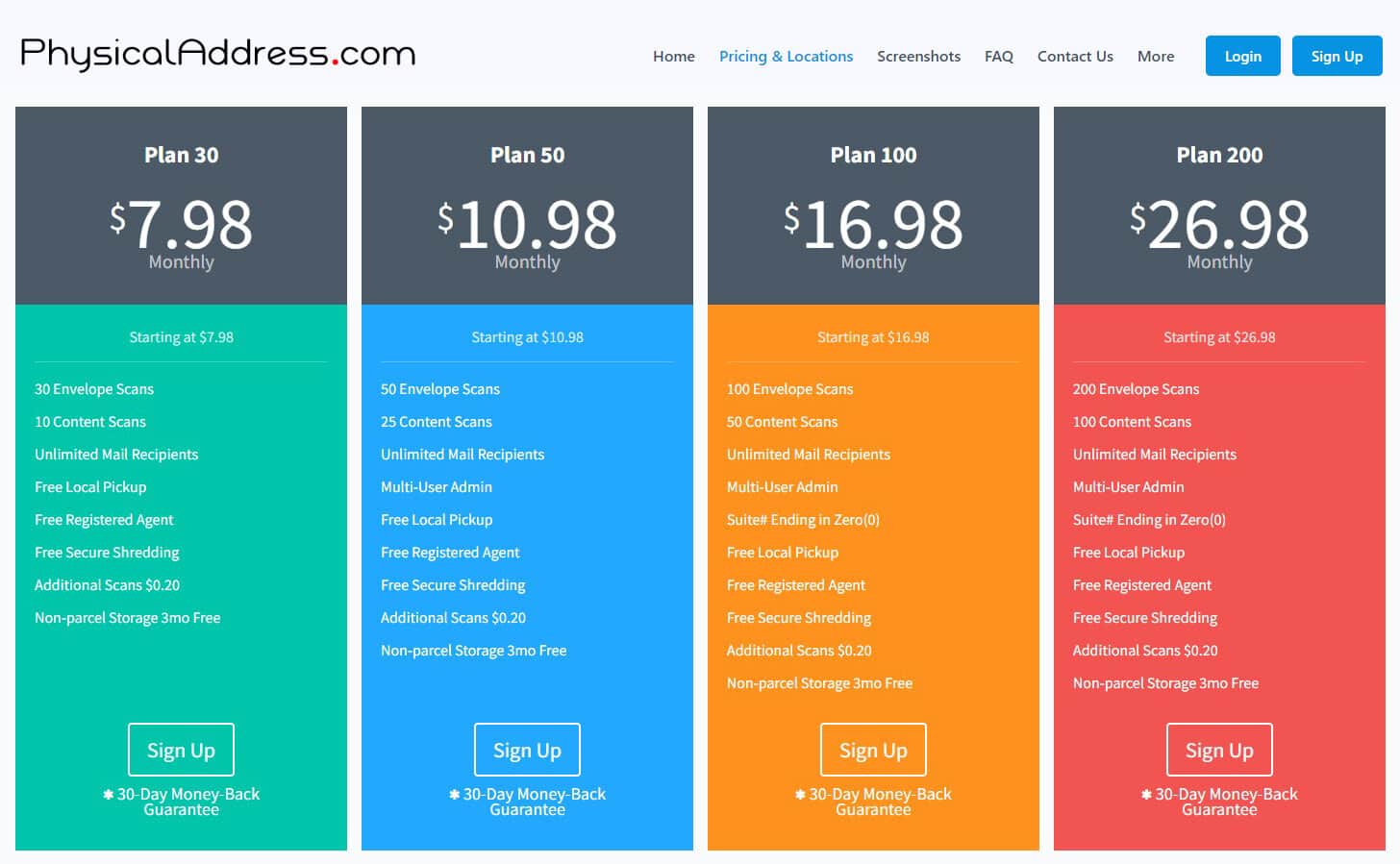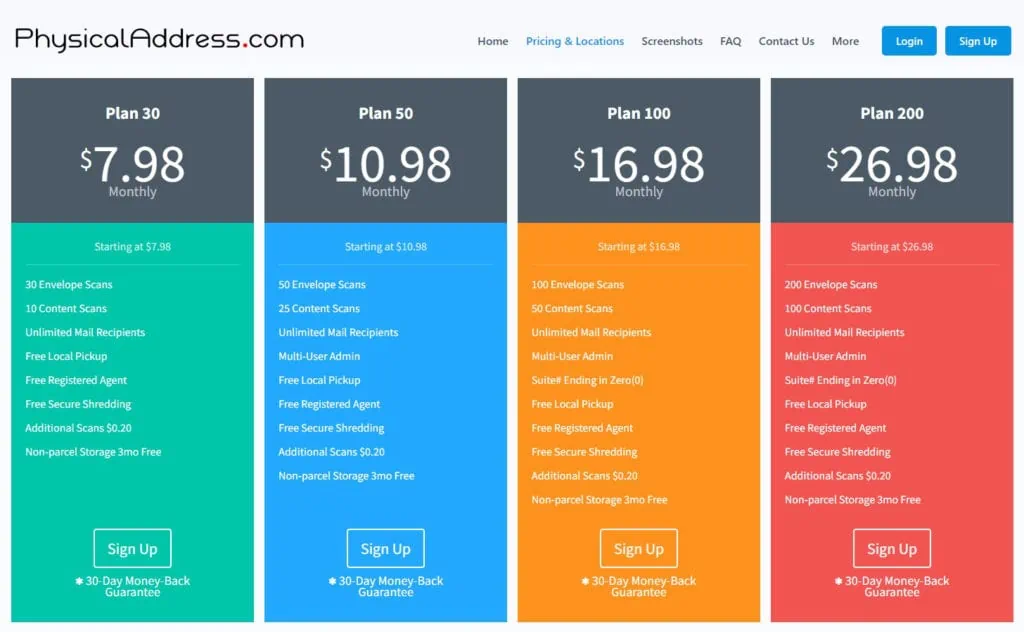 What I Liked:
Affordable local address.
Exceptional customer reps like Nicole.
Quick mail scanning.
Responsive email support.
Live phone support available.
What I Disliked:
Archaic website design.
Limited address selections.
Mail loss issues.
Ideal for:
Startups and small businesses looking to get their feet wet in virtual addresses. It's affordable and offers the basics for your first virtual business address plan.
Final Thoughts:
I found that the Physical Address Platform has elements that make it a viable virtual business address mailbox platform, especially for small businesses needing a cost-effective way to establish a U.S. presence.
Its strengths lie in affordability and some aspects of customer service. Still, I have to wonder if the lower prices come at the cost of shady locations.
However, the service has significant room for improvement, particularly in user interface design and consistency in customer service.
Suppose you overlook outdated web design and are fortunate to deal with the right customer service reps. In that case, this is a decent option for you.
7. Traveling Mailbox

This platform doesn't just let you access your snail mail digitally; it's your post genie! From mail scanning to check depositing, it ensures your business mail doesn't skip a beat, no matter where you jet off to.
Best For: Frequent travelers and nomads
Price: $15/month - $55/month
Annual Discount: 2 free months for life
Promotion: 10% military discount
Traveling Mailbox provides a digital solution for individuals and small businesses to manage their postal mail online from anywhere globally.
The platform scans the exterior of each envelope upon arrival, allowing users to decide whether they'd like the contents scanned, forwarded, shredded, returned, or held.
With a unique physical street address offered for every user, this platform ensures security and convenience, eliminating the need for mail forwarding while granting instant access to postal contents.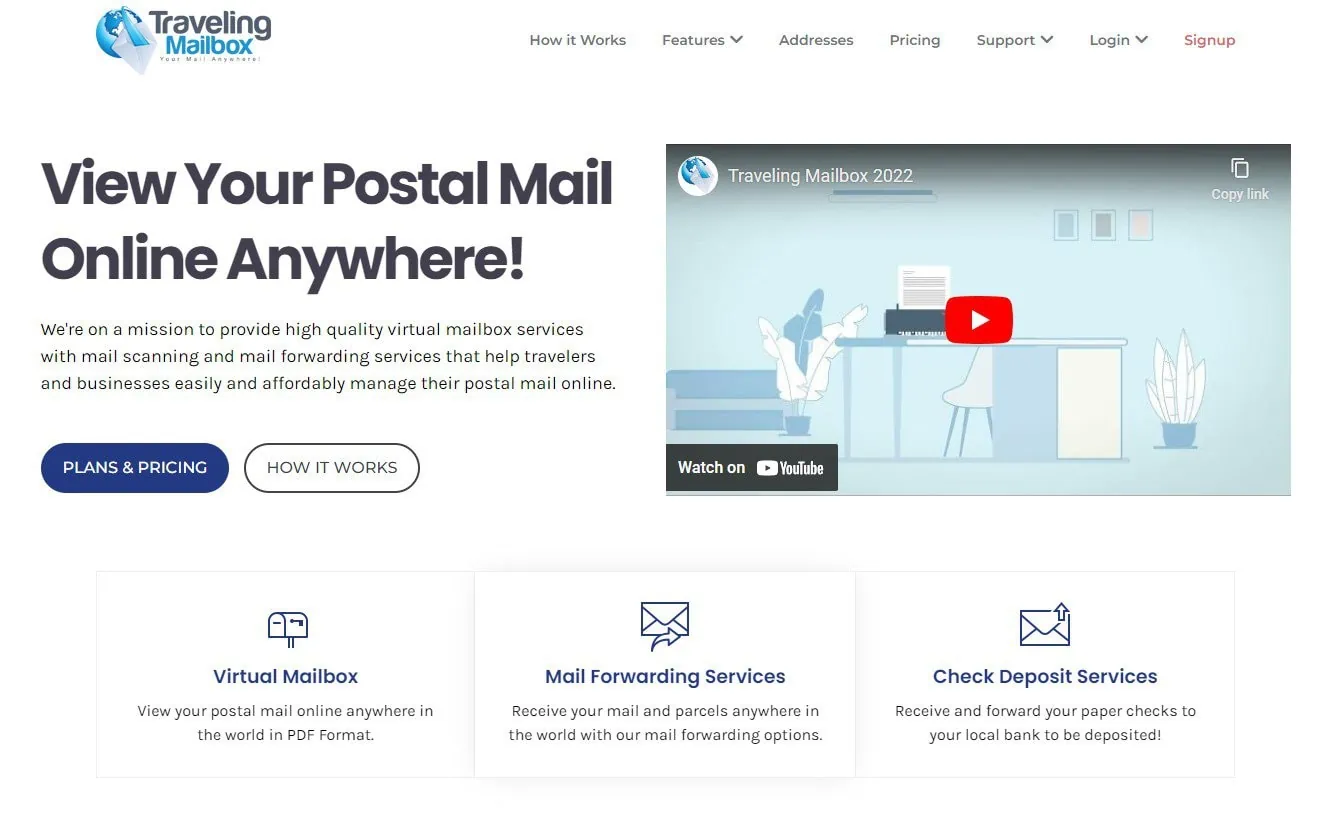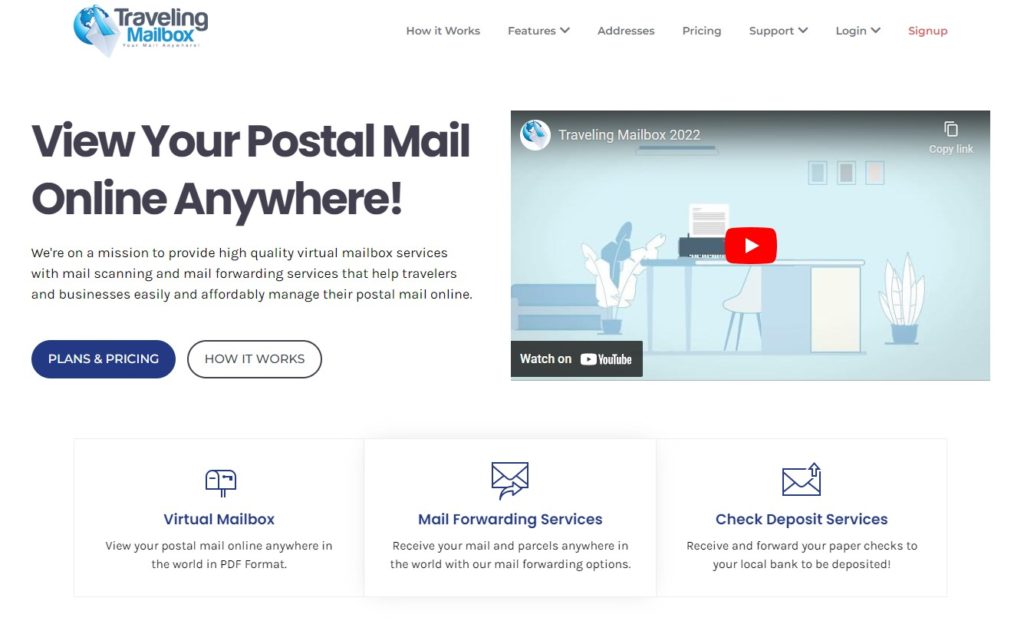 Mail scanning and imaging
Secure cloud storage
Package forwarding
Check depositing service
Free shredding of junk mail
Mail holding
Virtual office options
Multiple recipients support
Mobile app convenience
Virtual fax service
Having taken a deep dive into the Traveling Mailbox Platform, it seems simple and intuitive, making it easy to swiftly access mail without unnecessary complications.
I appreciated its usability, which is undoubtedly a more convenient, quicker alternative to the traditional trek down your driveway.
However, it's not without its caveats. Some users have expressed grievances, particularly regarding customer service, with experiences ranging from unexpected charges to issues concerning the use of addresses.
User Experience: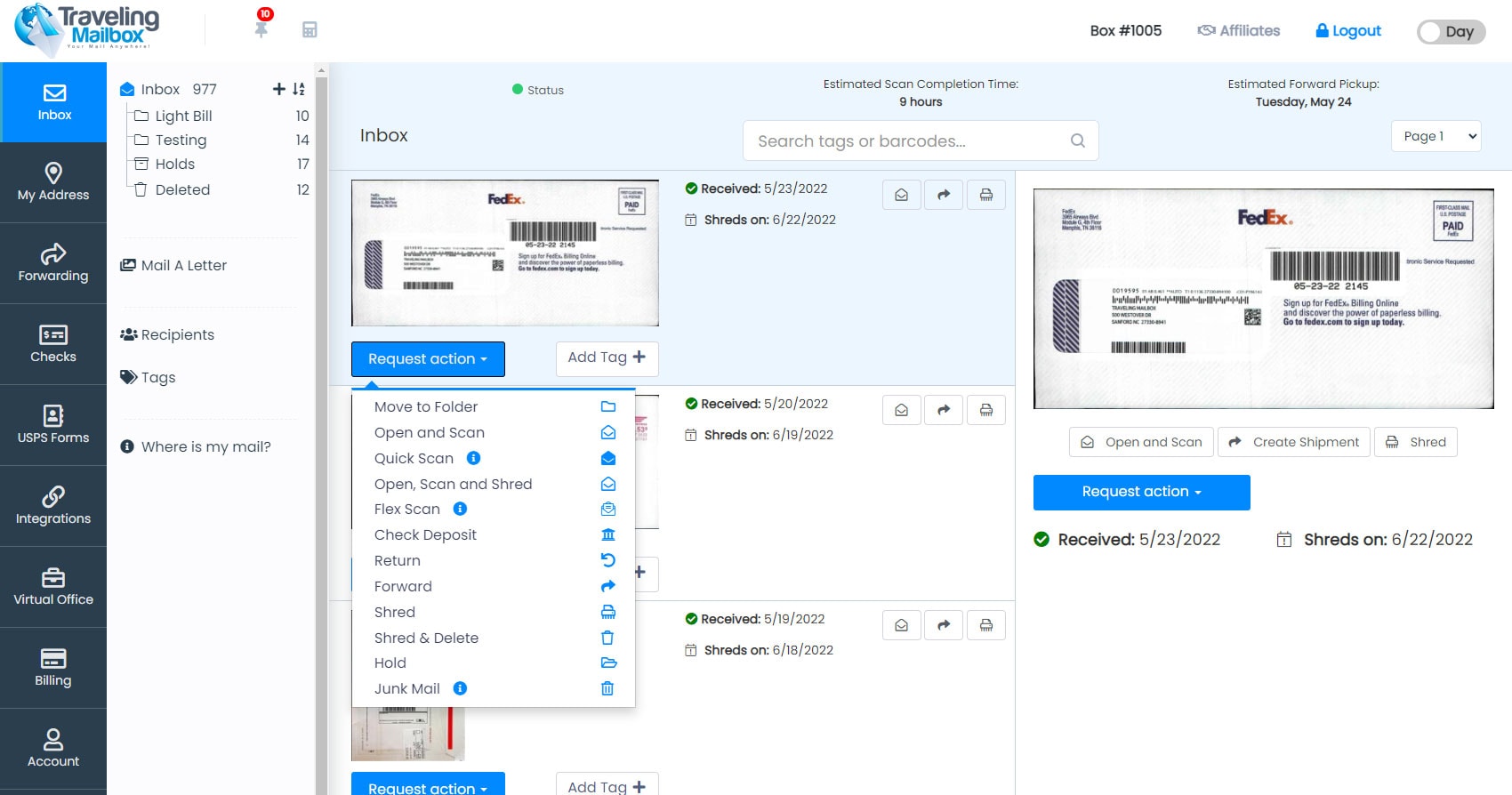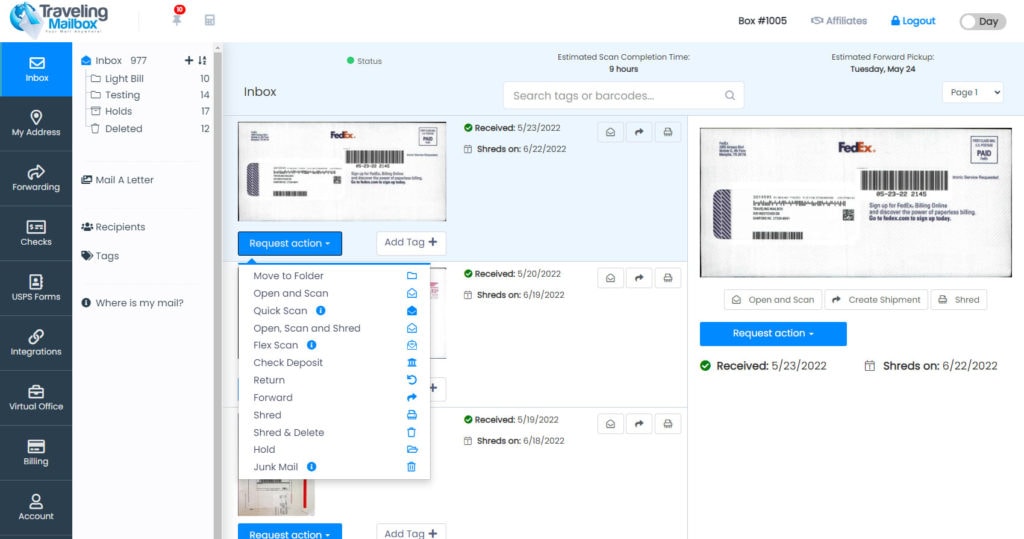 Regarding the user interface of the Traveling Mailbox Platform, many reviews highlight its ease and simplicity.
It is a good option if you prefer a straightforward design.
Though dated in appearance, the platform prioritizes function over flamboyance.
It's a tool designed for swift log-ins and fast mail checks, which is its main appeal.
I don't quite understand what they mean by getting two months free for life with annual subscriptions, which to me just sounds like a complicated way of saying you'll get 12 months for the price of 10 months.
Pricing:
Basic: $15/month
Extended: $25/month
Small Business: $55/month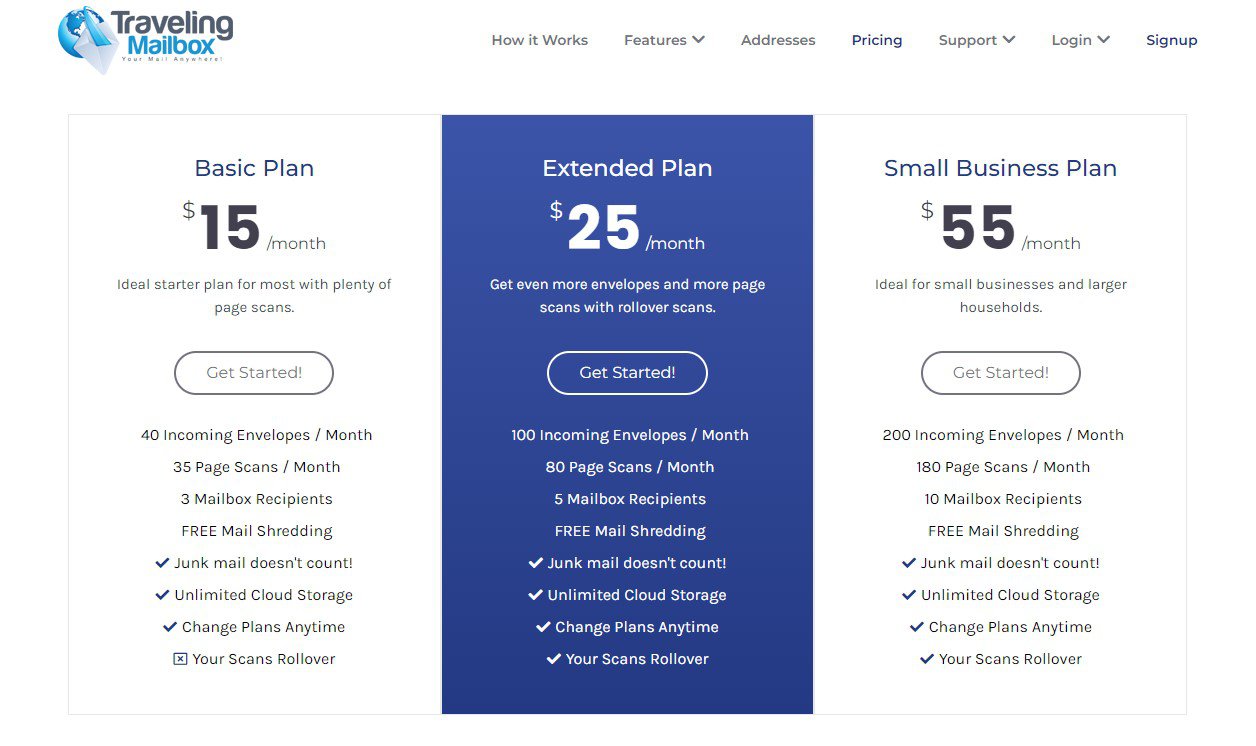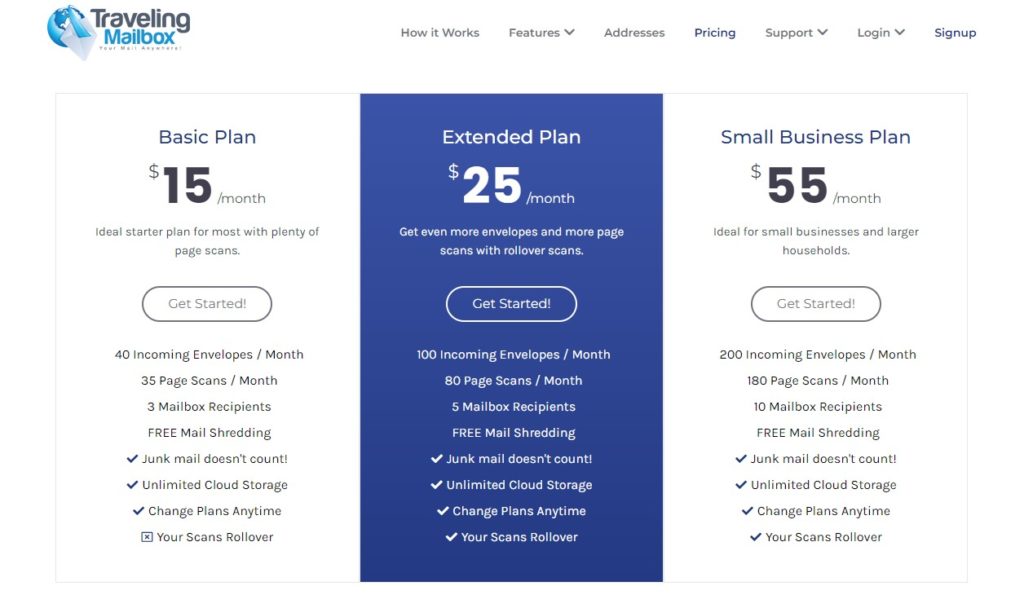 What I Liked:
Useful and user-friendly app.
Quick mail checks.
Intuitive organization.
Useful for home office.
Simplistic, easy understanding.
What I Disliked:
Ineffective customer service.
Unexpected invoice charges.
Limited cloud storage.
Ideal for:
Nomadic entrepreneurs and small businesses. Its mobile features make it perfect for those who love working on the go.
Final Thoughts:
In conclusion, the Traveling Mailbox Platform is a mixed bag when offering a holistic virtual business address platform.
While it excels in providing a simple, intuitive interface for users to quickly check their mail, it needs to improve in other areas like customer service and some limitations on the service itself.
Billing issues and limited cloud storage were mentioned as drawbacks, raising questions about its comprehensiveness as an all-in-one solution.
It has notable strong points but also areas that warrant caution, particularly if you're looking for a platform to handle all your virtual office address mailbox needs without any hitches.
8. Virtual Post Mail

This platform is your virtual mailbox genie. With mail automation, online access to your virtual business address service, and document scanning, it's tailored for businesses wanting more than just an address.
Best For: Automation and app integrations
Price: $20/month - $90/month
Annual Discount: None
Promotion: None
Virtual Post Mail (VPM) offers a comprehensive online mail management solution, allowing users to receive mail and view their US postal mail remotely.
By providing a permanent street and address for business name, VPM scans unopened mail envelopes, allowing users to decide online if they want their mail opened, forwarded, or destroyed.
The platform simplifies the process further by offering a check deposit service, enabling checks received in the mailbox to be deposited directly to a bank account.
This virtual mailbox service incorporates features such as real-time notifications, mail scanning, forwarding and shredding, package storage and shipping, and more.
What stands out is its convenience; there are no setup or contract fees, and it provides unlimited digital storage, free mail shredding, and a host of other features designed to make handling mail digitally efficient and user-friendly.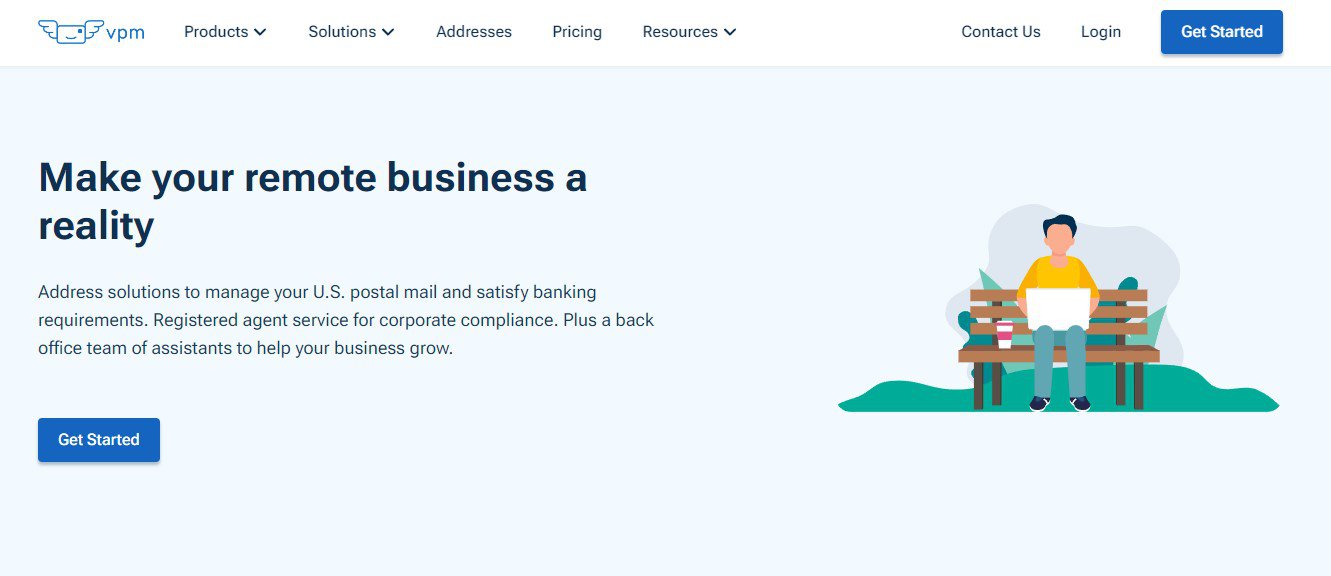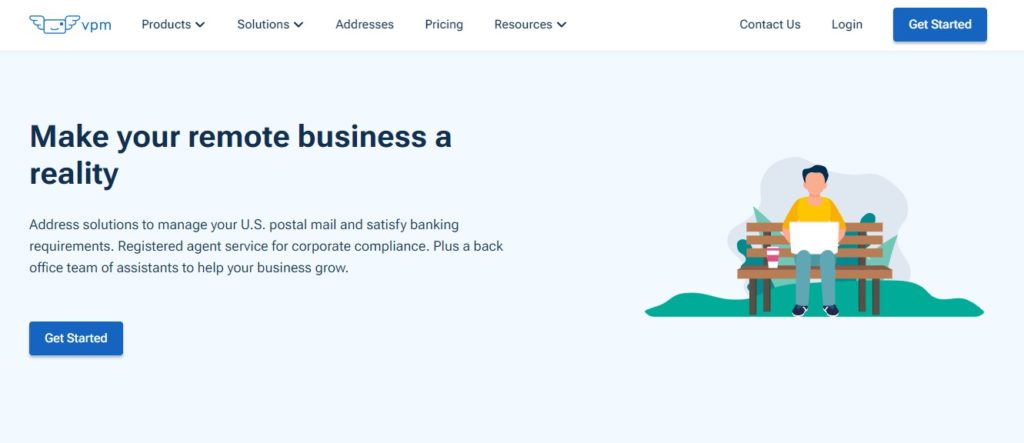 Mail and package scanning
Secure shredding and recycling
Mail forwarding worldwide
Cloud storage integration
Online document management
Mail automation rules
Real street address
Package receiving
Check depositing
Integration with apps
Having taken a close look, Virtual Post Mail seems to be a platform that brings substantial convenience if you are frequently on the go.
It presents an integrated solution, combining a virtual mailing and physical business address with services such as receiving mail digitally, depositing checks, and even assisting in bill payments and taxes.
A prominent highlight is its notification system, ensuring you're always informed about your mailbox.
However, there's no denying that some users have raised concerns about package handling and integrity, particularly when insurance isn't opted for.
User Experience: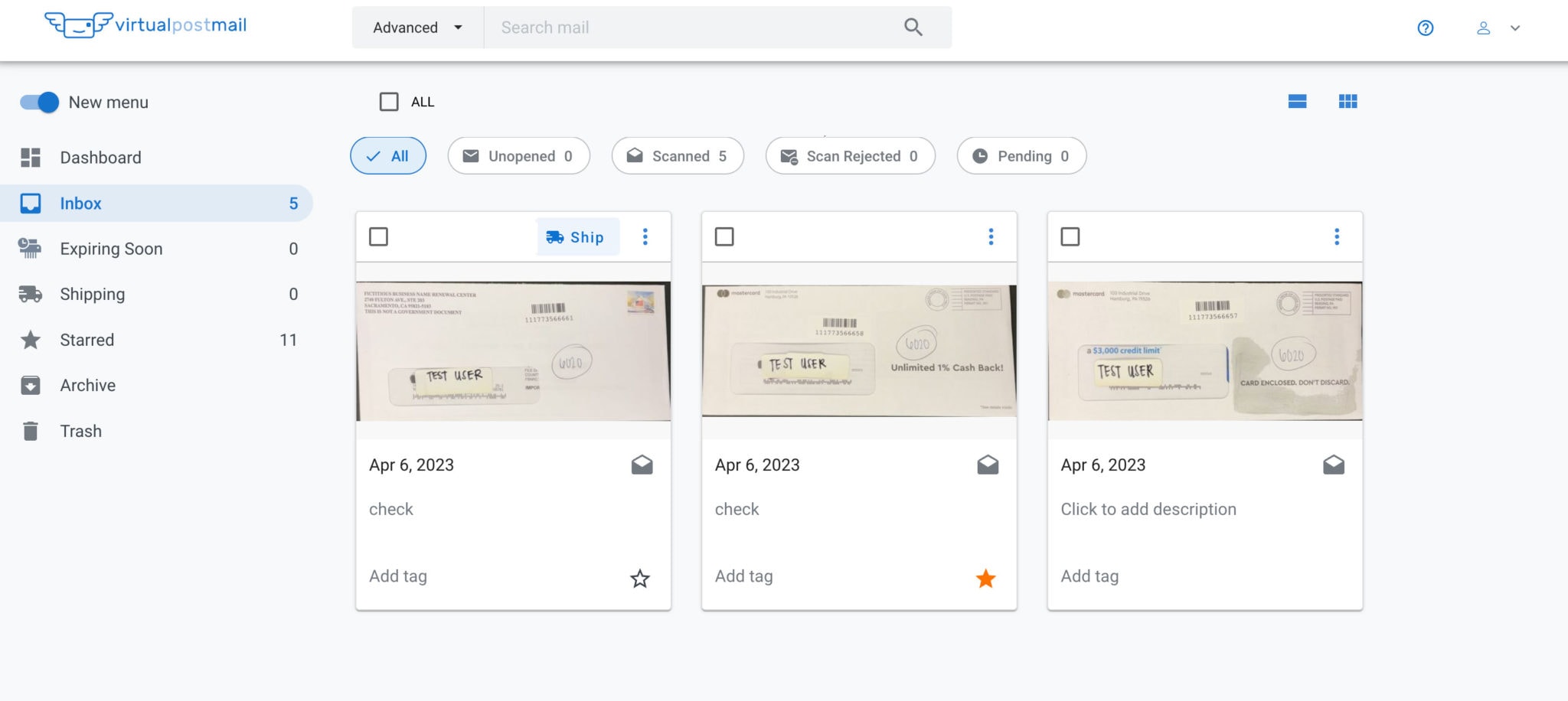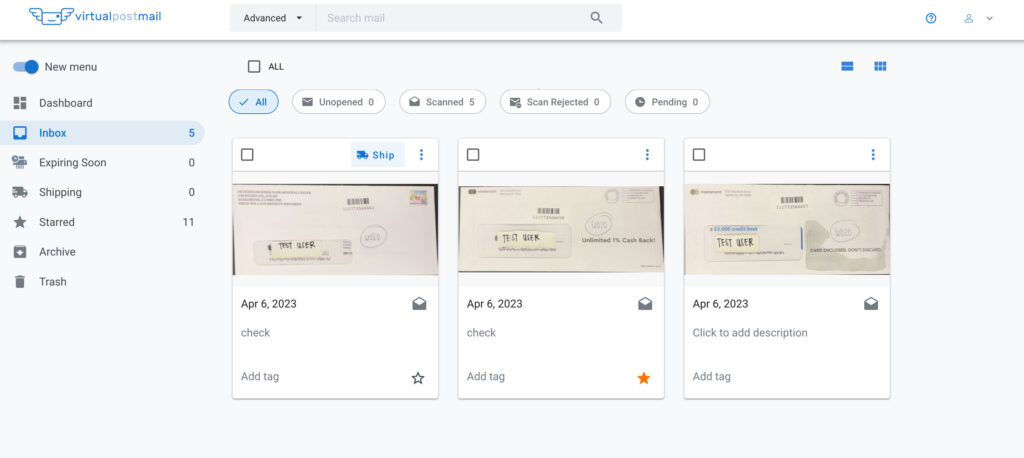 Virtual Post Mail boasts an intuitive user interface designed with simplicity in mind.
The platform provides clear directions, making it easier for newcomers.
That said, I found it excessively meticulous, leading to occasional difficulties in locating specific items.
Furthermore, there are perhaps too many options on the interface, and there's room for streamlining to improve the overall user experience.
Pricing:
Starter: $20/month
Plus: $35/month
Business: $60/month
Premium: $90/month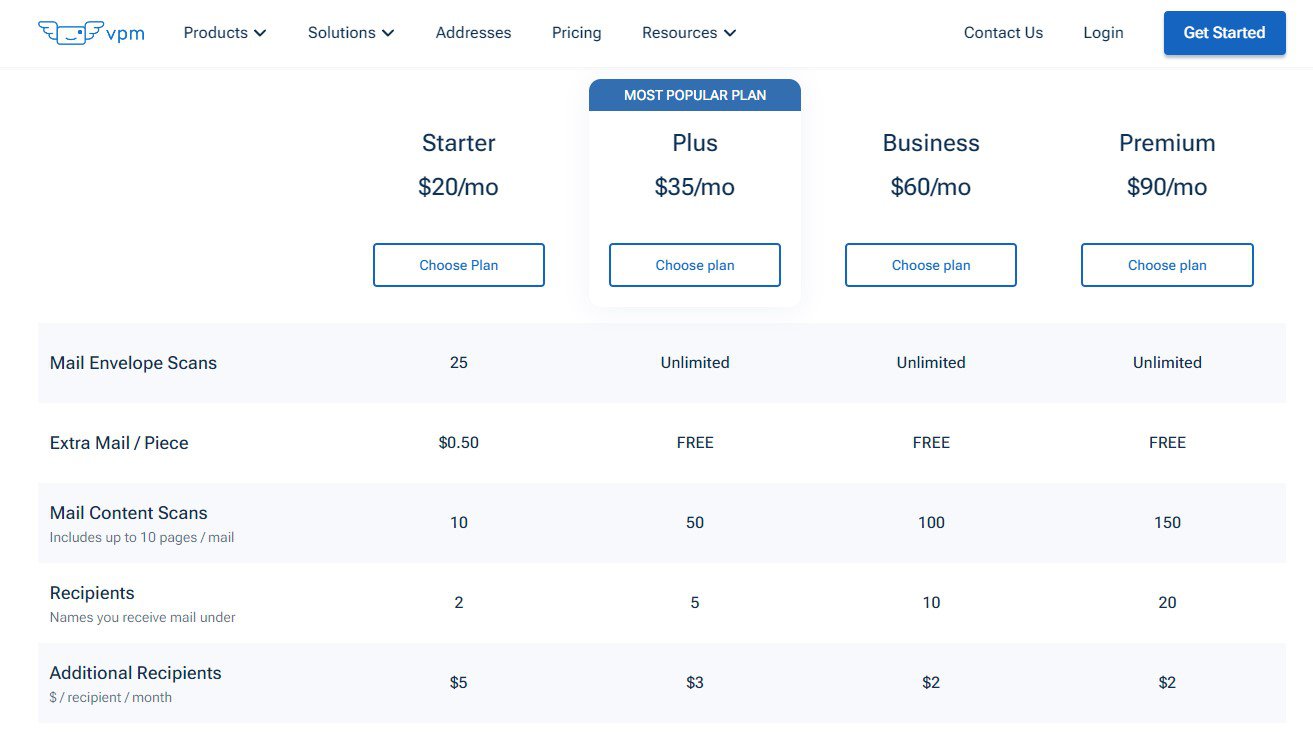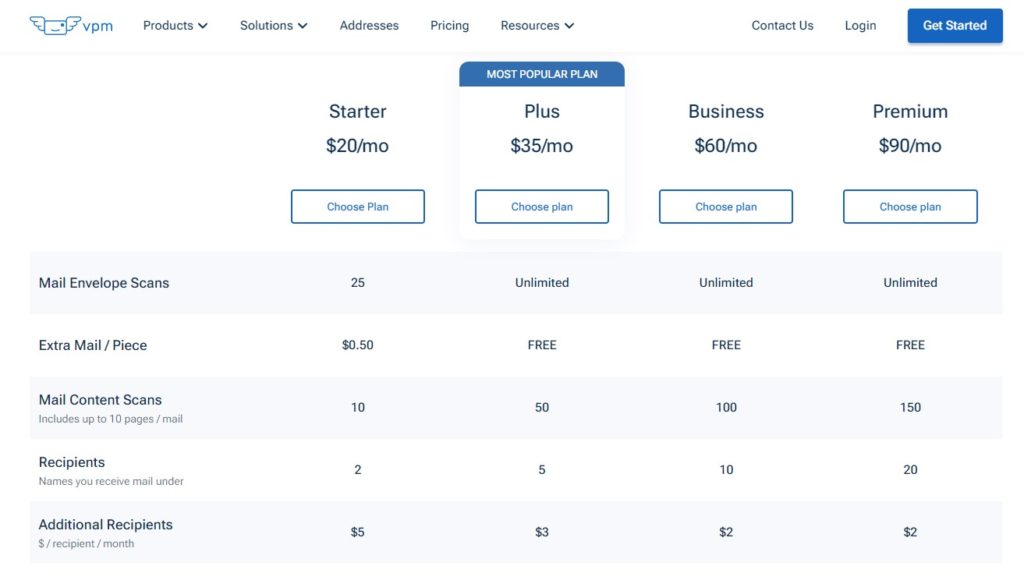 What I Like:
Integrated services in one place.
Efficient mail digitalization.
Prompt notification system.
Helps in managing workload.
Cloud storage for information.
What I Dislike:
Concerns about package safety.
Service availability is limited.
Slow mail scanning and upload.
Ideal for:
Small to medium-sized businesses, especially those who need seamless integration with apps and a sprinkle of automation in their mail management.
Final Thoughts:
Virtual Post Mail largely delivers a comprehensive solution for managing physical mail in a digital world.
For the most part, it helps users stay organized and even facilitates bill-paying and check deposits.
However, the negative reviews about package loss and allegations of dishonesty should not be ignored.
These drawbacks, especially the package loss issue, can be a significant concern for users who rely on the service for important mail and packages.
Before committing to the service as their virtual business address and mailbox solution, you should consider these aspects.
Key Considerations
Reputation: Reviews are your best pal here. Dive into them.
Prestigious Locations: If Wall Street's your dream address, see who offers it!
Service Range: Beyond an address, what else do you get? Mail scanning? Meeting rooms?
Cost: Because no one likes hidden fees.
User Experience: How easy can a newbie like you (or me) navigate?
Going Beyond the Basics
Meeting Spaces: Some platforms offer on-site meeting rooms. Handy for those essential face-to-faces.
Mail Alerts: Get notified when something important lands.
Additional Services: Look for add-ons like receptionist services. You never know!
Enhance your business cards with your prestigious address.
Use it as your registered agent address if you're acting as your own.
Consider virtual office spaces or meeting rooms for face-to-face client interactions.
Conclusion
Virtual business address platforms aren't just about getting a fancy postal code; they're about projecting professionalism, adding a layer of privacy, and simplifying your mail.
I use iPostal1, but I would say that any of my top five choices would be comparable, and I would likely have no issues choosing them.
The main reason I chose iPostal1 over the other was because it was a convenient location close to me and a Staples retail location.
It should have standard retail operating hours from 9am to 9pm, 7 days a week, unlike other private business locations where the hours of operation might be less convenient.
It's the ultimate trick up the modern entrepreneur's sleeve. Ready to make that New York dream come true? Happy platform hunting!
Frequently Asked Questions
Can I use a virtual address for my business in California?
Absolutely! A virtual address in California allows businesses to project a professional image without maintaining a physical presence. It's especially beneficial for LLCs, offering a mix of privacy, credibility, and convenient mail handling services. And yes, many businesses use it when filing their LLC as the address for their Registered Agent, providing an extra layer of privacy.
What is the best site to get a virtual address?
The "best" site for a virtual address often depends on your specific business needs. Platforms like Postscanmail.com, iPostal1, and VirtualPostMail.com are frontrunners in the field, offering comprehensive features from mail scanning to worldwide forwarding. Always prioritize your needs: prestige, affordability, or many services? Dive into reviews and user experiences to make an informed choice.
Is a virtual address a business expense?
You bet! A virtual address is considered a legitimate business expense. For many businesses, it plays a vital role in operations, enhancing professionalism and facilitating mail management. As with all business costs, it's always wise to keep detailed records and consult with a tax professional to ensure you're maximizing potential deductions come tax time.
Does USPS have virtual address?
While the USPS offers a range of mail services, they don't provide a "virtual address" like many SaaS platforms do. USPS offers a PO Box service, which gives you a box within a physical post office location. However, this isn't quite the same as a virtual business address service, which typically provides an actual street address and additional services such as mail scanning, forwarding, and more. If you're looking for an online mailbox with a physical address, exploring specialized virtual address providers is best.
Editorial Process:
Our reviews are done by myself and come from my own experiences. I may not have used some products recently, so my reviews may reference details such as specifications and features that may have changed since I last used them. Let me know if you find any discrepancies.
Some of the links in this article may be affiliate links, which can compensate us at no cost if you decide to purchase a paid plan. These are products we've personally used and stand behind. This site is not intended to provide financial advice. You can read our affiliate disclosure in our privacy policy and editorial disclosure.